TransFORMed Running
F

ree 1-Hour Preview Clinics:
To register, click on the location/clinic of your choice
(Delivered in two 2-hour sessions $60)
Brookhaven: July 8 & July 22 6:00-8:00pm
Decatur:

July 11 & June 25

8-10am
Kennesaw:

July 11 & June 25

8-10am
Marietta

:

June 9 & June 23

8-10am


Suwanee: July 11 & June 25 8-10am
Midtown: July 18 8am-12pm Special 4-hr Crash Course
Alpharetta: July 18 & Aug. 1

8-10am



To register click on the location/class of your choice
Learn the prinicples to run

more efficiently and injury free

:
Posture, Lean, & Landing.
---
---
Run stronger. Run better.
Core Strength

Balance

Flexibility

Form Drills

Fun!
This workout is perfect for
all abilities and ages. (Bring the kids!)
Mondays:
Brookhaven 6:30pm
Midtown 6:30pm
Suwanee 6:30pm
Decatur 6:30pm
Kennesaw 6:30pm
Marietta 6:30pm


Another fun way to be the best runner you can be!
(Did we mention it's free?!)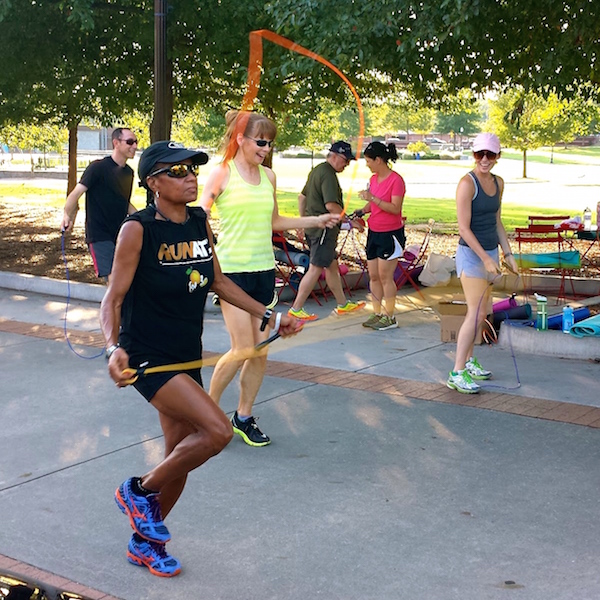 ---
---
•Kennesaw: Tues., June 23rd

, 6:30pm Test drive Brooks Running Shoes


•Suwanee: Tues., June 23rd, 6:30pm Sample organic smoothies from Juices Wild
•Alpharetta: Weds., June 24th 6:30pm Run to Versus Crossfit, quick workout, run back
•Decatur: Thurs., June 25th, 6:30pm -

Test drive Brooks Running Shoes


•Midtown:

Thurs., June 25th, 6:30pm -

Test drive Altra Zero Drop Shoes & Feetures Socks




These are just a few highlights. Check out our group run schedule. There's always fun on the run for everyone.
Free Local Same Day Delivery
Can't make it in to see us and need some fresh kicks? If you live/work in one of the 80+ eligible zip codes, we can get a new pair of running shoes to you within a few hours, and delivery charges are on us! Order your shoes by 6pm on weekdays and 4pm on Saturdays, and new shoes will be at your home or office before the day is through. (Sorry, this service is not available on Sundays.)
What a great way to get a last minute gift to the runner in your life if you just ran out of time!
In town on the 4th and you don't have a Peachtree number? We can fix that! A free race entry can be yours with the purchase $150 of Mizuno gear; footwear, tops, bottoms, and/or the fun Peachtree T's pictured above.
Drop by any BPRC before 8:00pm on July 1st, and ask us to steer you towards the Mizuno gear. Make your selection(s), and we we'll hand you a slip of paper with a special single use promo code. Bring that voucher to the Mizuno booth at AJC Peachtree Road Race expo, and the Atlanta Track Club will get you signed up! (The expo is at the Georgia World Congress Center, exhibit Hall C1 on July 2nd from 11-8, and July 3rd from 10-7.)
The fine print: While supplies last. In-store purchases only. First come-first served. Free Peachtree numbers may not be reserved in advance of your visit. Does not include 4th of July RUNATL shirts. All sales associated with this promotion are final. Your order total must reach $150 after any discounts are applied, and before tax is added.
---
Speaking of Peachtree...
Rare Peachy Sighting!
All BPRC locations will be open this coming Sunday, June 28th from 12-4pm to help with any last minute AJC Peachtree Road Race items you may need.
Free Weekly Workouts
Have you tried Skills and Drills? We don't run far in these workouts, in most cases we never even leave the area in front of the store. They are kid friendly (never too early to work on good running form!), moderate in intensity, and are open and accessible to EVERYONE. Did we mention that the workouts are FUN? Well, they are! And, they're free too! Check out the schedule and join us.
No Pain-All Gain
Exodus Health Center is coming to BPRC Kennesaw to help put the hurt behind you and get the healing moving forward! Learn the causes and solutions for common foot, ankle, knee, and hip problems, and find out how to prevent injuries that will slow you down. This wil be a fun, interactive, and hands on learning experience.
Great Workout For Runners
Keep those muscles flexible and loose at a free yoga for runners clinic at BPRC Marietta presented by Barre3. Yoga is a great way to cross train and prevent those pesky running injuries. The Barre 3 workout also incorporates exercises and moves from Pilates and dance, making it a ton of fun. Bring a towel, yoga mat, and water bottle, and get ready for a great workout!
Have You Seen The 4th of July RUNATL Shirts?!
Patriotic Peachy has been running all over town and out of town since arriving on June 12th!

Our special 4th of July limited edition

RUN

ATL T's are availble in both blue heather and gray heather, and offered in

men's

and

women's

sizes. These moisture wicking shirts are cotton free to help keep you cool and dry on a hot summer run. Availble at all BPRC locations and our

online store

for $29.99

.
(

Sorry, these shirts are not eligible for the Mizuno/Peachtree free race number offer.

)
Dirty Spokes Productions Sawnee Mountain 4.0 Mile Trail Run
The final race in the 2015 Dirty Spokes series is going to be a blast. The course offers a little bit of everything; rolling hills, steep hills, double track, and technical sections (think rocks).

Sawnee Mountain Nature Preserve in Cumming is just a short drive away, and a really beautiful way to "Ditch The City!".
It gets better - the BPRC Trail Running Ambassadors will be serving up a tasty post-race breakfast. Hold on...it gets better still! We're offering a free race entry with the purchase of a pair of trail running shoes! (While supplies last.

Purchase MUST take place at same time as registration to receive free entry.) This race is selling out fast, so don't delay - sign up right away!
Here are some other great races you'll want to run or walk:
July 25: Georgia Games Run For Life 10K/5K

August 2: TheAlumRun 5K/10K

August 8: Hot To Trot 8 Hour Run

August 23: Hotlanta Half Marathon

August 29: DI Dash 5K

(registration available at our Kennesaw and Marietta stores only)

Various Dates:Kennesaw Grand Prix Series Race Series - FIrst Up: May 9 Swift Cantrell Classic (reg available at Kennesaw only)

Various Dates: Georgia Multisports Productions Triathlons