F

ree 1-Hour Intro Clinics:
To register, click on the location/clinic of your choice
To register click on the location/class of your choice
Be the best runner you can be! Learn the 4 prinicples of GFR:
Posture, Mid-foot, Cadence, & Lean, and be on your way to
running more efficiently and injury free.
---
---
Run stronger. Run better.
Core Strength

Balance

Flexibility

Form Drills

Fun!
This workout is perfect for
all abilities and ages. (Bring the kids!)
Mondays:
Brookhaven 6:30pm
Midtown 6:30pm
Suwanee 6:30pm
Decatur 6:30pm
Kennesaw 6:30pm
Another fun way to be the best runner you can be!
(Did we mention it's free?!)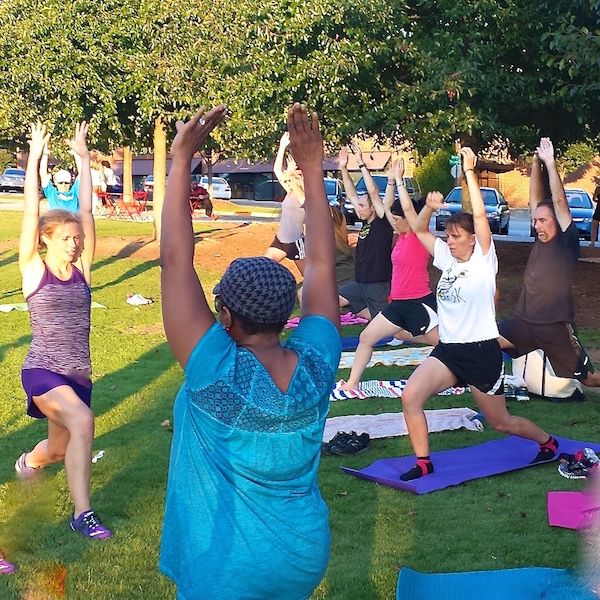 ---
---
Why run alone when you can run with friends?! We have awesome group runs each week at all of our stores. We often have test drives available and other ways to kick things up a notch.
Here's a sample of what's coming up:

Decatur: Tuesday, Jan. 27 at 6:30pm, and every Tuesday moving forward, Chiropractor Dr. Sasha Stoltz of 1st Choice Healthcare will offer free Active Release Therapy (

ART)

mini-treatments to get you feeling great after the run.
Alpharetta: Monday, Feb 2 at 6:30pm.

Physiotherapy and Assoc. will have a post-run clinic discussing injury prevention, stretching, and (everyone's favorite), dry needling

.

---
---
Things That Make You Say Hmmm...
What do you get when you cross a stone fruit with a marsupial? You'll find out in next week's edition of Peachy News.

---
---
Every runner has been on the receiving end of some bad advice. Let's have some fun on Twitter.
Tag

@PeachyRuns

and
use hastag #BadRunAdvice and share some of the weird advice you've recived (or given). For example did anyone every tell you to hold your breath during interval training? YIKES! We're in favor of breathing.
We Resolve To Lace 'Em Up!
It's the last week of January. How are your 2015 resolutions holding up? We resolved to keep bringing new, interesting, and fun ways to help you keep your running resolutions. The entire crew at BPRC loves to run, hike, and walk, and we want everyone else to love it too!
Speaking of love... Chocolate Peanut Butter, Caramel Macchiato, Salted Caramel...sounds like the makings of the perfect Valentine's Day sampler, especially when you consider these are flavors of GU! With January coming to a close, Valentine's Day is almost here. Show the runner you love some running love with a new outfit, some socks, or even some fresh kicks. When in doubt, a BPRC Gift Card is one size fits all!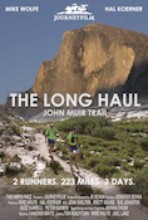 What's that - you haven't signed up to see one of the screenings of "The Long Haul: John Muir Trail", presented by the Yeti Trail Runners?! You don't want to miss this bit of fun at at the beautiful Chattahoochee Nature Center on Saturday, January 31st. This film chronicles the epic adventure of ultra runners Hal Koerner and Mike Wolfe as they set out to break the speed record for the 223 mile trek from Mt. Whitney to Yosemite Valley. Also on the program is a lively discussion presented by BPRC founder, and seasoned ultra runner, Mike Cosentino about how you can plan your own self-supported "Long Haul" adventure. There will also be the opportunity to win some great prizes during the discussion.
We're offering 4:00pm and 6:00pm screenings, with a great opportunity to mix and mingle at 5:00pm between the two shows. We'll serve up some adult craft beverages (over 21 please), craft root beer, and some light snacks. You'll get to hang out with fellow trail enthusiasts and check out the Discovery Center at the CNC. Best of all, 100% of the $10 admission proceeds go to the Chattahoochee Nature Center!
Space is limited to 65 seats per show, and we're rapidly reaching capacity so don't delay, sign up today!
The Friday Night Happy Hour Clinic series continues! On tap this week is Sports Cardiologist Jonathan H. Kim, MD. Dr. Kim will shed some light on recent controversies in endurance exercise, the utility of sports cardiology and how this fits the active older runner, and any other cardiac issues you wish to discuss.

This casual round table format question and answer session should prove interesting and enlightening. See you at 6:30pm on January 30th at BPRC Decatur.
Back pain? Hip pain? Knee pain? That's against the rules! Make a date with BPRC Marietta and Rami Odeh of Formwell Fitness on Saturday, January 31st at 8:00am. Rami is going to teach us how most strength training routines for runners are best done with nothing more than body weight. He'll have lots of other helpful tips and tricks to keep you fit and injury free. Come dressed for a run and workout, as you will start with a 5 minute easy jog/walk, do 5-10 minutes of warm-up/movement stretches, and about 20 minutes of core. Then you'll have the option to head out for a short run or do some post-workout stretches. All told, you'll spend about 60 minutes getting a fantastic workout while having fun. (Don't be surprised if you're a little sore the next morning.)
This Just In - Saucony Zealot ISO
The latest in the Saucony ISO family has just arrived. Maximum cush with minimal drop. The ISO fit locks in the heel, supports the arch, and offers ample room for your toes.

The shoe nerd stuff:
•

28mm at heel/24 at forefoot
XTERRA Thrills In The Hills Trail Half/Full Marathon
February 21, Ft. Yargo State Park
Trail enthusiasts will have a blast running 13.1 or 26.2 miles in beautiful Ft. Yargo State Park in Winder. The scenery will leave you as breathless as the terrain and distance! There's a little bit of everything: rolling hills, single track, double track, roots, and some technical sections. All participants will receive a tech T, race medal, free pizza, and full marathoners will receive bagged lunches to refuel after their long run.
Have a really fun nighttime run at the newest addition to the Locomotive Race Series. The Loco Glo 5K Run/Walk takes off at 9:00pm. All participants will receive a tech T and "glow item". There's also a 1K just before the sun goes down for the youngest runners in your family on a safe course completely closed to traffic. Dress in your finest glowing running gear, attach your blinking lights, and have fun lighting up the night. Huge post-race party rounds out the evening at this Kennesaw area event.
February 7 - Tartan Trot 10K/5K (In-store reg shuts down 8pm Jan. 29)
February 7 - Dirty Spokes Productions Heritage Park 7.5/2.8 Mile
February 8 - Locomotive Half Marathon
February 14 - Chattahoochee Challenge 10K
February 14 - With Or Without You 5K
March 8 - Chasing Moonlight 5K in Paradise
April 24 - Trot To Clot 5K Walk/Run (In-store reg BPRC Decatur only)


Various Dates - Georgia Multisports Productions Triathlons