TransFORMed Running
F

ree 1-Hour Preview Clinics:
To register, click on the location/clinic of your choice
(Delivered in two 2-hour sessions $60)
Alpharetta: Aug. 8 & Aug. 22 8-10am
Decatur: Aug. 8 & Aug. 15 8-10am
Kennesaw:

Aug. 8 & Aug. 22

8-10am
Brookhaven:

Aug. 12 & Aug. 26

6

-8pm
Suwanee:

Aug. 12 & Aug. 26

6

-8pm


Marietta:

Aug. 13 & Aug. 27

6

-8pm
Midtown:

Aug. 15 & Aug. 29

8-10am



To register click on the location/class of your choice
Learn the prinicples to run

more efficiently and injury free

:
Posture, Lean, & Landing.
---
---
Run stronger. Run better.
Core Strength

Balance

Flexibility

Form Drills

Fun!
This workout is perfect for
all abilities and ages. (Bring the kids!)
Mondays:
Brookhaven 6:30pm
Midtown 6:30pm
Suwanee 6:30pm
Decatur 6:30pm
Kennesaw 6:30pm
Marietta 6:30pm


Another fun way to be the best runner you can be!
(Did we mention it's free?!)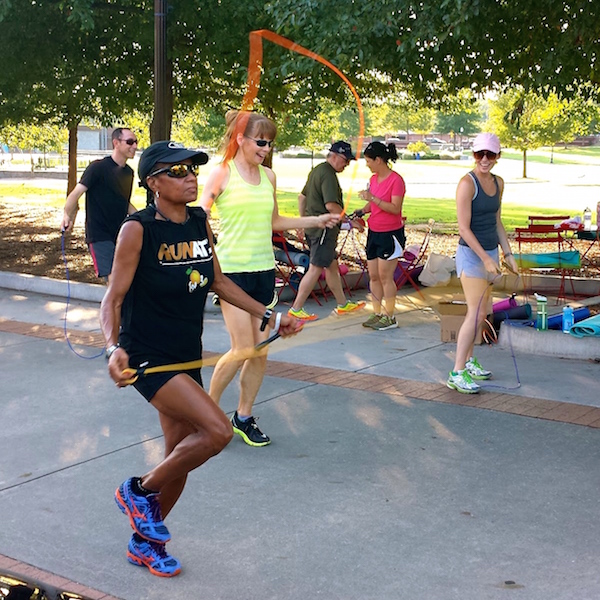 ---
---
•Brookhaven: Tues., July 21st

, 6:30pm Test drive Mizuno Wave Sayonara & Wave Enigma


•Decatur: Tues., July 21st, 6:30pm Runningnerds joins the fun
•Kennesaw:

Tues., July 21st

, 6:30pm Test drive the latest from Hoka One One
•Suwanee:

Tues., July 21st

, 6:30pm Test drive Moving Comfort Support Tops
•Alpharetta: Weds., July 22nd, 6:30pm Meet at Jekyll on Marconi Dr. - Greenway run followed by tasting
•Decatur:

Thurs., July 23rd, 6:30pm Snap Fitness joins the fun


•Midtown:

Thurs., July 23rd, 6:30pm Test drive Brooks Ghost & Adrenaline
•Midtown: Sat., July 25th, 7:30am Group run on Hotlanta Half course


These are just a few highlights. Check out our group run schedule. There's always fun on the run for everyone.
Free Local Same Day Delivery
Can't make it in to see us and need some fresh kicks? If you live/work in one of the 80+ eligible zip codes, we can get a new pair of running shoes to you within a few hours, and delivery charges are on us! Order your shoes by 6pm on weekdays and 4pm on Saturdays, and new shoes will be at your home or office before the day is through. (Sorry, this service is not available on Sundays.)
What a great way to get a last minute gift to the runner in your life if you just ran out of time!
Can you imagine a running shoe with 360° of GEL cushioning? That fantasy is now a running reality!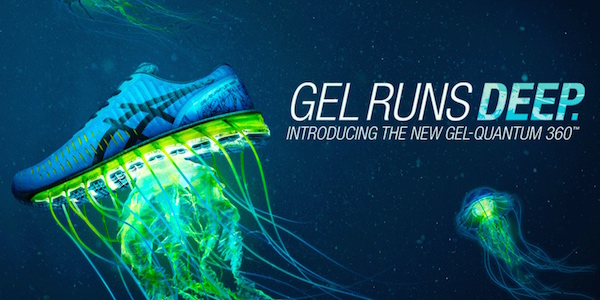 In addition to all that protective GEL, this neutral cushioning shoe offers, "an asymmetrical FluidFit upper that provides a breathable, glove-like fit and a distinctive, aggressive personality all its own. A full-length Trusstic System spring loads every step with energy for explosive momentum, and the sleek, Seamless Construction keeps the aesthetic clean while helping prevent potential friction - the ultimate symbiotic relationship between form and function."
Sounds great to us!

Drop by any BPRC and take a pair for a spin.
3 Great Ways To Have Fun While You Learn

The Agony Of The Feet


July 21, 6:30pm - Marietta
Podiatrist Dr. Mark Light with East Cobb Foot & Ankle Care doesn't want to see you in his office, so he's coming to BPRC Marietta instead. His goal is to help keep runners and their feet happy and healthy. Learn how to prevent common foot injuries that befall runners, and how to treat those that may occur.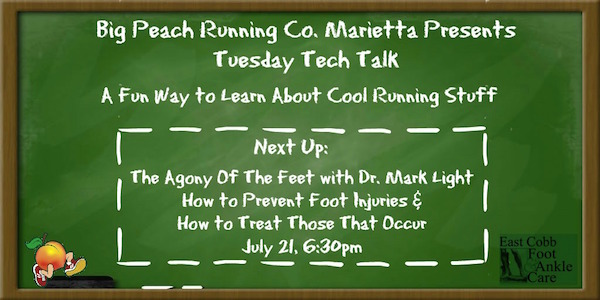 Friday Night Happy Hour Clinic
Stretching Those Hips & Thighs


July 24, 6:30pm - Decatur
It's always a blast when Neuromuscular Massage Therapist Patrick McWhirter drops by. In this Active Isolated Stretching (AIS) clinic, Patrick demonstrates how to correctly and efficiently stretch your quads, hip flexors, and IT Band to obtain maximum flexibility and speed up recovery time.

Come dressed comfortably for a great 45 minute interactive clinic about a self-stretch method you can apply to your hip and thigh muscles.
Fit Wednesday Clinic
Stretching Ankles, Calves, Lower Legs
July 29, 6:30pm - Brookhaven
More fun with Neuromuscular Massage Therapist Patrick McWhirter! After joining him at our Decatur store this Friday, make a date at our Brookhaven store next Wednesday & learn how to correctly and efficiently stretch your ankle, calves, and lower leg to help you obtain maximum flexibility while speeding up recovery time. As a a practitioner of the Mattes Method of Active Isolated Stretching, Patrick will show us why so many are calling AIS their secret weapon for training. Come dressed comfortably for a great stretching session!
November 1, 1:50am
This party, disguised as a 5K race, starts at 1:50AM (yup, you read that right...AM) on the Sunday morning we turn the clocks back for Daylight Savings Time. In a way, you'll finish before you start! The fast and flat race route is closed to car traffic so your nighttime run is safe, and the special effects makes it super fun. Everyone participating will receive pajama pants (instead of a T) and glow items. After the race there will be tons of food and great music as you dance the night away at the biggest post-race party around. This year's race theme is "masquerade", so you know it's gonna be great! Proceeds benefit Team Red, White, and Blue.
Save the online fee, and register at any BPRC.
Peachy Savings!
Celebrity Track Meet:
Athletes, musicians, and actors are going to run relay races for their favorite chairties at this fun event on August 1st. Discounted tickets can be
purchased here
.
Here are some other great races you'll want to run or walk:
August 1: Georgia State Parks Red Top Roaster 9.9/3.1M Trail Run

August 2: Hot To Trot 8 Hour Run

August 8: 10th Annual Dog Days Run

August 23: Hotlanta Half Marathon - course run Sat., July 25th 7:30am from our Midtown store
August 29: DI Dash 5K

(registration available at our Kennesaw and Marietta stores only)

Various Dates:Kennesaw Grand Prix Series Race Series - FIrst Up: May 9 Swift Cantrell Classic (reg available at Kennesaw only)

Various Dates: Georgia Multisports Productions Triathlons