TransFORMed Running
F

ree 1-Hour Preview Clinics:
To register, click on the location/clinic of your choice
(Delivered in two 2-hour sessions $60)
Brookhaven: July 8 & July 22 6:00-8:00pm
Decatur:

July 11 & June 25

8-10am
Kennesaw:

July 11 & June 25

8-10am
Marietta

:

June 9 & June 23

8-10am


Suwanee: July 11 & June 25 8-10am
Midtown: July 18 8am-12pm Special 4-hr Crash Course
Alpharetta: July 18 & Aug. 1

8-10am



To register click on the location/class of your choice
Learn the prinicples to run

more efficiently and injury free

:
Posture, Lean, & Landing.
---
---
Run stronger. Run better.
Core Strength

Balance

Flexibility

Form Drills

Fun!
This workout is perfect for
all abilities and ages. (Bring the kids!)
Mondays:
Brookhaven 6:30pm
Midtown 6:30pm
Suwanee 6:30pm
Decatur 6:30pm
Kennesaw 6:30pm
Marietta 6:30pm


Another fun way to be the best runner you can be!
(Did we mention it's free?!)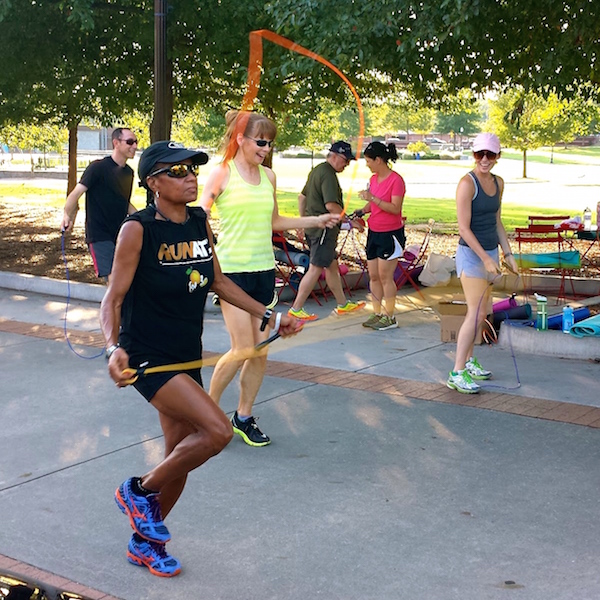 ---
---
•Kennesaw: Tues., June 9th

, 6:30pm To The Top Trail Run


•Brookhaven: Thurs., June 11, 6:30pm Test drive the Asics Gel Cumulus and Gel Nimbus
•Suwanee: Sun., June 14, 7:30am - Meet at Haw Creek State Park for trail run
•Alpharetta: Mon., June 15, 6:30pm Test drive Brooks Ghost


These are just a few highlights. Check out our group run schedule. There's always fun on the run for everyone.
Free Local Same Day Delivery
Can't make it in to see us and need some fresh kicks? If you live/work in one of the 80+ eligible zip codes, we can get a new pair of running shoes to you within a few hours, and delivery charges are on us! Order your shoes by 6pm on weekdays and 4pm on Saturdays, and new shoes will be at your home or office before the day is through. (Sorry, this service is not available on Sundays.)
What a great way to get a last minute gift to the runner in your life if you just ran out of time!
Let's Start With Shoes! if your running/walking shoes are celebrating an anniversary, then it's time for some fresh kicks. June brings lots of footwear model updates, making this an exciting time to try something new or pick up a new pair of your old favorites. If you're pressed for time, and can't come in, you can order a pair via Peachy Express, our free same day delivery service. And, i
f you need help finding the right shoe for you, our Fit Process works as a matchmaker for your feet and the right shoes for you. This short
Footwear Fit Process Video
gives you an idea of what it's all about.
---
We're Looking For A Few Good Peaches! Love to run or passionate about fitness walking, racewalking, or day hiking? Think about joining our team. If you can give us 15-35 hours per week, and can commit to stay with us for at least 18 months, Download an application and follow the instructions to send it in. Be sure to include the hours you are available, and the BPRC location(s) you prefer. (Please note: we do not hire high school students, and do not offer seasonal or temporary positions.)

---
Fitness Fuses With Fashion! Big Peach Running Co. will be on the runway at a fund raising event benefiting The Atlanta Children's Shelter. Taking place in Buckhead on Saturday, June 13th from 5-9pm, the festivities include Yoga Performances, Lyrical Dance, Modeling, Smoothie Stations, 3 Day Challenges, Beauty Experiences, and more. Tickets and more information.

---
Rare Peachy Sighting!
Save the date - all BPRC locations will be open on Sunday, June 28th from 12-4pm to help with any last minute AJC Peachtree Road Race items you may need. Speacking of Peachtree, keep watching your inbox for some fun news coming soon!
Training With Your Garmin GPS

Have you been thinking about getting a Garmin GPS watch but not sure which one would be best for you? Do you already own a Gramin GPS watch and want to learn how to best utliize the features and train with this great tool? Join us for a fun and informative evening with our Garmin rep and the BPRC Marietta crew.
A Treat For Your Feet
Happy feet translates to happy legs, hips, and happy running! Sandi Goldring with Advanced Movement Training is bringing a unique, interactive, and fun clinic to BPRC Brookhaven. Get ready to have some hands on time with your feet at the next clinic in our Fit Wednesday series. Sandi and his sidekick I-gor (aka "Mr. Bones) will lead us in a special routine of exercises for the feet that come with an amazing side effect…your hips, knees, and back will feel a whole lot better too!
Injury Prevention
Dr. Lauren Cortjens, D.C. returns to BPRC Suwanee to talk about various aspects of injury prevention as it relates to proper training, strength, flexibility, tools, and various treatments. A Chiropractor certified in ART (Active Release Therapy) and Graston techniques, as well as an accomplished ultra runner and triathlete, Dr. Lauren brings an enlightening and relatable approach to her discussions.
Summer Steamer 10K/5K
Saturday, June 13, Kennesaw
You'll be burning up the pavement on this super fast course as you blaze your way to a new PR. Then cool down at the fun post race block party with ice cream trucks, a foam pit, music, and more. Race packet pick-up and late registration takes place at BPRC Kennesaw on Friday, June 12th from 4-7pm.

---
Possum Trot 10K
Sunday, June 14, Roswell
It's scenic, it's fast, it's flat, and it's a whole lot of fun! The Possum Trot 10K starts and finishes at the Chattahoochee Nature Center, and offers a scenic course alongside the Chattahoochee River in between. Finisher's receive a great SWAG bag and enjoy a super fun finish party at the CNCs Ben Brady Lakeside Pavilion with tons of goodies. Race packet pick-up and late registration takes place at BPRC Marietta on Saturday, June 13th from 11am-6pm.

---
We are also hosting race packet pick-up for:
Soccerfest 5K running in Candler Park on Saturday, June 13th. Packet pick-up takes place at BPRC Midtown on Friday, June 12th from 11:30am-3:00pm
Ryan's Run 5K taking place in Downtown Atlanta on Saturday, June 13th. Packet pick-up is at BPRC Decatur on

Friday, June 12th from 4-7pm.
Here are some other great races you'll want to run or walk:
July18: Dirty Spokes Sawnee Mountain 4.0Mile Trail Run

July 25: Georgia Games Run For Life 10K/5K

August 2: TheAlumRun 5K/10K

August 8: Hot To Trot 8 Hour Run

August 23: Hotlanta Half Marathon

August 29: DI Dash 5K

(registration available at our Kennesaw and Marietta stores only)

Various Dates:Kennesaw Grand Prix Series Race Series - FIrst Up: May 9 Swift Cantrell Classic (reg available at Kennesaw only)

Various Dates: Georgia Multisports Productions Triathlons