F

ree 1-Hour Preview Clinics:
To register, click on the location/clinic of your choice
(Delivered in two 2-hour sessions $60):
Alpharetta: April 11 & 25
8am-10am

Kennesaw:

April 11 & 25

8am-10am
Midtown:

April 11 & 25

8am-10am


Decatur: April 13 & 27 6pm-8pm
Marietta: April

14 & 28 6pm-8pm
To register click on the location/class of your choice
Learn the prinicples to run

more efficiently and injury free

:
Posture, Lean, & Landing.
---
---
Run stronger. Run better.
a free skills and drills workout designed
Core Strength

Balance

Flexibility

Form Drills

Fun!
This workout is perfect for
all abilities and ages. (Bring the kids!)
Mondays:
Brookhaven 6:30pm
Midtown 6:30pm
Suwanee 6:30pm
Decatur 6:30pm
Kennesaw 6:30pm
Another fun way to be the best runner you can be!
(Did we mention it's free?!)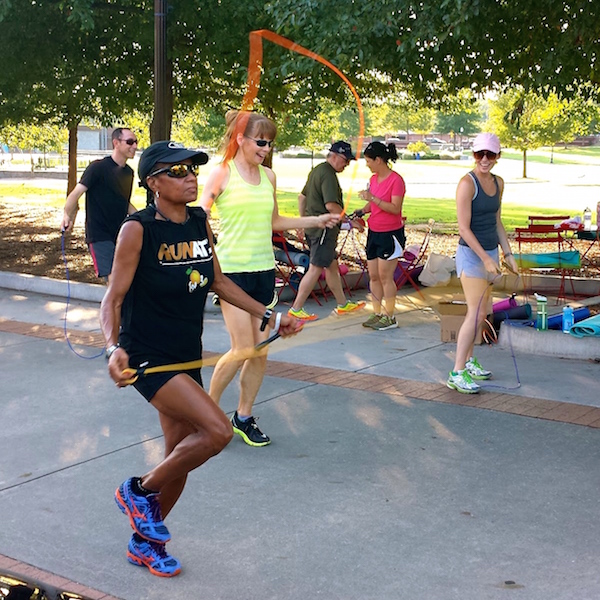 ---
---
•Brookhaven: Tues, April 7th, 6:30pm Mizuno & Tom Tom Test Drive
•Alpharetta: Weds., April 8th, 6:30pm Saucony Test Drive
•Decatur: Thurs., April 9th, 6:30pm Pearl Izumi Test Drive
•Suwanee: Thurs, April 9th, 6:30pm Hoka Test Drive
• Suwanne: Sun. April 12th 7:30am Meet At Haw Creek For Trail Run

Save The Date! Big kick-off party for the Kennesaw Grand Prix Race Series on April 14th from 6-8pm at our Kennesaw store. Group run distances from 1-5 miles, and a fun party with music, food, raffle prizes, and more. Meet all 6 race directors,and save on race entries and gear! More details in next week's Peachy News.
These are just a few highlights. Check out our group run schedule. There's always fun on the run for everyone.
Free Local Same Day Delivery
Can't make it in to see us and need some fresh kicks? If you live/work in one of the 80+ eligible zip codes, we can get a new pair of running shoes to you within a few hours, and delivery charges are on us! Learn more.
Let's Embark On Some Running Fun
We have a big week with with lots of running news, but let's take a brief paws before we dig in, to remind you that Mother's Day is May 10th. BPRC has great spring apparel and other goodies for the running mom in your life. And, of course, when in doubt, a Big Peach Gift Card is one size fits all! Pick one up at any of our stores or online. (Thanks to Rosie for so beautifully modeling our RUNATL shirt!)
April Is Mizuno Month At BPRC
Back On My Feet (BoMF),
a national 501(c)3 organization uses running to help people experiencing homelessness change the way they see themselves, aiding them on a journey to make substantive changes in their lives resulting in employment and independent living.
As part of their support of Back On My Feet,
Mizuno is donating $10 from every Mizuno shoe sold at BPRC to the Atlanta Chapter of Back On My Feet throughout April. What a great way to put our passion for running to good use! (Mizuno will be offering test drives
all group runs at all BPRC stores this month.)
Eggs Get Cracked - Spines Get Adjusted
BPRC Midtown April 7, 6:30pm
Dr. Charlotte Blanchett from Back To Basics Chiropractic is coming to BPRC Midtown to talk to us about how Chiropractic can help runners. Learn about how Relief Care can help with pain, how Corrective Care can then get to the root of any issues you may have, and how Wellness Care will keep you healthy and running strong. Learn how this relates to runners and the common issues many of us face. Bring your questions, your willingness to learn, and join us for an interesting and interactive evening.
Training For 70.3?
BPRC Decatur April 10, 6:30pm
What do you need to know to train successfully for your first or next Iron Distrance Triathlon to arrive at the start line ready to go? USA Triathlon Coach Mari Fridenmaker of Blue Iron Coaching leads our next Decatur Friday Happy Hour Clinic to discuss strategies for success. Topics covered include creating a training plan, places to train around Atlanta, hydration and nutrition, race day prep, and answering your questions.
The Latest Running Shoe Technology Round Table Discussion
BPRC Brookhaven April 11, 5:30pm

Kick off this lively, interactive evening
at 5:30pm with drinks and light hors d'oeuvres while we meet and mingle. We'll st
arhe discussion at 6pm as our panel talks about the
latest state-of-the-art running shoe technology using the new Adidas Ultra Boost as an example.
Is it the best running shoe ever as they say? We want to find out! Our panel will discuss running injuries, biomechanics, training, advances in shoe technology, as well as more about the Adidas Ultra Boost.
BPRC founder Mike Cosentino moderates the panel comprised of Dr. Josh Glass and Dr. Norman Eng of
Georgia Sports Chiropractic
, Anthony Malone, Founder & Editor of
Atlanta Multisports Magazine
, Brennan Pratt with Adidas, and Dave Martinez, General Manager of BPRC Brookhaven.
It's time for BPRC Suwanee's next Wednesday Wisdom seminar. This month, it's all about triathlons. Learn some helpful tips and tricks to help you succeed at your first or next triathlon. Our panel of BPRC tri enthusiasts, participants, and well, quite frankly...geeks will offer up some lively (and most likely goofy) banter to get you to the finish line.
37th Annual Possum Trot 10K


June 14, Roswell
It's scenic, it's fast, it's flat, and it's a whole lot of fun! The Possum Trot 10K starts and finishes at the Chattahoochee Nature Center, and offers a scenic course alongside the Chattahoochee River in between. This popular favorite race always has a great looking finisher's T, an awesome SWAG bag, and a super fun finish party at the

CNCs Ben Brady Lakeside Pavilion with tons of goodies. Want even more fun? Your race participation gets you free entry to the CNC on race day, so bring the family and make a day of it!
Here are some other great races you'll want to run or walk:
May 2: Run The Sounds Of Life 5K (registration available at Marietta and Kennesaw only)
May 9: Dirty Spokes Productions Harbins Park 13.1/3.5 Trail Run Free entry with purchase of trail shoes at any BPRC (In-store purchae only)

May 16: Loco Glo 5K/1K

May 16: Brookhaven Bolt 5K (registration only available at our Brookhaven store)

April 25: Big Peach 5K!

Save $10 off race entry with any $75 purchase. (In-store registration must take place at time of purchase to be eligible.)

August 23: Hotlanta Half Marathon

Various Dates: Georgia Multisports Productions Triathlons