TransFORMed Running
F

ree 1-Hour Preview Clinics:
To register, click on the location/clinic of your choice
(Delivered in two 2-hour sessions $60)
Midtown: June 6 8am-12pm Special 4-hr Crash Course
Alpharetta:

June 6 & June 20

8-10am
Brookhaven:

June 6 & June 20

8-10am


Kennesaw:

June 6 & June 20

8-10am


Decatur:

June 8 & June 22

6-8pm


Marietta:

June 9 & June 23

6-8pm


Suwanee:

June 10 & June 24

6-8pm




To register click on the location/class of your choice
Learn the prinicples to run

more efficiently and injury free

:
Posture, Lean, & Landing.
---
---
Run stronger. Run better.
a free skills and drills workout designed
Core Strength

Balance

Flexibility

Form Drills

Fun!
This workout is perfect for
all abilities and ages. (Bring the kids!)
Mondays:
Brookhaven 6:30pm
Midtown 6:30pm
Suwanee 6:30pm
Decatur 6:30pm
Kennesaw 6:30pm
**Marietta 6:30pm**


(New day & time)
Another fun way to be the best runner you can be!
(Did we mention it's free?!)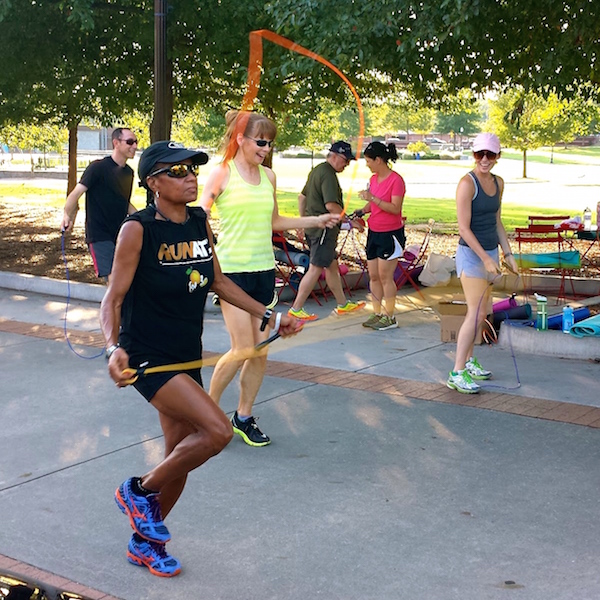 ---
---
•

Suwanee: Tues, May 19th, 6:30pm Dr. Cortjens of 1st Choice Healthcare
• Kennesaw: Thurs. May

21st, 6:30pm Mizuno Test Drive


•Midtown:

Thurs, May 21st, 6:30pm

Hoka test drive followed by post-run fun at Fado Irish Pub-Midtown. $5 drink specials. Short run, long on fun!


These are just a few highlights. Check out our group run schedule. There's always fun on the run for everyone.
Free Local Same Day Delivery
Can't make it in to see us and need some fresh kicks? If you live/work in one of the 80+ eligible zip codes, we can get a new pair of running shoes to you within a few hours, and delivery charges are on us! Order your shoes by 6pm on weekdays and 4pm on Saturdays, and new shoes will be at your home or office before the day is through. (Sorry, this service is not available on Sundays.)
What a great way to get a last minute gift to the runner in your life if you just ran out of time!
We've got fun for everyone at the CNC with a screening of Transcend, a documentary about Boston Marathon champion Wesley Korir's journey from being a relatively unknown runner at some big races, to his unlikely race to be elected as a Member of Parliament in Kenya. Transcend offers an uplifting and inspirational story in a film that will be enjoyed by runners as well as their friends and family!
•Tickets are $10, with all proceeds going to the CNC.
•Mix and Mingle at 6:30pm. Light snacks and hoppy beverages served (that's beer-not bunnys).
•Register onsite for the Possum Trot 10K, save $5 off race entry, and get entered to win 1 of 2 free entries.
•Movie starts at 7:00pm.
•The theater only seats 65, so don't delay, sign up right away!
If you really want to make an evening of it, the CNC is also hosting Sunset Sips starting at 5:30pm. Enjoy live acoustic music from local bands, and explore some of the beautiful 127 acres on the CNC grounds. There is a $10 fee to attend Sunset Sips, but your $10 movie ticket gets you into both awesome events!
Please Nominate BPRC
We love our runners and walkers! If you love us too, please consider nominating Big Peach Running Co. as one of the 50 best running stores in the country.

Competitor Magazine will announce winners in December. Please click here to nominate us.

Thank you so much!
Yoga is a great way to keep a runner's body healthy.

Atmasphere, the newest Yoga studio in town is offering a free yoga for runners workout at our Midtown store. The class should last about an hour, and is perfect for all levels and abilities. Space is limited, so please let us know you can make it, and...
Trail Running Basics & Hydration Tools

This new series of fun and informative clinics kicks off with useful tips and tricks to help trail running newbies feel comfortable with playing in the dirt. Also on tap, we'll have various hydration tools from Nathan including vests, belts, and handheld devices filled with water so you can try them on and see what it feels like to carry your fluids on the run. We'll round out the clinic with Q&A, for a relaxed and enjoyable evening.
Nutrition and Hydration On The Run

The warm weather is upon us. Do you have your hydration and nutrition plan in place? With the temperature heating up, do you know how to adjust your hydration? With training underway for fall half and full marathons, do you have a good plan to keep fueled for the long miles? Join the BPRC Nathan Hydration Ambassadors and Suwanee store managers for a lively and interesting discussion about when and how to use these products on the run. Bring your questions and join us for any enjoyable evening.
Stretching Those Glutes
Back by popular demand, Neuromuscular Massage Therapist Patrick McWhirter is going to demonstrate how to correctly and efficiently stretch your glutes, including piriformis, to obtain maximum flexibility and speed up recovery time. As a practitioner of the Mattes Method of Active Isolated Stretching (AIS), Patrick will show us why so many are calling Active Isolated Stretching their secret weapon for training. Come dressed comfortably for a great 45 minute interactive clinic about a self-stretch method you can apply to your gluteal muscles.
Possum Trot 10K
Chattahoochee Nature Center June 14
Starting and finishing at the
Chattahoochee Nature Center, the Possum Trot 10K is

scenic, fast, flat, and a whole lotta fun!

This popular favorite race always has a great looking finisher's T, an awesome SWAG bag, and a super fun finish party at the
CNCs Ben Brady Lakeside Pavilion with tons of goodies. Want even more fun? Your race participation gets you free entry to the CNC on race day. Oh we're not done...remember, you can save $5 off the race entry if you sign up for the race at our movie event on May 28th!
Here are some other great races you'll want to run or walk:
June 6: Red Hot Half Marathon/5K Trail Run (registration available at our Kennesaw and Marietta stores only)

June 13: Summer Steamer 5K

June 14: 37th Annual Possum Trot 10K

August 8: Hot To Trot 8 Hour Run

August 23: Hotlanta Half Marathon

August 29: DI Dash 5K

(registration available at our Kennesaw and Marietta stores only)

Various Dates:Kennesaw Grand Prix Series Race Series - FIrst Up: May 9 Swift Cantrell Classic (reg available at Kennesaw only)

Various Dates: Georgia Multisports Productions Triathlons