TransFORMed Running
F

ree 1-Hour Preview Clinics:
To register, click on the location/clinic of your choice
(Delivered in two 2-hour sessions $60)
Brookhaven: July 8 & July 22 6:00-8:00pm
Decatur:

July 11 & June 25

8-10am
Kennesaw:

July 11 & June 25

8-10am
Marietta

:

June 9 & June 23

8-10am


Suwanee: July 11 & June 25 8-10am
Midtown: July 18 8am-12pm Special 4-hr Crash Course
Alpharetta: July 18 & Aug. 1

8-10am



To register click on the location/class of your choice
Learn the prinicples to run

more efficiently and injury free

:
Posture, Lean, & Landing.
---
---
Run stronger. Run better.
Core Strength

Balance

Flexibility

Form Drills

Fun!
This workout is perfect for
all abilities and ages. (Bring the kids!)
Mondays:
Brookhaven 6:30pm
Midtown 6:30pm
Suwanee 6:30pm
Decatur 6:30pm
Kennesaw 6:30pm
Marietta 6:30pm


Another fun way to be the best runner you can be!
(Did we mention it's free?!)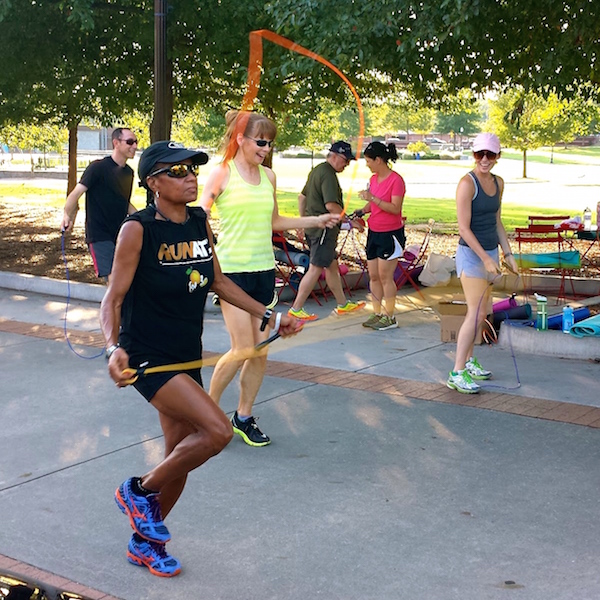 ---
---
•Kennesaw: Tues., June 30th

, 6:30pm Test drive Brooks Running Shoes


•Suwanee: Tues., June 30th, 6:30pm Test drive Pearl Izumi N2 & M3

•Midtown: Sat., July 1st, Closed for 4th of July - no group run
•Alpharetta:

Mon., July 6th, 6:30pm -

Test drive Asics Running Shoes




These are just a few highlights. Check out our group run schedule. There's always fun on the run for everyone.
Free Local Same Day Delivery
Can't make it in to see us and need some fresh kicks? If you live/work in one of the 80+ eligible zip codes, we can get a new pair of running shoes to you within a few hours, and delivery charges are on us! Order your shoes by 6pm on weekdays and 4pm on Saturdays, and new shoes will be at your home or office before the day is through. (Sorry, this service is not available on Sundays.)
What a great way to get a last minute gift to the runner in your life if you just ran out of time!
On July 4th, 1776, the population in the colonies was 2.5 million. Today, US population is estimated at over 321 million-60,000 of whom will be trotting down Peachtree St. this coming Saturday! In honor of this special day, all BPRC stores will be closed. We'll be back in action at 10:0am on July 6th.
Let's Talk Peachtree


There's still time to get a number for the AJC Peachtree Road Race. Come in to any BPRC, purchase $120 in awesome Mizuno gear (including offical Peachtree T's), and we'll give you a voucher to bring to the expo for a free entry!

(Offer expires at 8pm on July 1st.
While supplies last. In-store purchases only. First come-first served. Free Peachtree numbers may not be reserved in advance of your visit. Does not include 4th of July RUNATL shirts. All sales associated with this promotion are final. Your order total must reach $120 after any discounts are applied, and before tax is added.
)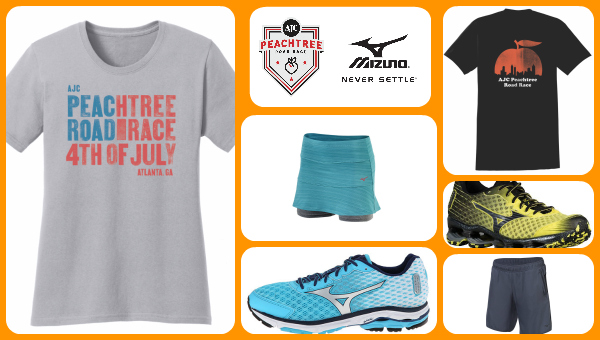 ---
The Expo...

...takes place at the Georgia Wor
d Congress Center, exhibit Hall C1 on July 2nd from 11-8, and July 3rd from 10-7. Even if you're not running Peachtree, or had your number mailed, this is always a fun expo to visit. We're at the Mizuno booth - hope to see you there! A great deal of activity/traffic is expected downtown, so think about taking MARTA. Directions, where to park, MARTA information, etc. can be found here.
---
Look Good Race Day
We have official AJC Peachtree Road Race T's at all of our stores and online. (We'll have them at the expo too!) Also available in our stores, online, and at the expo are limited edition RUNATL T's with our patriotic Peachy carrying Old Glory. Availble in men's and women's sizes.

---
AJC Peachtree Road Race Helpful Hints
The word's largest 10K is just days away. Do you have everything you need to run 6.2 miles with 59,999 of your closest friends with minimal stress and maximal fun? Read more...

---
What's Next After Peachtree?
How about training for a fall half or full marathon?! The Atlanta Track Club kicks off it's next training program at BPRC Brookhaven on Saturday, July 11th from 7-9am. The morning starts with a causal 4-mile run, and is followed by an information session. Train for the Atlanta Track Club 10 Miler, Thanksgiving Half Marathon, and/or the full marathon of your choice. Coach-led training will take place on Saturday mornings at various locations, and a Thurday morning workout will be offered at the Active Oval in Piedmont Park. Full details are found here.
We Have A Favor To Ask


Nominate BPRC As One of The 50 Best Stores In America
We are so lucky to be able to work and play in one of the best running cities in the country. We are even luckier to have all of you as members of our family. We appreciate the opportunity to run with you, share knowledge, hear your stories, and consider you friends. It always makes us a bit uncomforable to ask for this favor, but we hope you will take a few minutes to fill out the form to nominate Big Peach Running Co. for this special honor. Thank you so much!
August 1st, Grady High School
Athletes, musicians, and actors are going to run relay races for their favorite chairties at this fun event next month. Olympic track and field stars, WNBA, NBA, and NFL players, R&B artists, as well as TV personalities, will take part. There will be food trucks and other vendors on hand to make it a real party atmosphere. BPRC Midtown will be hosting a few fun events with some of the participants as the date gets closer. In the meantime, discounted tickets can be purchased here.
Big Peach Sizzler 10K

September 7th
Here's another great holiday tradition - running the Big Peach Sizzler 10K on Labor Day! This super fast, super fun course starts at the Chamblee MARTA station, runs down Peachtree St., and finishes at Buckhead Station shopping center for a net downhill run. We are honored to be the presenting sponsors of this great event presented by and benefiting Miles For Cystic Fibrosis. Not only does this organization raise funds and awareness for Cystic Fibrosis, they also work to promote a fit and healthy lifestyle for all.
Special Offer!
Register in person at any BPRC for the Big Peach Sizzler from July 2-6, and save $6.50 off the registration fee.
Here are some other great races you'll want to run or walk:
July 25: Georgia Games Championship Run 10K/5K/1Mile

August 2: TheAlumRun 5K/10K

August 2: Hot To Trot 8 Hour Run

August 23: Hotlanta Half Marathon

August 29: DI Dash 5K

(registration available at our Kennesaw and Marietta stores only)

Various Dates:Kennesaw Grand Prix Series Race Series - FIrst Up: May 9 Swift Cantrell Classic (reg available at Kennesaw only)

Various Dates: Georgia Multisports Productions Triathlons