F

ree 1-Hour Intro Clinics:
To register, click on the location/clinic of your choice
To register click on the location/class of your choice
Be the best runner you can be! Learn the 4 prinicples of GFR:
Posture, Mid-foot, Cadence, & Lean, and be on your way to
running more efficiently and injury free.
---
---
Run stronger. Run better.
Core Strength

Balance

Flexibility

Form Drills

Fun!
This workout is perfect for
all abilities and ages. (Bring the kids!)
Mondays:
Brookhaven 6:30pm
Midtown 6:30pm
Suwanee 6:30pm
Decatur 6:30pm
Kennesaw 6:30pm starting January 28th
Another fun way to be the best runner you can be!
(Did we mention it's free?!)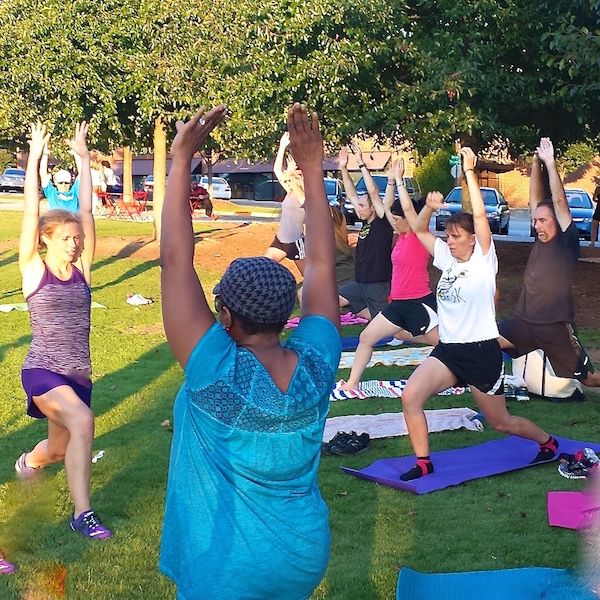 ---
---
Why run alone when you can run with friends?! We have awesome group runs each week at all of our stores. We often have test drives available and other ways to kick things up a notch.
Here's a sample of what's happening this week:

Brookhaven: Thursday, Jan. 22 at 6:30pm, Feetures socks will be featured, along with the chance to run with some TomTom GPS demo units.
Marietta: Thursday, Jan. 22 at 6:30pm. Adidas joins the run with their latest and greatest shoes to test drive.
Movie Night At The Chattahoochee Nature Center
Join us at the beautiful Chattahoochee Nature Center on Saturday, January 31st for a screening of "The Long Haul: John Muir Trail", presented by the Yeti Trail Runners.

This film chronicles the epic adventure of ultra runners Hal Koerner and Mike Wolfe as they set out to break the speed record for the 223 mile trek from Mt. Whitney to Yosemite Valley. Also on the program is a lively discussion about how you can plan your own "Long Haul". BPRC founder Mike Cosentino, (seasoned ultra-distance trail runner), will offer up tips to help runners of every ability organize and execute their own sustained, self-supported adventure. Jason of Yeti Trail Runners and Philip with Pearl Izumi, (seasoned trail runners in their own right), will share some of their experiences and tips as well. There will also be the opportunity to win some great prizes during the discussion!
We're offering two screenings of this exciting movie, at 4:00pm and 6:00pm, with a great opportunity to mix and mingle at 5:00 between the two screenings. We'll serve up some adult craft beverages (over 21 please), craft root beer, and some light snacks. You'll get to hang out with fellow trail hounds and check out the Discovery Center at the CNC. Best of all, 100% of the $10 admission proceeds go to the Chattahoochee Nature Center!
Space is limited to 65 seats per show, so don't delay, sign up today!
Running 101
BPRC Suwanee presents their 2015 Wednesday Wisdom Clinic Series! On the 3rd Wednesday of every month, there will be an interesting, informative, and fun clinic on a variety of topics near and dear to runners.

We kick things off this coming Wednesday, January 21st at 6:30pm with "Running 101". Whether you're just getting started, or wanting to get back to basics, there's something for everyone at our debut event. Topics discussed include how to start smart so you stick with it, form basics, footwear fitting, socks, gear, and more. There will be time for Q & A, and we'll have some special savings for you too!
The Friday Night Happy Hour Clinic series continues at BPRC Decatur with our good friend, Nutritionist David Orozco. Join us at 6:00pm, this coming Friday, January 23rd, as David discusses the various types of foods and calories that can lead to weight gain, weight loss, and affect your performance as an athlete. Explore the truths about hidden and complex calories, and how to make the best choices for improved running and overall health.
(Next Friday: Round table discussion with Sports Cardiologist, Dr. Jonathon H. Kim. Details and sign-up in next week's Peachy News.)
It's nice to have nice neighbors! Blast 900, close neighbors to our Midtown store, is offering a free morning workout at their place just for us! Meet up at our 800 Peachtree St. location no later than 7:45am on Tues., Jan. 27th. We'll take a short walk to Blast 900, fill out some paperwork, and get ready to sweat! The workout begins at 8:15 and lasts 1 hour. You'll be doing a combination of cardio and weight training. Space is limited to just 20 participants, so please sign up right away.
Back pain? Hip pain? Knee pain? That's against the rules! Make a date with BPRC Marietta and Rami Odeh of Formwell Fitness on Saturday, January 31st at 8:00am. Rami is going to teach us how most strength training routines for runners are best done with nothing more than body weight. He'll have lots of other helpful tips and tricks to keep you fit and injury free. Come dressed for a run and workout, as you will start with a 5 minute easy jog/walk, do 5-10 minutes of warm-up/movement stretches, and about 20 minutes of core. Then you'll have the option to head out for a short run or do some post-workout stretches. All told, you'll spend about 60 minutes getting a fantastic workout while having fun. (Don't be surprised if you're a little sore the next morning.)
Georgia MultiSports Productions

Wanna try a tri? In-store registration is available for all Georgia MultiSports Productions races for the 2015 season. From beginner friendly sprint distance races to Olympic distance, and Half Iron, you can expect great events from the preeminent multi-sport race directors in the area. The venues include some beautiful North Georgia locations including West Point Lake, Blue Ridge, Lake Lanier, and Allatoona Lake, to name a few.
February 7 - Tartan Trot 10K/5K
February 7 - Dirty Spokes Productions Heritage Park 7.5/2.8 Mile
February 8 - Locomotive Half Marathon
February 14 - Chattahoochee Challenge 10K
February 14 - With Or Without You 5K
March 8 - Chasing Moonlight 5K in Paradise