TransFORMed Running
F

ree 1-Hour Preview Clinics:
To register, click on the location/clinic of your choice
(Delivered in two 2-hour sessions $60)
Midtown: June 6 8am-12pm Special 4-hr Crash Course
Alpharetta:

June 6 & June 20

8-10am
Brookhaven:

June 6 & June 20

8-10am


Kennesaw:

June 6 & June 20

8-10am


Decatur:

June 6 & June 20

6-8pm


Marietta:

June 9 & June 23

6-8pm


Suwanee:

June 10 & June 24

6-8pm




To register click on the location/class of your choice
Learn the prinicples to run

more efficiently and injury free

:
Posture, Lean, & Landing.
---
---
Run stronger. Run better.
a free skills and drills workout designed
Core Strength

Balance

Flexibility

Form Drills

Fun!
This workout is perfect for
all abilities and ages. (Bring the kids!)
Mondays:
Brookhaven 6:30pm
Midtown 6:30pm
Suwanee 6:30pm
Decatur 6:30pm
Kennesaw 6:30pm
Another fun way to be the best runner you can be!
(Did we mention it's free?!)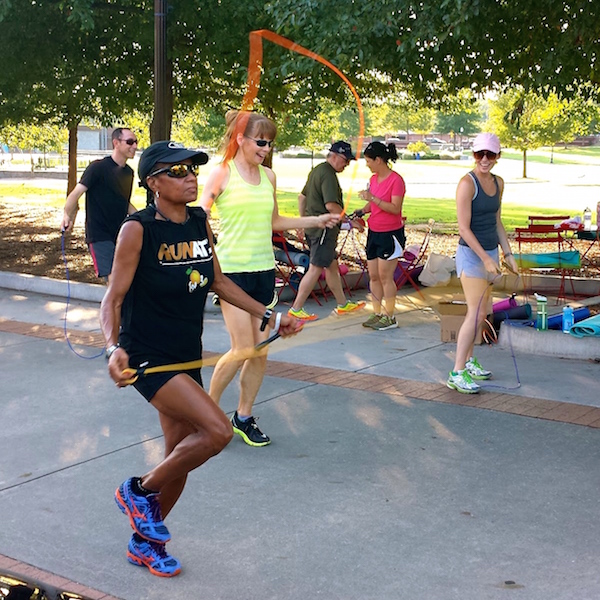 ---
---
•

Decatur: Tues, May 12th, 6:30pm Test Drive the latest from Pearl Izumi
• Kennesaw: Tues. May

12th, 6:30pm We've added an extra group run to Kennesaw!


•Suwanee:

Tues, May 12th, 6:30pm

Pot Luck Feast & post run tune ups from Dr. Cortjens of 1st Choice Healthcare
• Brookhaven: Sat., May 16th, 7:30am This week's Saturday run is cancelled due to our participation at the Brookhaven Bolt 5K. Back on the schedule May 23rd.
These are just a few highlights. Check out our group run schedule. There's always fun on the run for everyone.
Free Local Same Day Delivery
Can't make it in to see us and need some fresh kicks? If you live/work in one of the 80+ eligible zip codes, we can get a new pair of running shoes to you within a few hours, and delivery charges are on us! Order your shoes by 6pm on weekdays and 4pm on Saturdays, and new shoes will be at your home or office before the day is through. (Sorry, this service is not available on Sundays.)
What a great way to get a last minute gift to the runner in your life if you just ran out of time!
AJC Peachtree Road Race Number Transfer System
Did you miss the opportnity to register for this year's Peachtree? Did you sign up only to realize you can't be there? No problem! The Atlanta Track Club has a number transfer system in place that makes it easy for you. And, it is the only legitmate way to tranfer numbers.
Our store group runs are always a ton of fun, and we embrace runners and walkers of all abilities and paces to come out and play. If you crave some weeknight competion, check out the Atlanta Track Club's All-Comers Track and Field Meets taking place at 5:30 every Tuesday evening through June 12th. If you want to join the fun or be a cheerleader, a group from our Midtown store will be there each week. Look for the RUNATL shirts and hang out with us!
Yoga is a great way to keep a runner's body healthy.

Atmasphere, the newest Yoga studio in town is offering a free yoga for runners workout at our Midtown store. The class should last about an hour, and is perfect for all levels and abilities. Space is limited, so please let us know you can make it, and...
Nutrition and Hydration On The Run

The warm weather is upon us. Do you have your hydration and nutrition plan in place? With the temperature heating up, do you know how to adjust your hydration? With training underway for fall half and full marathons, do you have a good plan to keep fueled for the long miles? Join the BPRC Nathan Hydration Ambassadors and Suwanee store managers for a lively and interesting discussion about when and how to use these products on the run. Bring your questions and join us for any enjoyable evening.
Moving Comfort Support Tops
After running shoes, the most important piece of gear for women runners is the right support top. That means the right style for your physique and usage intentions, the right size, and making sure your support top wardrobe is in good condition.
Things To Know:
We have a great selection of styles, colors, and sizes at all of our stores - something for everyone.

Our (female) staff is available to do fittings. No appointment necessary. No fee.

The life-expectancy of a support top is about 60 washings. If your tops just celebrated a 2-year anniversary, it's time for retirement.

We get new colors and styles all the time, so when it's time for something new, you'll have great color choices
Looking for an exciting way to embrace the Heat, Hills, & Humidity of our fair city? How about exploring Downtown and Midtown Atlanta on foot for 13.1 miles this summer! In-store registration continues at all BPRC stores for the 2nd running of the Hotlanta Half Marathon. Sign up by this coming Thursday, May 14th to avoid a registration fee increase from $65 to $70. And, if you sign up in person at BPRC, you also save the online service charge... AND, we'll give you a coupon to save $10 off your $50 purchase on the spot!
Early race packet pick-up and last minute registration for the Brookhaven Bolt 5K is available at BPRC Brookhaven on Friday, May 15th from 4-8pm. This fun race takes place on Saturday, May 16th, and offers a hilly (but not killer-hilly) and scenic run through the beautiful Ashford Park neighborhood. The race is walker friendly, stroller friendly, and dog friendly. Proceeds benefit Ashford Park Elementary School.
---
We're also hosting packet pick-up and late registration for the Loco Glo 5K at BPRC Kennesaw on Saturday, May 16th from 12-3pm. This is a super fun night time race running on a safe course with lots of special effects to make things glow! Participants receive a race T and glow item. There's a big pre-race party with food trucks, music, games, and more. There's a post-race party too!
Why not run the Brookhaven Bolt 5K in the morning, and The Loco Glo 5K in the evening? Sounds like a great idea to us!
Here are some other great races you'll want to run or walk:
June 6: Red Hot Half Marathon/5K Trail Run (registration available at our Kennesaw and Marietta stores only)

June 13: Summer Steamer 5K

June 14: 37th Annual Possum Trot 10K

August 23: Hotlanta Half Marathon

August 29: DI Dash 5K

(registration available at our Kennesaw and Marietta stores only)

Various Dates:Kennesaw Grand Prix Series Race Series - FIrst Up: May 9 Swift Cantrell Classic (reg available at Kennesaw only)

Various Dates: Georgia Multisports Productions Triathlons