Flying Tiger Tasting Bar Takeover for Beer Thursday!
This Thursday for our Free In-Store Beer Tasting, we will be serving up delicious brews from

Flying

Tiger

Brewery!
Flying Tiger Brewery sets out to pay tribute, honor, and respect to veterans and actives all over. Flying Tiger Brewery admires bravery and dedication; inspired to be as courageous as they are to develop an exceptional variety of unique, hand crafted beer styles. Flying Tiger Brewery seeks out to honor the legendary fighter squadron, the Flying Tigers and the craft beer movement by being independent, innovative, and bold! Flying TigerBrewery is beyond craft beer; it is truly is our identity now, rich in history, respect and tradition.
Drink Heroic Beer.
Stop in between
4 & 7 pm
and give these delicious brews a try!
Weekend Wine Tasting:
Friday July 19th, 4-7pm
This weekend's tasting will include:
Les Dauphins Cote Du Rhone Blanc
This wine is a green straw color with a delicate grapefruit and peach flavor. Lively and aromatic with lemon mouth feel finish.
Saveurs Du Temps
This wine is an organic blend of Grenache and Syrah produced by a union of small winegrowers dedicated to their vineyards located just west of Chateauneuf-du-Pape. Pretty, balanced, and fruit-forward, the wine is crisp and dry, with flavors and aromas of red berries and watermelon.
This blend of 65% Corvina Veronese, 30% Rondinella and 5% Molinara is aged in stainless steel tanks. A brief maceration with the skins allows for greater flavor and aroma extraction.
This young and vibrant wine is rich with cherry aromas and flavors of cherry and spice on the palate. Medium bodied and light tannins make this wine very approachable.
---
Special Friday

Tasting

with 34 North!
This Friday, we will have the folks from

34

North

Cocktail Co. in the house to sample ya'll on their line of canned cocktails!
The spirits based craft cocktails come in 12-ounce cans as a 4-pack and are crafted with high quality spirits and no artificial ingredients. The company has launched two cocktails, one bourbon based that will drink just like an old fashioned that is 15% ABV the other, vodka based with lemon and lavender that is 12.5% ABV.
*Whiskey Thief (4pk cans)
*Sneaky Pucker (4pk cans)
---
Stop by between
4-7p
& taste them!
Alfresco

Pasta Tasting Saturday!
This Saturday, we will have the folks from
Alfresco
in the store to let you sample some of the hand-crafted artisan pastas we are carrying!
We use only the best, hand-picked ingredients, perfected recipes, detailed processes and customized, handcrafted Italian pasta machines to make our pasta. We hold our products, people and facilities to the highest standards for safety, consistency, performance and taste.
Stop in between
2 & 6 pm
and give these delicious, locally made pastas a try
!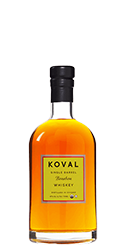 Koval

Tasting

this Saturday!
This Saturday, we will have the folks from Koval in the shop to let you taste our very own Single Barrel Selection!
Established in 2008, KOVAL produces organic whiskey, liqueurs and specialty spirits in Chicago's first distillery since the mid-1800s. Founders Robert and Sonat Birnecker, chose to leave their academic careers to bring the distilling traditions of Robert's Austrian family to America. In making this decision, they vowed to make organic spirits from scratch (avoiding the common industry practice of purchasing and bottling pre-made spirits) and to change the way people understand whiskey by creating a new, signature style - using only the "heart" cut of the distillate - affording a brighter, cleaner take on whiskey.
Embracing the grain-to-bottle mentality, each step of the spirit-making process is thoughtfully monitored: beginning with contracting local farmers to grow the grain, to on-site milling and mashing, to finally distilling, bottling, and packaging. After numerous international awards and Robert at the helm of consulting for the burgeoning craft industry, KOVAL has grown to be one of America's leading small batch, independent spirit manufacturers.
---
Stop by between
4-6p
& taste them!
Non-Alcoholic Product Spotlight!
Detox Water Prebiotic Aloe Water
What's inside?
The highest quality aloe on the market ACTIVAloe®

No artificial colors, flavors or preservatives

Packed with electrolytes, vitamins & antioxidants

All natural and certified USDA organic

Only 30 calories per bottle

Organic fruit flavor
Have a Libation delivered to you with your Delivery Dudes Food Order!
We have teamed with local favorite food delivery service Delivery Dudes to offer some of our inventory of wine, spirits, and beer, including Growlers and Crowlers to go with your delicious takeout dinner!
Ordering is just as easy as ordering food with a full menu of items available to have brought right to your door!