We have Turkeys!
If you are still looking for a place to get your Thanksgiving Day Turkey, look no further.
WE HAVE TURKEYS from Carnivore Meat Co.!
Our very limited supply of turkeys are:
13+ to 14+ pounds

Humanely raised

Certified Organic

Fresh, never frozen
Come on in today and grab one for your Thanksgiving Day meal!
We Are Closed

Thanksgiving

Day!
Don't forget that by Tennessee State Law, we have to be closed Thursday, November 22nd in observance of

Thanksgiving

, so plan ahead!
I'd shop early if you don't want to wait in a monster line!
We will be open regular hours Monday, Tuesday, Wednesday, Friday, Saturday, and Sunday this week.
Black Friday Beer Release!
Goose Island Bourbon County is set to come in and be on the floor at 9am Black Friday, Nov. 23rd. We will be getting Bourbon County Brand Stout 16.9oz bottles. We are also getting a small amount of the variants.
There will be a very limited quantity which means there will be a bottle limit per customer.
This is first come first served and we do expect to have a line at the door when we open!
Tasting Wednesday!
This Wednesday, we have a Tasting Bar Takeover with Nashville's own Tennessee Brew Works featuring their Sweet Potato Stout!
Tennessee

Brew

Works

was born of the thirst for high quality, well-crafted, flavorful beer.
We are proud to call the great state of Tennessee home to the Tennessee

Brew

Works

brewery and taproom, where we create our "finely tuned craft beer." With fine traditions in many things including both music and spirits, we hope to capture the essence of the land and culture in all of our

brews

. We strive to create our

brews

as efficiently as possible, minimizing waste and raw material utilization in our

brew

processes; doing our part for conservation. We believe that

brewing

is a collaboration between art, science and culture!
We are all about supporting our local breweries, so come on out and taste their delicious beer!
Stop in between 4:00 & 7:00 pm and find your favorite!
To help you make some decisions Wednesday afternoon, we will have the folks from Love and Exile Wines in the store to let you taste through some of their wine offerings!
Love & Exile has recruited the some of the most well-known winemakers from Italy and California to create a wine that's carefully crafted yet chuggable.
The wine they create together is brought back to Nashville where it is finished and bottled or canned locally in a winery that Tyler and the small team built in an abandoned car garage less than a mile from downtown called Nashville Urban Winery.
Come on in from 2 to 6p and give these delicious, locally bottled and canned wines a try!
Weekend Tastings:
Friday November 23rd, 4-7pm
This Friday's tasting will include:
Glenns Creek Distilling!
This Friday, we will have the folks from Glenns Creek Distilling in the store to let you sample their delicious whiskies!
The famous bourbon from the long abandoned Old Crow Distillery was originally produced in 1835 by Dr. James Crow using the sour mash process he perfected, and which has essentially become the foundation for bourbons since then. Glenns Creek Distillery wanted to recreate a new bourbon produced in the style of Dr. Crow; something that Dr. Crow would drink and approve of.
Come on in between 4 & 7p on Friday and give these whiskies a try!
Joia Spirits!
This Friday, we will have the folks from Joia Spirits in the store to let you sample their delicious canned cocktails!
Our premium vodka cocktails taste amazing, they're all natural with no artificial anything and they're lower in sugar and calories for a just-right, not-too-sweet taste — a fresh twist on classic cocktails. Joia Spirit is perfect to take anywhere and enjoy chilled right from the can or in a glass over ice.
Come on in between 4 & 7p on Friday and give these delicious pre-made cocktails a try!
Weekend Tastings:
Saturday November 24th, 2-5pm
This Saturday's tasting will include: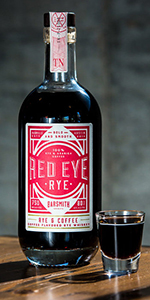 Locally made

Red

Eye

Rye

!
This Saturday afternoon, we will have the folks from Barsmith in the store to let you sample their delicious

Red

Eye

Rye

!
Red

Eye

Rye

is a unique and versatile spirit born behind the bar in Nashville, Tennessee.

Rye

whiskey, 100% Arabica coffee from South America and granulated sugar are blended together to create a bold and complex spirit that is great on its own or mixed into a classic cocktail. Roasted coffee, toasted hazelnut and pepper spice make up the nose of the spirit. On the palate

Red

Eye

Rye

starts with dark coffee turning into smooth vanilla and toasted nut flavor and finishing with a dry pepper spice mellowed slightly by a round sweetness.

Red

Eye

Rye

is free of caramel color, grain spirit, or any other fillers or additives. Bottled at 80 proof / 40% ABV and made with pure

rye

whiskey using a 95%

rye

and 5% malted barley mash bill.
Come on in between 2 & 5p on Saturday and give this delicious locally made

Rye

& Coffee spirit a try!
Five Farms Irish Cream!
This Saturday afternoon, we will also have the folks from Five Farms in the store to let you sample Five Farms Single Batch Irish Cream Liqueur!
Five Farms is a true farm-to-table product, crafted from single batches of fresh cream that are combined with premium Irish Whiskey within 48 hours of collection to become authentic Irish Cream Liqueur. The cream is sourced entirely from five family-owned farms in County Cork, run by families that have a deep connection to the land and a passion for their craft.
Come on in between 2 & 5p on Saturday and have a sip of this award winning Irish Cream!
Have a Libation delivered to you with your Delivery Dudes Food Order!
We have teamed with local favorite food delivery service Delivery Dudes to offer some of our inventory of wine, spirits, and beer, including Growlers and Crowlers to go with your delicious takeout dinner!
Ordering is just as easy as ordering food with a full menu of items available to have brought right to your door!