5th ANNUAL CUSTOMER APPRECIATION DAY!!

HOPE TO SEE YOU THERE!!
Less than three weeks to go until our BIG SUMMER EVENT is here! Join us July 20th at our Mukwonago store! Bring the kids, bring your appetites and bring your dogs (social dogs on a leash welcome). This has been a very well attended event so it may not be a favorite place for a dog who is fearful or prefers humans over pets! And while you're at it, bring a lawn chair to get comfortable while you watch the fun! Pre-register your dog to dive
here.
Our neighbor, Health Hut, is also joining in the fun and will have many vendors and fun things going on as well! This HUGE event is the healthy place for pets and people!
We are proud to announce this year's Dock Diving Sponsors:
Born Free

Cloud Star/Tiki Pets


FROMM


Health Hut


Pulsar

Pure Vita/Natural Planet

There will be 40 vendors and rescues! Here is a partial list of the participants sharing knowledge of their products and providing delicious, nutritious samples for your pet to try:
Pulsar

Super Snouts/Bixbi/NW Naturals

Ziwi Peak and more!

Dock Diving with Pier Pups, Live Music by Andy Caroll and Geoff Howard, face painting by Suzy Sparkles, Nail Clinic with Jamie, and various rescues will be here, like the folks from WAAGR (Wisconsin Adopt a Golden Retriever), HAWS, Lakeland Animal Shelter, and more!
Come hungry because Winston's Wishes Rescue will be grilling up lunch for everyone! All proceeds will benefit Winston's Wishes to build a new shelter in Southeastern Wisconsin!

Save up to $10 Off select dry foods, $8 OFF select raw foods, 20% OFF select treats and much more!
K.M.S. Art will be at the Big Event again this year featuring painting on water! Learn how to make a scarf for you or your pet using water marbling! Cost depends on
type of scarf! Join the fun and check out K.M.S. Art on Facebook!
We're excited to announce that Hive Taproom of East Troy will be here with samples of their famously delicious Mead!
From their website: "What is Mead?
Historically, it's the oldest alcoholic beverage, enjoyed by pharaohs and kings.
Scientifically, mead is wine made by fermenting honey, changing the sugars into alcohol and carbon dioxide.
Practically, mead is a delicious gluten-free beverage that makes you feel good, even the next day!
Drinking our honey wine surprises many people when it's not overtly sweet like traditional mead. It's naturally gluten free and through our careful processing, the medicinal properties of raw honey are maintained. Many people report that they are able to enjoy this beverage with no negative impact the following day."

Enjoy a sample while watching the diving dogs! :)
Kids and adults (and pups) alike will enjoy refreshing dairy product samples from Oberweis Dairy! An Oberweis Rep will be here with samples of
their award winning milks, juices and seasonal favorites.

Stop by and see why Oberweis Dairy products are a cut above the rest!
Save the Planet ...
We want to do our part to reduce the use of plastic bags, so just in time for our Event, we will have reusable shopping bags available for purchase for the cost of

$1.99!.



Join us at our Big Event on July 20th, and shoppers will get one FREE shopping bag with any purchase requiring a bag!
Actual bag will be similar to the one pictured here, but may not be exact.
CUSTOMER APPRECIATION SALES!
While Supplies Last - July 20, 2019 Only
(Sales available at both locations)
Auntie Jennie's
10% OFF!
"All natural ingredients and safe for people, so don't be afraid if your kids eat one!"
July 20, 2019 Only
"Training becomes a whole lot easier when you're armed with a healthy dose of incentive. And nothing brings incentive to the table quite like the soft texture and beg-worthy flavors of BIXBI Pocket Trainers. With sweet Peanut Butter, savory Chicken and smoky Bacon Pocket Trainers, you'll have their full attention and their most earnest efforts. A handful of these is the trick to helping your dog learn new ones."
NEW!!
"Bocce's Bakery Treats are all-natural biscuits, in delectable flavors that all doggies are sure to love! These fun treats are baked by hand in small batches, using the freshest organic, seasonal ingredients we can find!"
$2 OFF 4lb Bag!
$4 OFF 12 lb Bag!
$6 OFF 26 lb Bag!
"Born without boundaries. Every dog has a bit of wolf inside. Honor that right with our high quality, select, multiple protein recipes, free from the bounds of grains."
Cloud Star Treats

$2 OFF!

"For more than a decade Cloud Star has been producing all natural and wholesome products for dogs, even those with allergies."
Collars, Leashes & Harnesses
In-stock items only. July 20, 2019 Only
"From big to small, we fit them all. Coastal Pet offers safe solutions to make life easier for you and safer for your dog."
"Real Ingredients Worth Rolling Over For.

The ingredients in Dogswell dog treats taste great and support proactive wellness in your pet. Made with real animal protein and fortified with vitamins & supplements, Dogswell dog treats include great functional benefits with a taste your dog will love!"
$3 OFF 5 lb Bag!
$5 OFF 14 lb Bag!
$7 OFF 28 lb Bag!
"Your dog deserves the best nutrition possible. We've developed a product line designed specifically to help build and maintain your dog's overall health by supporting all body functions. A variety of nature's finest proteins, vegetables and fruits were carefully selected and blended with essential vitamins and minerals to give your dog the healthy diet he needs and the delicious taste he craves"
FROMM
$2 OFF 4-5 lb Bags!
$3 OFF 12-15 lb Bags!
$5 OFF 26-33 lb Bags!
July 20, 2019 Only
Fromm Family Foods - fifth-generation family-owned and operated artisan pet food company based in Wisconsin since 1904.
$2 OFF 2 lb Bag!
$4 OFF 4 lb Bag!
$6 OFF 10 lb Bag!

"... our

Physiologically Correct recipes always start with meats rich in complete proteins as the main ingredient. But it wouldn't matter how nutritious our food is if your cat won't eat it, so we tailor the taste of our recipes based on actual feline feedback to ensure it's equally delicious. When we say our food is Co-Created by Cats, it isn't just a slogan, it's the secret to everything we make."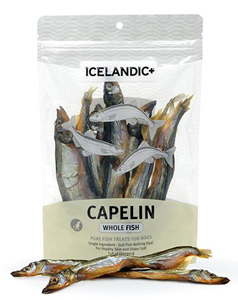 Wanna see your dog get really excited at treat time? Try these all-natural single-ingredient fish treats and watch the sparks fly!
"Our 100% natural and edible Icelandic Fish Treats for Dogs are single ingredient and contain no additives, preservatives or supplements. They come only from the pure icy waters of Iceland and are caught daily and processed immediately. Not only are they delicious for your dog, they reduce tartar and plaque build-up for healthier gums and teeth. They are also a great natural source of Omega-3 fatty acids, promoting healthy skin and coat for your pet. With just one ingredient, these tasty and healthy treats are perfect for dogs with protein sensitivities. Our natural and edible fish products offer peace of mind, as they are cleaned and air-dried within FDA, USDA, EU, and MAST standards and regulations. Because Iceland almost never gets warm, our fish always remain cold after being caught. As a result, they have less smell than other fish treats in the market"
Instinct

$5 OFF 4.5 - 5 lb Bags!!
"
High animal protein, grain-free recipes guided by our belief in raw, each recipe starts with real meats like cage-free chicken, USA-raised beef or farm-raised rabbit.
70%+ real animal ingredients & nutritious oils, 30% vegetables, fruits and other wholesome ingredients. Made without grain, potato, corn, wheat, soy, by-product meals or artificial colors or preservatives"
Momentum Treats
(excluding turkey hearts, salmon and duck neck)
"Momentum Carnivore Nutrition is a family owned and operated business located in Manitowoc, WI., with a passion for feeding pets a natural freeze-dried diet.
We use 100% pure and human grade ingredients in all of our products. All meat product is sourced in America and passed through USDA inspected plants."
"We are a Wisconsin family farm business that practices organic growing methods. We grow our own produce* right here on our farm and our free range/pasture raised meats come from other Wisconsin family farms. We never use meals, artificial flavors, fillers or fat to substitute for nature and we are dedicated to using the least processed, most natural ingredients possible."
$5 OFF 5.5 lb bag!

$6 OFF 15.4 lb bag!
$10 OFF 26.4 lb bag!
$4 OFF all size bags!
Buy 3 cans, get one FREE!
"A nutritional system for carnivores that's scientifically designed according to nature. Years of scientific research in collaboration with the Chair of Animal Nutrition at the University of Naples Federico II led the Farmina Vet Research group to formulate a nutritional system designed for the nature of our four-legged family members. Natural & Delicious Grain-Free is unlike typical grain-free pet foods because we have substituted all cereals for animal proteins. The result is a high-quality cat food comprised of 70% animal ingredients and 30% vegetables, fruits, vitamins, and minerals."
"Natural Planet Pet Foods has choices for organic foods and exotic protein sources such as Venison, Duck, Kangaroo and Rabbit. Our Super Premium foods feature the Good 4 Life system and are for all life stages appropriate per AAFCO's guidelines. There are Grain Free options available and many feature fruits and vegetables as well as pro and pre-biotics."
Buy One 4.4 lb Bag, Get One FREE!
$6.00 OFF 15.4lb Bags!
$9.00 OFF 26.4lb Bags!
Buy 2 Cans, Get 1 FREE for Cat and Dog!
Buy 1 Large Bag of Treats, Get 1 Small Bag FREE!
"A 100% whole foods diet that provides complete nutrition for your dog regardless of breed, size and age."
Northwest Naturals Treats

July 20, 2019 Only
"Manufactured in a quality controlled USDA human food inspected facility."
Are you seeing our Newsletter in its entirety? Because of its length, it may be clipped in your email. Be sure to scroll to the end and click for more so you don't miss out on any of our fantastic specials or super-insightful articles!
$8 OFF 6.5 lb Raw patties!
$5 OFF 4 lb Sliders!
$4 OFF Meaty Rox!
$2 OFF 5.5 oz Raw Freeze Dried!
$4 OFF 14 oz Raw Freeze-Dried!
$2 OFF Sardines!
$3 OFF Bones!
"OC Raw Dog uses only premium ingredients—all natural, whole muscle and organ meat, and farm fresh produce—with absolutely zero indirect or direct preservatives, chemicals, fillers or grains. The result is healthier, happier dogs."
Any Variety
"hand-crafted in Boston, loved around the world"
"We start every morning with a simple goal to make the very best dog and cat treats on the planet. We're not the biggest goldfish in the bowl and we don't want to be. We focus instead on quality and freshness, creating and delivering the finest products for you and your pet. Each and every single treat that comes out of our Boston kitchen is made from scratch in small batches and packed by hand. It's that attention to detail and hands-on manufacturing that allows us to offer the unique array of nutritious products that carry the Polkadog brand."
Freeze-Dried and Treats

"Primal's products make it easier than ever to keep your pet's diet as close to nature as possible, allowing them to live longer, healthier, more vibrant lives. Their wholesome, raw food is made with human grade ingredients that provide your pets with the best nutrition."
$3 OFF 28 lb Bags!
"The ultimate in pet nutrition!"
Pulsar
$5 OFF 8.8lb bags!
(limit one bag)
July 20, 2019 Only

"It remains our mission. To source real and local ingredients, make and ship products to consumers at the best possible price every day with no compromises ... ever."
$2 OFF 5 lb Bag!
$3 OFF 15 lb Bag!
$5 OFF 25 lb Bag!
"PureVita's™ select pet formulas are carefully prepared using specifically selected natural, holistic ingredients (with added vitamins and minerals) to support your pet's overall health and emotional well being."
"We are dedicated to providing your dog with an excellent alternative to commercial dog chews and treats. All of our sweet potato dog treats and chews are made from USA grown orange fleshed, sweet potato (though sometimes you may find them labeled as "yams" at the grocery store.) These chews and treats are highly nutritious and excellent for your dog's teeth and health. Sweet potato is very high in anti-oxidants. We add nothing artificial, no sweeteners, colors, or processed food items. Sam's Yams are made only of human food quality, fresh sweet potato and nothing more."
Freeze-Dried and Frozen
"We are a small family owned company based in the bay area. Inspired by the wonderful local and sustainable sources around us, we set out to make a different kind of raw pet food. All of our ingredients are carefully selected to meet the standards we feel every pet deserves: organic herbs and vegetables, hormone and antibiotic free meats, and only pure honest supplements such as organic kelp and bee pollen"
$5 OFF Any Size Dog Kibble!

$5 OFF 7 oz or Larger Cat or Dog Freeze-Dried!

$2 OFF Any Dog Treats!
"
We only use quality ingredients responsibly sourced from farmers and ranchers we know and trust. Our dinners are 90-95% meat, organs & bone and our animal proteins have no added hormones or antibiotics."
Super Snouts

"Selectively sourced, affordable, handcrafted, hand-packed supplements and treats"
Buy One Can or Pouch, Get One FREE!
(of equal or lesser value)
$10 OFF Any Variety Kibble!
$2 OFF 8 oz Tiki Cat Raw!
$4 OFF 24 oz Tiki Cat Raw!
"Always the #1 ingredient, the protein in Tiki Pets™ foods come from high-quality animal sources, like Alaskan salmon, chicken, lamb, egg, ahi tuna and whole prawns.

Ultra-nutritious superfoods, like kale, spinach, pumpkin, carrots and flaxseed, give cats and small dogs a boost of vitamins, minerals and fatty acids.
No Fillers. Nothing Fake. Thoughtful Recipes. Real Benefits. More Flavors = More Nutrients."
"Tucker's is a home-spun family business started in the summer of 2009. We operate our business under one simple premise. "We Love Pets!"They are an extension of our lives and our biggest fans. We believe that they deserve nothing but the best that nutrition has to offer. All of our meats are sourced exclusively from the USA. Our foods are hand made and packed in Wisconsin by People that take great pride in creating innovative and nutritious products for your pets.
We do this... "BECAUSE YOUR PETS ARE WORTH IT!""
VENTURE
Dry Dog Food

$3 OFF 4 lb Bag!
$5 OFF 12.5 lb Bag!
$7 OFF 25 lb Bag!
"You can't expect to create exceptional dog food unless you make the effort to find the best ingredients, and sometimes the journey to finding the best ingredients is an exciting venture. Moving forward in a new direction, we are focused on creating a defined diet for dogs made of superior ingredients from sources we can trust. We may have limited the ingredients, but the nutrition and palatability are nothing close to limited."
Our Venture Rep will be in our Mukwonago
Store on July 6th from 10 - 2 pm and July 20th from 10 - 3 pm. She will be in our Pewaukee store on July 26th from 2 - 6 pm to talk about Venture Pet Food and to share samples for your pet to try!

Vital Essentials
Frozen and Freeze-Dried
July 20, 2019 Only
"We're a pioneer in the raw pet food industry. Our family-owned company, located in Green Bay, Wisconsin, produces high-quality raw frozen and freeze-dried pet food, snacks, and treats.Vital Essentials uses only USDA inspected animal protein proudly made and packaged in the heartland of the U.S.A."
World's Best Cat Litter
$1 OFF 6 lb bags!!
$2.00 OFF 12-14 lb bags!!
$5 OFF 24-28 lb bags!!
(Stop by World's Best's booth for a FREE small bag with any purchase of WBC!!)
July 20, 2019 Only
"Ditch the stains, mystery smells and stress with the natural litter that safely attracts your cat to the box."
ZIGNATURE
"Our recipes mirror the true diet your pet's ancestors thrived on. In the wild, while prey may vary from day to day, meals are limited in content. We follow this natural blueprint, and limit the number of ingredients in our recipes. This helps ensure proper digestion for your pet, while minimizing possible allergens and food sensitivities."
ZIWI PEAK

"Born of love. Crafted with goodness. Made in New Zealand."
Did you know? ....
You can enter #EOTLSale to search for all of our sale items that we have posted on
Facebook. Take a peek so you don't miss out!
Be on the lookout for any
Mark your Calendar and Shop RAW!! Save 20% on These Selected Customer Favorites!!
Every 1st Friday: VITAL ESSENTIALS, TUCKER'S

Every 2nd Friday: OC RAW, TIKI CAT RAW

Every 3rd Friday: STELLA & CHEWY'S
Every 4th Friday: INSTINCT
5th Fridays: SMALL BATCH

(if applicable)
Whitefish & Potato and GF Surf & Turf

All Sizes Dog Food
$3 OFF!!
Seafood Medley Wet Dog Food
Seafood & Shrimp Wet Cat Food

$1 OFF/Can!!
Sale valid July 1-31, 2019 (Excluding JULY 20th)
$7 OFF 10 oz Bag!!
$9 OFF 18 oz Bag!!
$3 OFF 3 oz Mini Thinkers!!
$5 OFF 6 oz Mini Thinkers!!
July 1 - August 31, 2019
"The Plato Way: Real people creating real treats for dogs in the most considerate and conscious way possible in the heart of California. We want you to feel good about what you're feeding your pet. It's a responsibility we take to heart. That's why we monitor every inch of every treat's journey. From the careful choosing of our responsibly-sourced ingredients, to our in-house production and conscientious distribution, our sky-high standards are never compromised. This ensures that every treat that leaves our sight is safe, wag-worthy and wholesome."
The Bear & The Rat
$1 OFF!!

$0.50 OFF!!

July 1 - August 31, 2019
"Our new Frozen Goat Milk Yogurt is so much more than just a treat. With a full serving of Optagest prebiotic enzymes in every cup and quality ingredients like Turmeric, Cinnamon and Ginger your pet will be begging for their daily supplement.
Our frozen yogurt dog treats are full of quality ingredients like Applewood smoked bacon, banana and pumpkin. Each cup of "Cool Treats" is packed with billions of probiotics, making them a favorite for pups and their parents."
Top Ten Fourth of July Pet Safety Tips
By Yahaira Cespedes, PetMd

Like many Americans, you may be planning to have a festive Fourth of July. Along with barbeques and day at the beach, no July holiday celebration would be complete without enjoying the fireworks that celebrate the birth of our nation.
Perhaps you are considering staying at home and planning a get-together with friends and family. Or, you may want to go check out your local professional fireworks display. While putting the finishing touches on your planned celebration, take a moment to consider your pets.
Unlike people, pets don't associate the noise, flashes, and burning smell of pyrotechnics with celebrations. Pets are terrified of fireworks, and often panic at the loud whizzes and bangs they produce.
Because of this, the American Humane Association reports that July 5 is the busiest day of the year for animal shelters. Why? In a 2005 press release the Indiana Proactive Animal Welfare, Inc. (PAW) stated that animal shelters the day after Fourth of July are "inundated with pets that panicked at the noise of firecrackers and fled into the night, winding up lost, injured or killed."
Both the American Society for the Prevention of Cruelty to Animals (ASPCA) and PAW have listed ways you can prevent your holiday celebration from turning into a tragedy. Here are 10 tips on how to keep your pet from panicking this Fourth of July weekend.
10. Keep your Pet Indoors at All Times!
It may seem obvious, but even if your pet is used to being outside, the resulting panic caused by fireworks or other loud noises may make them break their restraint or jump a fence in a terrified attempt to find safety.
9. Don't Put Insect Repellant on Your Pet that isn't Specifically for Pet Use
The same tip applies to applying "people" sunscreen on your pet. What isn't toxic to humans can be toxic to animals. The ASPCA lists the poisonous effects of sunscreen on your pet as, "…drooling, vomiting, diarrhea, excessive thirst and lethargy." DEET, a common insecticide, may cause neurological issues.
8. Alcoholic Drinks Poison Pets
If your pet drinks alcohol, they can become dangerously intoxicated, go into a coma, or in severe cases, die from respiratory failure. Yes, even beer is toxic; fermented hops and ethanol are poisonous to dogs and cats.
7. Going to a Fireworks Display? Leave Your Pet at Home
The safest place for your pet is at home, not in a crowded, unfamiliar and noisy place. The combination of too many people and loud fireworks will make your beloved pet freak out and desperately seek shelter. Locking them in the car is also not an option; your pet may suffer brain damage and heat stroke.
6. Have Your Pet Properly Identified
If your pet manages to break loose and become lost, without proper identification it will be that much harder to get them back. Consider fitting your pet with microchip identification, ID tags with their name and your phone number, or both. It is also a good idea to have a recent picture of your pets in case you have to put up signs.
Read full article here.
Try These Proven Natural Calming Products
July Third - Immediate Calming
"July Third™ is formulated to help dogs maintain a normal, content, and relaxed disposition in times of environmental stress and in situations that may cause anxiousness, such as changes in your pet's daily routine, separation, noise from fireworks and thunderstorms, trips to the groomer, meeting strangers, traveling, or boarding.
With valerian, chamomile, thiamine, L-Tryptophan, and passion flower, July Third helps keep your pet calm by promoting a sense of relaxation and supporting a normal emotional balance. July Third helps dogs maintain a normal and relaxed disposition while also helping them to cope with external stresses.
Use July Third the day before or the day of those situations that may cause stress and tension for a short-term immediate effect. For dogs that need long-term, cumulative calmness, we recommend using Herbsmith's Calm Shen®."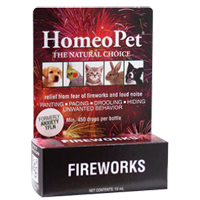 HomeoPet Anxiety - TFLN
"Homeopathic remedy provides relief from fear of: Fireworks, Wind, Loud Noises, Gunshots. Restless, anxious and unwanted behavior can be helped with this fast acting, non-sedating liquid.

Borate of Sodium –

Washing Soda

-

This is the pre-eminent remedy for fear of gunshots or any sudden noise causing startling. Jumping with fright is an indication for the use of this remedy. Those requiring it often hate to be lifted. This fear of lifting is due to of a fear of downward motion, which to the untrained observer often appears as a fear of heights or lifting, but is actually due to a fear of falling or downward motion. Drooling is often a symptom indicating a need, but will even work where drooling is the result of mouth ulcers.
Rhododendron Chrysanthum - Fireworks, general storms"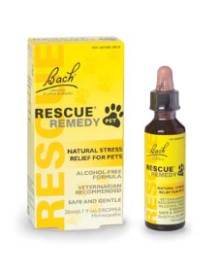 Bach Rescue Remedy
Julia Henriques, Dogs Naturally Magazine
"There's one popular blend you may know. You may even have used it on your dog during a trip to the vet, in a thunderstorm or when the fireworks are booming all around you on the 4th of July. This blend is known as Rescue Remedy. It contains these 5 single flower essences and can help with all kinds of stressful situations for your dog.
Impatiens – a remedy to help with impatience, irritability, agitation

Clematis – for spaciness or faintness, detachment

Rock Rose – for terror, panic, hysteria

Cherry Plum – for loss of self control

Star of Bethlehem – for trauma or grief
Rescue Remedy is a good example of how you can combine different essences to cover a range of states of mind.
One important thing to remember is that you should only use the flower essences to treat your dog's emotional state. They don't match specific physical disorders, so your dog may need additional care methods for a physical ailment. But you can safely use them alongside other treatments like homeopathy – and they won't interfere with homeopathic remedies."
$2 OFF 4 lb Bag!!
$3 Off 12 lb Bag!!
$5 Off 26 lb Bag!!
Sale valid July 1-31, 2019 (Excluding July 20th)
"Every dog has a bit of wolf inside. Honor that right with our high-quality, select, multiple protein recipes, free from the bounds of grain.
Our recipes include an abundance of meats, a wide selection of vegetables and fiber, with no additives or fillers. We use only high-quality, all-natural, easily digestible ingredients to help create a healthy gut and strong immune system."
Our Born Free Rep will be in our Mukwonago Store on
July 20th from 10-3pm
to talk about Born Free Foods and share samples with your pets!
Mukwonago Nail Clinic with
Jamie will be Saturdays,
July 6th

and

J

uly 20th (our Big Event Day)



Pewaukee Nail Clinic with Jamie will be Saturday,
July 27th
CLINICS RUN FROM 9 AM - 2 PM in Mukwonago; 10 AM - 2 PM in Pewaukee;
$10 PER PET.
NO APPOINTMENT NECESSARY
Mukwonago Nail clinic with Jamie will be Saturdays,

August 3rd

and

August 17th.
Pewaukee Nail Clinic with Jamie will be Saturday, August 24th.
Animal Communicator Carolee Biddle of Animal Connections will be back in our Mukwonago store on July 13th.

The cost is $55 for a 20-minute session.To schedule your appointment, please call us at 262-363-3338.
Curious about animal communication? Want to learn more? Visit Carolee's website at www.animal-connections.com for insight on this intimate, effective tool you can use to bond with your animal companion and communicate with them in a whole new way! You can also visit her Facebook page.
"Animals are more than just our companions. They can be our teachers. We should always show them gratitude and respect. And if we can learn to live as they do—from the heart—the world can experience true peace and serenity."
www.animal-connections.com