Alaskans: Donate to the Alaska Zoo from your PFD's when you file online and access us in Pick.Click.Give. Just search the organizations for "Alaska Zoo". Thank you for your support!
Zoo Lights open Thursdays to Sundays from 5-8pm until January 28th, then hours change to 6:30-8:30pm. View our Zoo Lights pages for details, prices and an online ticket sales link.
Sing-a-long for toddlers every Monday at 10:30am in the Coffee Shop greenhouse, regular admission and annual memberships apply, no extra charges.
Storytime for toddlers every Wednesday at 10:30am in the Coffee Shop greenhouse, regular admission and annual memberships apply, no extra charges.
Wildlife Wednesdays Free Science Talks every second Wednesday monthly through April, talks are free in the Gateway Hall, start at 7pm. The next talk will be February 14th, "Tracking the Wolverine".
Winter Adventure Camps are held on all ASD holidays and in-service days. The next camp will be Monday, February 19th, "What does the fox say?" with a focus on canid species. Camps are 9am-3pm, advance registration, membership discount applies.
We are sharing the Valentines love with you!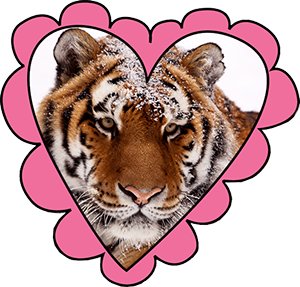 Valentines for the Animals Event
Saturday, February 10th
FREE ENTRY FOR KIDS (ages 17 and under) from 10am to 4pm, last entry 3:30pm.
Kids under 13 years must be with an adult, 1 adult for every 5 kids.
Note: Zoo Lights will be open in the evening, 6:30pm to 8:30pm, regular Zoo Lights rates apply (no free entry for kids after 3:30pm)
The Alaska Zoo is sharing the love in 2018! Join us for KIDS FREE admission to the zoo (ages 17 and under) on Saturday, February 10th between 10am and 4pm (last entry at 3:30pm). This is also the day of our annual Valentines for the Animals event where visitors make valentines for zoo animals at our card craft station, then deliver the cards to the large envelopes placed along the trails at each animal habitat.
Event activities will be happening from Noon to 3pm. The card station will be in the Coffee Shop Greenhouse with all of the supplies on hand to make awesome valentines, along with free hot chocolate for a warm-up (while supplies last). Our Discovery Center will be open if you wish to stop in and learn about the zoo's history through pictures. The Gift Shop and Coffee Shop will be open for business as well. Our zookeepers will have valentine-themed enrichment happening for animals throughout the zoo, with scheduled times and locations posted for visitors during the event.
February Zoo Membership Special!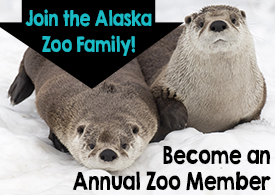 Share the love all year long! Become an annual zoo member and receive free entry for one year from the date of purchase!
FEBRUARY MEMBERSHIP SPECIAL:
Buy or renew annual zoo memberships in February and receive one free admission ticket for every $50 spent toward zoo memberships. These admit one tickets will be valid until December 31st, 2018. This special applies for memberships renewed or purchased online and at admissions. If you purchase or renew online, your membership cards and free ticket(s) will be mailed withing 10 business days (use your membership receipt for entry until you receive your cards).
We offer many member perks including an a' la carte system to design the membership that fits your needs, seasonal discounts in the Gift Shop, discounts on certain special events, discounts on Adventure Camps for ages 6-12, options for guest passes and more. We now offer membership sales and renewals online through our new website! It is convenient to join and memberships make great gifts for the animal lovers in your life.