Happy 4th of July
Other than independence day it's no surprise that it is also National BBQ Day! We hope you have a great day celebrating America's Freedoms & Blessings to those who keep us safe.
Did you know,
Americans will consume an estimated 150 million Hot Dogs during the 4th of July Holiday!
SAVE THE DATE
SWISS COUNTRY DAYS
SATURDAY
AUGUST 18TH
Swiss Meat & Sausage In store Specials!
WHOLE HOG ROAST
(served by Swiss E&R Church)
LOCAL Vendors & Crafters
KWWR Live Broadcast &
Ticket give away for Darius Rucker &
Lady Antebellum concert
Sponsored by Swiss Meats
LIVE MUSIC
&
Swiss Improvement Organization "Win A Pig Contest"
A day of fun for all!
Stay Linked to us for updates by following us on
Facebook, Twitter & Instagram.
B
uy Two of our 12-16 oz. Packs of any Flavor Bratwurst.
In Store only and While Supplies Last

.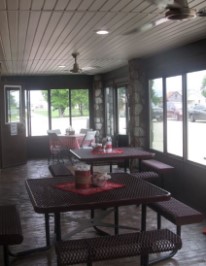 Meet the faces of Swiss Meat & Sausage Company
You have been introduced to many of our production crews in previous newsletters.
They are the ones behind the scene, that make all of our award winning products and perform many services for you. We couldn't manage without a single one of them!
Likewise, we could not do without our extraordinary retail sales staff! They are the faces of Swiss Meat. They are the ones who greet you with a smile. They are the ones who dish out samples of our great products for you. They are the ones who serve you lunch. They are the ones that answer your questions. They all have great customer service skills. They keep our retail showroom clean and well stocked and they give up their weekends to be able to take care of your needs!
We sincerely appreciate all that they do, and we hope you do too!
Pictured from left to right are: Mindy, Vicki, Tony, Laurie, Chris, Sharon, Holly and Jordan. Be sure to tell them "Hi" next time you're in the store! They love to listen and learn more about you and your family, as well as help you in any manner that they can!
We also want to feature our newly enclosed patio. This new enclosure can accommodate 12-16 individuals for lunch. Screened windows and fans helps keep you cool and comfortable while dining. Check it out during your next visit!
SWISS MEAT & SAUSAGE CO. Lunch Special
July is National Picnic Month ...
Cook the elbow macaroni and cool slightly.
In a serving bowl, combine the noodles with bacon and shredded cheese, mix well. The cheese should melt slightly.
Add the rest of ingredients and stir till combined.
Let rest in the fridge for at least an hour. Serve and enjoy
8-10 servings.
Check out our YouTube Clip
from
MO Sportsman Travels
SATISFACTION GUARANTEE:
We care about your Satisfaction with our quality products & service. Our guarantee is that if you are not 100% satisfied, we will make it right with an appropriate exchange or refund.
Earn 1 points on every dollar you spend on select items.
You can even DONATE your points to our charity program!
Double Point on Wednesdays !