May is here and we are Busy as Bees.
Bill's Country Birthday Bash is fast approaching.
Owner Bill Sloan will be turning 86 and we are throwing one Root'n Toot'n party!
Come in on Friday, or Saturday, May 11th or 12th, from 8:00 am to 5:00 pm,
for our Lunch Special of a Pork Burger or Bratwurst for only .86¢ and
FREE Cupcakes included with a lot of other prizes!
One lucky winner will win a pair of tickets to see Keith Urban live @ the Hollywood Casino Amphitheater June 15th .
Follow us on Facebook for more info.
Stay Linked to us for updates by following us on
Facebook, Twitter & Instagram.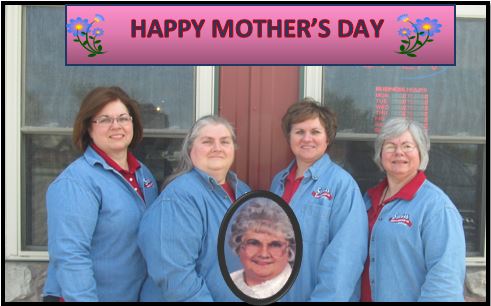 In honor of Mother's Day!
We want to Spotlight the "Four Moms" of Swiss Meat & Sausage Company. Each of them have a specific skill set and duties that keep Swiss Meats going strong every day. Deana takes care of Customer Service & Wholesales Customers. Sharon deals with the ever-growing Private Label Customers. Vicki comes up with the sales and promotions while working in the retail store. Janice carries out the day to day business, accounting and human resources. They all grew up working at Swiss Meats and learned the value of a hard days work along side their mother, Margie Sloan.
The Sloan Sister's may not want to admit it, but they all have a few things in common like long & happy marriages. They all enjoy spending their spare time with their children and grandchildren. As a matter of fact, when asked what they all considered their biggest accomplishments, they all said "The strong family connections they have with each other and their families."
All four of them are remarkable women and add value to the family business with keeping the tradition going here at Swiss Meat & Sausage Co.
Are you CrAzY about your MOM?
Make her breakfast in bed on Mother's Day.
We will make it Crazy Easy for you
with our May CrAzY 8's Special.
1 - 16 oz. pkg. of Breakfast Link Sausage,
1 - 16 oz. pkg. of Pineapple Flavored Cured Bacon
ALL FOR THE GREAT PRICE OF ONLY
**EVEN MORE CRAZY**
THIS MONTH
SLICE-N-EAT SAUSAGES
FOR $8.88
May is National Beef Month
May is also Burger Month and just in time Mother Nature is looking like she might decide to be nice, so let's warm up those grills and get cooking!
Here are some Do's & Don'ts to making a great grilled burger.
Don't use extremely lean beef, you want a good mix of fat to keep it from drying out like a 80% LEAN TO 20% FAT.
Do add flavor without adding extra salt, as it will dry out your burger.
Do make your patties ahead & wrap them in plastic wrap, they should be ¾ inch thick. Making a slight thumb print in the center will keep the burger from swelling in the center and help it to cook evenly.
When grilling, Don't squash the burger with your spatula. You want to keep those yummy juices inside. Then only flip it once, when the burger is cooked half way.
Do cook ground beef to an internal temperature of 160 degrees F.
Do Enjoy!
SWISS MEAT & SAUSAGE CO. Lunch Special
We will be Closed SUNDAY, MAY 27, and MONDAY, MAY 28, in honor of MEMORIAL DAY!
SATISFACTION GUARANTEE:
We care about your Satisfaction with our quality products & service. Our guarantee is that if you are not 100% satisfied, we will make it right with an appropriate exchange or refund.