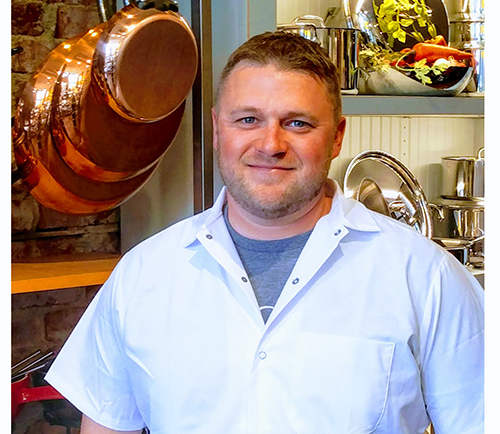 Please welcome Chef Dave Sahs to Marcel's!
A fellow Glen Ellyn resident, Chef Dave is excited to share his culinary expertise with home cooks to develop their skills in the kitchen. Dave got his first taste for restaurant life during high school as a busboy, server and eventually a cook at a small family-owned café. This experience sparked his interest to attend Culinary School and get his first "real" kitchen job working at Heaven on Seven for Chef Jimmy Bannos, who eventually became his culinary mentor.
After graduating, Dave travelled to Europe and spent time honing his craft at restaurants in London. Upon his return, he landed a coveted line cook position at Spiaggia under Chefs Tony Mantuano and Missy Robbins. This experience shaped his life forever; he met lifelong friends and most notably, his wife, during his tenure at the restaurant.
He eventually left the culinary world to pursue his other passion - golf and golf instruction. This offered invaluable experience with people and teaching and allowed him the luxury of putting his heart into cooking at home again.
In 2015, Dave's wife Meg and her business partner Sarah Grueneberg opened Monteverde Restaurant and Pastificio in Chicago. Dave is intimately involved in restaurant public relations, food and instruction.
Today, Dave is melding all of his passions to teach cooks how to develop their game at home, here at Marcel's.
---
Three items always in your grocery cart: Great Coffee, Fresh Herbs and Meat
What's your guilty pleasure food? Cookies and Ben and Jerry's Tonight Dough
What's your best food memory? My wife and I had the opportunity to "be flies on the wall" at a dinner one special autumn night in Emilia-Romagna, Italy. It was a collaboration between food and beverage producers from very different countries – Italy and Japan - at our friend's Acetaia (balsamic vinegar house) in Reggio Emilia. Local cheese and vinegar experts, along with a Chef, created a dinner menu with Japanese visitors that specialized in beer, cheese (yes, cheese) and sake, among other Japanese ingredients. The table of twenty passionate people speaking three different languages (with translators) discussed the interesting similarities and pairings of all of the different products. Did I mention it was Halloween, a crazy thunderstorm, and the power went out? We all pitched in and pulled off a fabulous experience with only candlelight. We will NEVER forget that night.
What are the most underrated cooking ingredients? Acid, High Heat, Fire/Fuel/Smoke
Latest food discovery: Cinco Jotas Black Label Jamon Iberico Ballota from Jabugo. Literally THE best ham you can put in your mouth. I get to slice it by hand off the bone for special events!
What music do you listen to when you cook? Thievery Corporation Pandora Station if I want to relax and focus /
Rap and Hip Hop Pre Game Radio on Pandora if I want to get sh*t done.
What's your favorite spice? Tough one - Smoked Paprika?