JULY 4: HAPPY BIRTHDAY, AMERICA!

We hope you had a perfect day yesterday and a safe and happy Fourth wherever you were celebrating. We still have our summer grilling and outdoor sale on through Sunday, July 6th. Everything grilling, melamine, acrylic and all the paper goods to go with it are all 20% off! Enjoy the holiday and then it's back to summer. Think Marcel's for all your summer needs; from picnic goods to wedding gifts, we've got you covered.

SATURDAY, JULY 12: JAZZ IN GLEN ELLYN

A hot night of cool jazz transforms Main Street Glen Ellyn into a jazz garden oasis, courtesy of the Glen Ellyn Chamber of Commberce. Come and enjoy this fantastic downtown festival featuring a line up of top Chicago Jazz musicians.

During the day we have a special Le Creuset demo from 1 - 4 pm featuring a Charleston Gumbo and Dana's always fantastic No Knead Bread recipe plus a special gift with purchase offer!

At night we have a few seats left in our Summer in Santorini class which starts at 6:30 pm and the store will be open until 10 pm for all the revelers! Make sure to stop in and visit Marcel's Market for a wonderful selection of cheeses, meats, and beverages to complete your evening.


JULY 24-26: SIDEWALK SALE IN DOWNTOWN GLEN ELLYN

Don't miss this once-a-year chance to save big and support your local stores all at the same time. Beginning Thursday, July 24 through Saturday, July 26, Marcel's will again be participating in this popular annual event. We will be making room for all of our fall and holiday merchandise so you won't believe what we're going to be marking down -- don't miss out on these great deals! Here's the line-up of all the activities:

The sales begin Thursday, July 24th at 9am:

10am until 1pm The Glen Ellyn Public Library entertains kids

1-3pm Glen Ellyn Park District Shop & Drop for kids @ Ackerman! Just call 630-858-2462 and give them code 101830.

School of Rock: for 2-5 year olds @ 2-3pm, for 5-8 years old @ 3-4pm; $10/kid, call 630-413-4529.

5pm Windy City Mix music and savor an ice cream treat-on-a-stick social!

More fun is Thursday's Courier Travel's Downtown Dunking Booth! Come "sink" your local celebrities for a good cause!

On Friday the 25th the fun features healthy kid-focused activities:

Rise, our newest fitness studio, offers 25 slots 9-9:30am for your child to connect!*

9:30-10am The Yoga Place kid's yoga class.*

10-10:30am NutriFit answers nutrition questions with moms.*

10:30-11am Run Today, great kid running tips and sneaker sizing.*

Sign up now at www.downtownglenellyn.com or take a chance and just come on out, but space is limited!*

Friday afternoon is all about Beauty and bargains:

Salon Estem hosts two hair-braiding chairs from 12-4pm.

Glen Ellyn Park District Shop & Drop! 5-7pm for kids @ Ackerman. Just call 630-858-2462 and give them code 101831.

Saturday is your last day to find the absolute best shopping deals:

Shop & Drop 1-3pm (code 101832) offered by the Glen Ellyn Park District @ Ackerman.

Enjoy free massages provided by College of DuPage at the flower clock on south Main Street.

The Marcel's Team Shares Their Favorite Market Finds




Shopping for cheese and salami can be a very overwhelming experience. We invite you to sample any of our cheese and meat selection before you make a purchase. The Marcel's team participated in a tasting of each Market offering, and quickly formed favorites:




Coleen Graham, our resident turophile, says her favorite is the Green Hill from Sweet Grass Dairy in Georgia, a Camembert inspired double cream. Deb and Kathy are crazy about the Gouda offerings from Holland's Family Cheese: Deb favors the Gouda with Fenugreek (a seed with a nutty, maple-like flavor) while Kathy loves the Gouda with Cumin. Karen's fav is the Barely Buzzed from Beehive Creamery in Salt Lake City, a subtle, nutty cheese that is enchanced by an expresso and lavender rub. Diane, lover of all things creamy, declared the DiStefano Burrata from Pomona, California on par with all the higher end burratas she so loves. Dana and Teri are obsessed with the Nueske Smoked Liver Paté. Dana loves to pair that with the Cornichons (small, tart pickled gherkins) which her husband, Mike, pointed out "come with an elevator". Both Rita and Rita's naughty dog love the West Loop Salumi's Finocchiona, a salami made using fennel pollen, fennel seeds and Chianti. The Explorateur, a French legendary triple creme, is Carolyn and Kelly's favorite. Jill loves the Olympic Provisions Saucisson d'Arlsace, a salami flavored with clove, nutmeg, allspice and cinnamon.




There are many more selections to see and describe....so why don't you plan a trip into the store to have us introduce the Market to you!




Also, remember, Marcel's is now selling wine, a nice selection of red, white, and sparkling, and a selection of ginger ales and bottled teas. Coleen's freshly baked baguettes and demi baguettes are available every Friday while supplies last. But fear not, her amazing breadsticks are almost always in stock.







**********************************



New Products at Marcel's
JULISKA METALWARE IS HERE!

Polished but not precious, this Juliska Berry and Thread debut collection of hand pressed aluminum serving pieces capture the essence of estate silver without the fuss of polishing. Stunning and functional, these pieces are a versatile staple for any tastemaker's cache. These pieces can be engraved and would also make a great wedding or anniversary gift! Simply beautiful!

INVISIBLE CHEF PREMIUM BAKING MIXES are blended using all natural ingredients so you know that you are serving the very best to your friends and family. Marcel's offers 11 different boxed mixes including some fabulous coffee and cake mixes (like the Peaches and Creme Mix and the Vanilla Fig Mix), scone mixes and blondie and brownie mixes. Follow the recipe or be creative by adding your own ingredients. These mixes are truly delish!

MONTES DOGGET Ceramics has

its roots in Mexico. Each handcrafted piece is chosen for its versatility, simplicity and functionality. The traditional shapes of the tabletops are interpreted in new ways, creating endless possibilities and combinations. Clay of the highest quality is selected and then ground, shaped and fired for durability. These gorgeous pieces are lead-free, microwave, dishwasher and oven safe.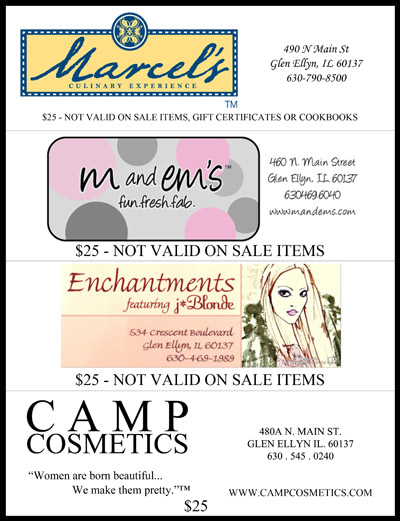 New Special Offer!
Purchase this coupon bundle for $40 with $25 off each from Marcel's, Enchantments, M and Ems, and Camp Cosmetics. That's a $100 value for only $40! The coupons are good until the end of 2014 and you can purchase them at any of the participating locations (cash/check only). It's as simple as that! Support your local merchants and get great deals in downtown Glen Ellyn!
Professional on-site knife sharpening

Exquisite complimentary gift wrapping

Beautiful "gifts to go" all pre-wrapped and perfect

for every gift giving occasion!

Plan your next event at Marcel's -- call us for details

Was this newsletter forwarded to you? If you would like to be on our email list to get all of the information you need to know about Marcel's,