SAT, JUNE 4th

When Simon Pearce opened his glass blowing studio in a woolen mill, he also offered farm-to-table dining. Located in Quechee, Vermont, the popular restaurant is the inspiration for their "Taste of the Mill" epicurean products. Drop by for this free event with Simon Pearce's own Rebecca Margolis for a delicious sampling of cocktails, hors d'oeuvres and inspiration for simple summer entertaining.

MARCHÉ @ GE FARMER'S MARKET

Starting this Sunday, Marché will be at the Glen Ellyn Farmer's Market each week. Located in the Crescent / Glenwood Parking lot just west of Main Street on Crescent Blvd. north of the train tracks. Visit weekly for locally grown produce, fresh flowers, baked goods, and now a delicious selection of cheese, baguettes, and accompaniments from Marché.

Taste, Explore & Celebrate! Only 150 tickets will be sold for Glen Ellyn's Wines & Finds, a unique shopping and wine tasting experience. Receive your own commemorative glass with a map of participating businesses and sample two wines paired with complimentary bites at each store. Tickets are $30 at Marcel's, Cabernet & Co. or online before June 10th.

Presented by the Alliance of Downtown Glen Ellyn.

Main Street Glen Ellyn will welcome you and your picnic basket, wine, chairs and friends to enjoy a day of the finest in Jazz music. Nine amazing Jazz groups will play continuously as you arrange your picnic spot, pour a glass of wine, stretch your legs and explore the many downtown shops and restaurants open for the event.

We need your help!

Be a part of JazzUp Glen Ellyn. Please make a donation to offset some of the substantial costs of this event. In return, we promise to bring you an amazing day of live jazz, fun friends, amazing picnics unlike any you have had in downtown Glen Ellyn.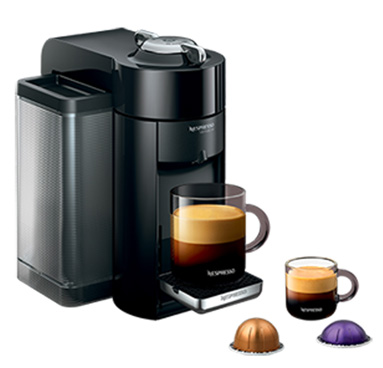 Here are our picks for unique and fun gift ideas for dad!
Keep in mind that All Nespresso Machines are 20% OFF June 3rd - 21st.
A great pick for the dad who appreciates authentic espresso and perfectly brewed cups of coffee.
Gracefully solve the etiquette dilemma of serving olives, cherries, pistachios, candy or cheese cubes, with an outer bowl into which guests can discreetly place in-edibles. Voilà!

Muirwood Reclamations

Live Edge Board - Jill

These locally made thick cedar serving boards are one-of-a-kind. A rustic backdrop for cheese and charcuterie.

Lemaster Family Kitchen Herb Blends - Kelly

Complex and versatile blends of chilies and root vegetables to simplify and elevate your home cooking. Hand produced in Logan Square.
The perfect gift for the beer lover. Four Pilsner Glasses in a Mango Wood Tray. Complete gift with towel and Railroad Spike beer opener!

Salt Plate - Dana

Made from Himalayan salt deposits, this plate adds complex flavor to all types of foods. Use on the grill to sear meat and seafood or chill to delicately flavor fruits, vegetables and cheese.

Smoker - Teri

Smoke meat, seafood, poultry and vegetables right on your own stove! Infuses flavor while retaining moisture and natural cooking flavors. This smoker also doubles as a steamer!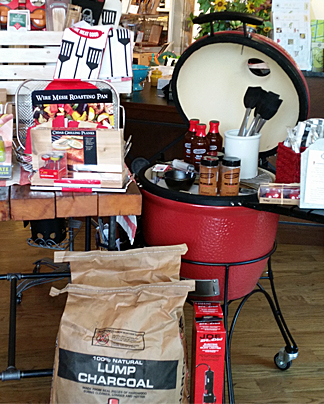 We have done some serious grilling research and there are so many reasons why the only grill we carry is the Kamado Joe!
It's the Best Built Ceramic Grill on the market. Yes, better than the Big Green Egg! A key advantage of Kamado Joe's ceramic vessel is its ability to insulate. Not only does this require less total heat for cooking, it also lets you cook at significantly higher temperatures or at very low temperatures for a significantly longer time.
This insulation and temperature control makes the Kamado Joe the most versatile on the market. Get ready to not only grill, but smoke, slow cook pork roasts, sear steaks and bake pizzas!
Value for Money. Every grill comes outfitted with its signature flexible cooking system (which equals more prime grilling real estate), folding shelves, slide-out ash drawer and cart with locking wheels.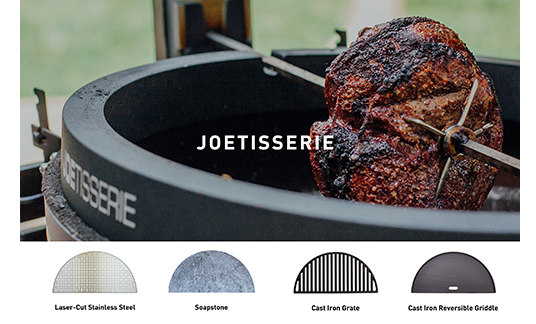 NEW THIS YEAR: The JoeTisserie transforms the KJ Classic into a spit for meats that are smoky, juicy and tender. A quiet but powerful motor can spin up to 50 pounds of chicken, prime rib or Boston butt. In store now! We can also special order the new half moon grilling surfaces (laser cut stainless steel, soapstone, cast iron griddle & grate) ideal for various ingredients and preparations - all of which can be used in endless combinations.
Classic Joe (18" diameter cooking surface) is $999 plus tax delivered.
Big Joe (24") and Little Joe (14") also available.

Kamado Joe comes with a
Lifetime Warranty
on ceramic parts and free shipping on all warranty parts.
Local free delivery and set up included!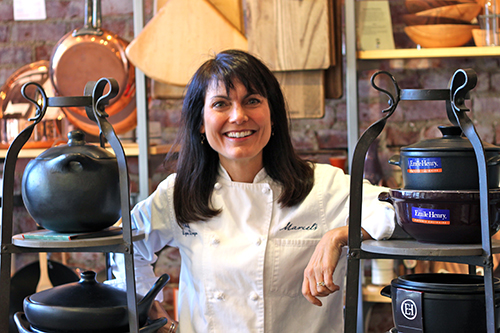 Lynn has been teaching at Marcel's since 2012
Favorite Food Destinations: Chicago, Nashville and Paris!
Guilty Pleasure: Dulce de Leche…. I fell in love with this sweet staple of Argentina when visiting my daughter last year. Enjoy on bread, fruit (especially bananas), or ice cream. YUM!
Current ingredient obsession:
Artichokes! They've been incorporated into several new recipes. You can find some of these recipes on my
blog.
Favorite Aspect of Teaching at Marcel's: The people! I love interacting with the guests in my classes. The culinary assistants are awesome, too!
How would you best describe your culinary style?
Causal, easy, tasty and healthy. My hope is that everyone can easily replicate my recipes in their own kitchen for their own family with great success!
Current Recipe Project:
It is something I am calling Dinner Solutions - 7 entrées from the same 15 ingredients. I am sharing the first set of these in my late September morning demo class. Sign up
here
!
My perfect summer dinner is: Anything on the grill! Especially the veggies: Portobellos, onions, squash, bell peppers, eggplant- all brushed with a little olive oil, balsamic vinegar and salt and pepper!
Sat, June 4th 11 am - 1:30 pm

Our Basic Knife Skills course taught us that knives are the most important tool you'll use in the kitchen. In this lesson, we'll build on that basic knife knowledge. You'll learn all about chiffonade and shredding, how to julienne, as well how to create the perfect segments of citrus fruit. You'll also learn how to perform basic meat preparation with knives, including, filleting, butterflying a roast, as well as removing silver skin.

All cutlery and accessories will be 20% off for class participants.

Israeli Salad with Sautéed Shrimp

Fresh Fruit Macedoine (Fresh fruits marinated in sugar, lemon, and white wine)

RIPE!

Thursday, June 9th 6:30 - 9 pm

Any good cook will tell you that great food starts with great ingredients. When it comes to choosing fruits and vegetables, this means selecting what's perfectly ripe and in season. Learn how fruit and vegetables can go from bitter and inedible to sweet and ready to eat. Feel, smell, and taste your way to a meal that's bursting with flavor.

On the menu:

Smoked Paprika and Shallot Dip with Grilled Vegetables

Carrot, Avocado & Orange Salad with Avocado-Arugula Vinaigrette

Seared Pork Tenderloin with Herb Purée

Caramelized Onion & Tomato Tart

Ricotta Orange Pound Cake with Prosecco Strawberries

Thursday, June 30th 6:30 - 9 pm

Fourth of July weekend is right around the corner and if a trip to the lake house is in your plans, chances are among the bathing suits, bug spray and life jackets will be a few fishing poles. Fresh caught fish is one of the healthiest and most delicious foods you can prepare; it also has a reputation for being difficult to grill. Chef Paul is here to help. If you love fish but are apprehensive about putting it on your grill, don't worry, whether it's a stringer of pan fish, or the sportsman in the group "landed the big one," you'll be confident and ready to grill your fresh catch. The perfect al fresco meal while dining lakeside.

On the menu:

Spice Rubbed Grilled Shrimp & Melon Skewers

Grill Roasted Whole Branzino and Sausage

Spring Vegetable Succotash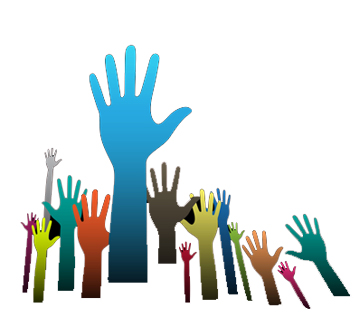 Marcel's is honored to support
"Peace From Above" on Friday, June 3rd and the
Marionjoy Golf Invitational on Monday, June 20th.
Cook, Create and Celebrate at Marcel's!
Let us help you plan an exquisite event: company parties, family get-togethers and girl's night out are all fabulous ways to experience the magic of the Marcel's kitchen. Contact us today and we will start crafting the menu, libations and special touches to make the event uniquely yours.
ALSO AT MARCEL'S:

Professional on-site knife sharpening
Exquisite complimentary gift wrapping
Beautiful"gifts to go" all pre-wrapped and perfect for every gift giving occasion!
Personalized wedding registry with expert service

Was this newsletter forwarded to you?

If you would like to be on our email list to get all of the information you need to know about Marcel's,