| | |
| --- | --- |
| | |
Cook, Create and Celebrate through the entire month of November at Marcel's! We are ready to help you prepare for your holidays, from setting a beautiful table to creating the finest holiday feast to inviting the spirit of the season into your heart and home.

Garnier-Thiebaut Trunk Show:

Create the perfect holiday table with a fabulous new table linen from Garnier-Thiebaut. On Saturday, November 3rd, Marcel's will host the Garnier-Thiebaut Trunk Show from 10am-4pm. Everything in stock AND all special orders will be 20% off~ and all orders will be in time for Thanksgiving. Come in and see the beautiful new patterns Garnier has introduced this fall.

Marcel's and WGN!

We have two great opportunities to work with our friends at WGN this month. First, on Tuesday, November 13th, Chef Katie Wojciechowski will be on air during the noon hour to show you how make ahead holiday appetizers can make your entertaining so much easier! And since Katie's class on the topic is sold out, we've added another one on Friday, November 30th at 12:30 pm. Then, on Tuesday, November 27th, WGN will be at Marcel's early in the morning for a live remote during their About Town segments during both the 7 am and 8 am hours! We are so excited to showcase our beautiful store and Glen Ellyn on the same day as Ladies Night Out. More to come on how you can be involved in this broadcast!

Glen Ellyn Holiday Walk:

On Friday, November 23rd, Marcel's will take part in the annual Glen Ellyn Holiday Walk. Come to town to see the annual lighting of the Christmas Tree, see Santa, and drop in to start your Christmas shopping. We will be open until 9pm and will be serving some wonderful holiday treats. Did you know that Marcel's has personal Christmas Gift Wish Lists available for anyone who wants to make shopping easy for their friends and family? Make a list to leave with us or take it to your favorite gift giver and we'll be all ready when it's time for them to shop!

Holiday Floral Arranging Demonstration:

You have loved her Tussie Mussie creations, and now you can watch as Brooke Ryan demonstrates how to create the perfect Holiday Floral Arrangement. Come in and learn from Brooke how to make your floral centerpieces a sensation during this free floral arranging demo on Saturday, November 24th from 12-3pm.

Ladies Night Out

is on the calendar for Tuesday, November 27th from 6pm-9pm. What can be more fun than shopping with your girlfriends while sampling the libations and tasty offerings at Marcel's and other Glen Ellyn downtown shops. We'll have a gift with every purchase over $50 - come join us for what is always a fun night! Go to http://www.downtownglenellyn.com for more details.

The calendar pages flip a bit faster this time of year. The savored days of Indian Summer give way to brisk winds, chilly nights, and before you know it, Thanksgiving is right around the corner. At Marcel's, we're thankful for all the positive response we've received to the culinary program over the past year. To reciprocate our thanks, the kitchen is offering all the classes you need to host an incredible Thanksgiving, a Holiday Brunch or Chanukah.

Chef Jean kicks off November with Cooking by the Calendar (11/1), follows with French Bistro (11/7), and gets you in tip top shape for the big day in Thanksgiving Boot Camp (11/17). Chef Robin toasts Napa Valley with Harvest Wine Pairing (11/2), serves up a Midday Brunch for Holiday Guests (11/21), and celebrates Global Chanukah (11/29).

Chef Coleen is doing the baking this month in Pumpkin Pie Optional (11/10), and Holiday Breakfast Breads Workshop (11/18). Lynn Dugan keeps us on the healthy track with Meals Made Over (11/16), and Thanksgiving Minus the Turkey (11/6). And Chef Paul brings you Thanksgiving from Merida (11/16).

Chef Jamie is getting the kids involved in the holiday meal with Kid's Thanksgiving and Teen Thanksgiving (11/11), while Chef Kelly is hosting International Kitchen (11/3), and Fowl Play (11/9). Chef Katie is saving us some time in Bring a Dish (11/14) and Do Ahead Holiday Appetizers (11/28 & 11/30).

Don't miss our special event this month, Progressive Dinner (11/30). Five chefs, five courses, served up Marcel's style. From our table to yours, make November your month to Cook, Create and Celebrate!
Artful Giving: Marcel's Gift Baskets
Marcel's has exquisite gift ideas! One of those ideas - bountiful gift baskets! This season, or any time of year, a Marcel's gift basket is the perfect plan. Whether it is a small 'thank you' gift, a larger client-rewards gift, or simply a treat for a friend or family, we know that our gift baskets will make a unique gift. Start your gift planning early - or if you wait to the last minute, we are here to make it easy, fun and create cheer. Read below for some fun ideas you can purchase online at www.marcelsculinaryexperience.com or in the store. Don't see what you had in mind? Give us a call and we will help you come up with your own customized Marcel's gift -giving bounty! Buy local, ship anywhere!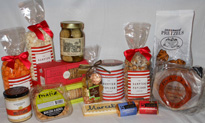 Our SNACK BREAK baskets will appeal to those who walk on the savory side of life, those who favor the sweet side, or those who straddle the line of savory and sweet, as sweet baskets, savory baskets or a mix of both are available in three sizes ranging in price from $50 to $105. Lucky recipients will want to crack open and share the treasures.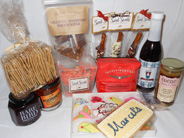 What says the 'heartland' better than small batch, gourmet food items handcrafted by
the most diligent and thoughtful food crafters in the Midwest? Give the gift of
deliciousness made and packaged in our own backyard. These baskets are from
our BEST OF THE MIDWEST selection and are available in small, medium, and large ranging in price from $40 to $120.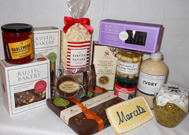 We have made the choices easy for you with "Some Of", "Lots Of" and "Most Of" OUR FAVORITE PICKS. At Marcel's, we take pride in every item we stock on our shelves. We surveyed our staff and loyal customers to give you this sampling of what amounts to some, lots, and most of our favs. Prices range from $50 to $135.
It seems that this time of year, the days speed up. The calendar gets filled and as the holidays fast approach media is filled with images of holiday feasts and treats for family and friends alike. We clip, pin, post, and print our favorite ideas and vow to make this year the year everyone gets a homemade gift. And then life happens.

That's the beauty of cooking. In the past year, here at Marcel's we've tried to stress the importance of matching your cooking style to your food and menu choices; your culinary techniques to your selected cookware. Love soups, stews, and slow cooked meals? Braising is your technique; a French oven your vessel. In a hurry? A quick sauté and a non-stick Swiss Diamond can get dinner on the table in a hurry. It's about choices.

Last year at this time, Marcel's was hosting our first cooking classes and filling the shelves with everything to stock your kitchen and scape your table. It was fall and I was asked to feature a dessert using our Muirhead pumpkin butter. The result was a Pumpkin Spice Cupcake with Muirhead Pumpkin Butter cream cheese frosting; easy to make….some days. So exercise your choices!

This recipe can be made three different ways. Have all day? Make the cupcakes and better yet, make your own pumpkin butter too. Have a bit of time? Make the cupcakes and buy the butter. Very little time? Buy a box cake mix, buy the butter, and have the kids make the cupcakes. Three ways to a homemade (or at least semi-homemade) treat and all delicious!

Happy Baking!

Pumpkin Spice Cupcakes

½ c. unsalted butter
1 ½ c. sugar
1 t. vanilla
2 eggs
2 c. flour
1 ½ t. baking powder
1 T. garam masala
¾ c. buttermilk
¾ c. canned pumpkin
Muirhead Pumpkin Butter for filling, about ½ cup
1 recipe Muirhead Pumpkin Butter Cream Cheese Frosting (see below)

Preheat oven to 350 degrees. In a large mixing bowl combine butter and sugar until well combined and pale in color, about 3-4 minutes. Add in vanilla until combined. Add eggs, one at a time, beating well after each addition. In a separate bowl, combine the flour, baking powder, and the garam masala. In a small bowl, combine the buttermilk and the pumpkin. Alternately add flour mixture and buttermilk mixture, mixing after each addition until just combined. Pour into cupcake pans lined with cupcake liners, filling 2/3 full. Bake at 350 degrees for 15-20 minutes until centers test done.

Cool before filling and frosting.


To fill cupcakes:

Using a cupcake corer, hollow out the center of each cupcake. Fill each center with a tablespoon of Muirhead Pumpkin Butter.

Muirhead Pumpkin Butter Cream Cheese Frosting

1 (8-oz) cream cheese
1/4 c. butter
3 T Muir Pumpkin Butter
2 c. powdered sugar

Mix together until frosting is smooth. May add additional pumpkin butter for flavor and consistency.
Frost cupcakes and serve.
Yields 20 cupcakes

*Can be baked in a 9-inch square cake pan. Fill pan with half the batter, spread a layer of the pumpkin butter and then top with remaining batter. Bake 30-35 minutes until cake springs back to the touch and cake tester comes out clean. Cool, frost, and serve.

The season of giving and gifting is fast approaching. I don't know about you, but along with the holidays comes the running monologue in the back of my head -- "What can we send to our parents? What about my brother and sister-in-law? And their kids? Help!"? I'm at a point in my life where family and friends really don't need much. At my age (never mind...) parents have often downsized and certainly don't want more "stuff"! College kids and young adults are often in apartments and don't have room for a lot of things they just don't have the space for.

Any new ideas?? Your friends here at Marcel's are filled with inspiring ideas! Whether it's the holidays, a birthday, house warming or any other gifting occasion, a gift basket from Marcel's is the perfect solution! It could be something as small and simple as one of our unique small batch preserves tied up with a spreader to an extravagant Michael Aram or Juliska tabletop selection.

Personally, there is nothing that I love more than helping someone create the perfect gift basket. It's so personal and truly reflects the time and thought put into it. Our staff knows that I'm at my happiest when I'm armed with my heat gun and my shrinkable cello bags, stacking and organizing items into the perfect presentation!

A variety of wonderful gift baskets are now available on our website. "Marcel's Favorite's", "Snack Break" and "Best of the Midwest" all come in three sizes and are filled with specialty gourmet foods. I have found that no matter what phase of life you're in, consumables are always appreciated. Check them out or stop in and see us to let us help you customize the perfect gift!
Mary Pat Watt: Culinary Assistant One of my favorite products is the Govino wine glasses. They are shatterproof, reusable and when they need to be replaced, recyclable. They come in two sizes, 12 ounces for white wine and 16 ounces for red wine. Small indentations in the glass provide a comfortable grip. They're perfect for backyard parties, picnics and fall tailgates.

Sam Benes: Culinary Assistant The Cameron's Stovetop Smoker is the way to simple, flavorful, low calorie results. Alder smoked Northern Pike in tacos and mesquite smoked brisket are 2 of my favorite results. Wood chips infuse the

flavor instead of oils and salts. Use hickory with pork, maple with cheeses,or cherry with veggies.

The smoker also works well on the grill or in the oven for smoked turkey.

Maggie Fredricks: Culinary Assistant

I love my Cuisinart 14 cup food processor! I used to do all of my prep work by hand, but after taking a class at Marcel's last fall where a perfect pie dough was made in just minutes, I dedided I needed an upgrade from my hand held pastry blender. Pie dough is so easy, and so is a great pesto, hummus or a batch of seasoned bread crumbs.
Professional on-site knife sharpening

Exquisite complimentary gift wrapping

Beautiful "gifts to go" all pre-wrapped and perfect

for every gift giving occasion!

Plan your next event at Marcel's -- call us for details

Was this newsletter forwarded to you? If you would like to be on our email list to get all of the information you need to know about Marcel's,