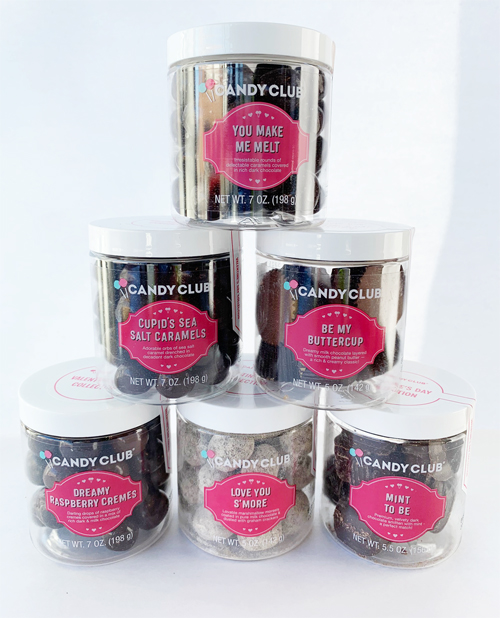 February is here along with our first newsletter of 2021. We're starting off our month with an exciting opportunity to get in on a meal kit with renowned Chicago chef, Stephanie Izard. Be sure to read about this amazing opportunity below.
This month also marks a special day of love, Valentine's Day and both Marcel's and Marché have you covered with gift options that are sure to delight. With options perfectly suited for your romantic and cozy dinner at home to gift boxes that can be shipped to loved ones near and far, we are here to help make your gift giving a memorable one.
Our kitchen continues to remain open with cooking classes for those ready to get busy learning new skills, techniques and flavors. We are also booking for private events for those who need a place for your intimate celebrations.
Stop in and browse our tables and shelves this month or visit us online and shop our full collection of products available for purchase on our website. And don't forget about our Virtual Shopping experience for those who prefer to shop with one of our dedicated associates to bring Marcel's to you wherever you may be.
We're Bringing Stephanie Izard Meal Kits to
Marcel's on February 6th!
Experience a meal kit adventure straight from the Goat restaurants to your home kitchen! With James Beard Award-winning chef Stephanie Izard as your sous chef, you'll be guided through a flavorful, restaurant-quality meal featuring fresh, seasonal ingredients.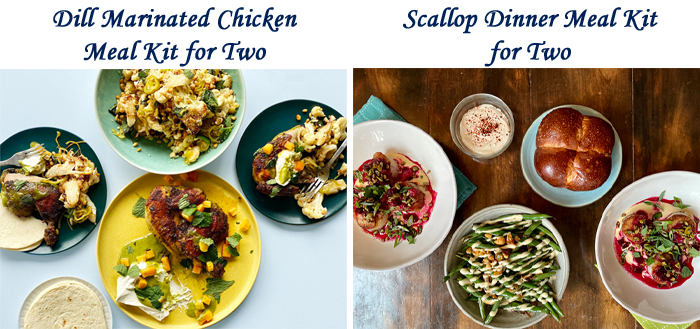 These meal kits are a perfect way to change it up and make your dinner extra special. All kits come with the protein and produce pre-packaged - easy pictures and recipe instructions are included. Bring all of the flavors of Stephanie Izard to you and your family! Preorder wine from Marché (use code: goat10 and receive 10% off your wine purchase) and delicious sweet treats from Sugargoat to complete your experience. Sugargoat sweets will also be available for purchase at Marcel's on pickup day.

Say I Love You With a Special Gift from Marcel's!
Choose from the Sweet and Cozy or the Sweet Trio gift options, then order online and pick-up curbside or ship to a location within the continental U.S. and you're sure to delight those you hold dear to your heart this Valentine's Day.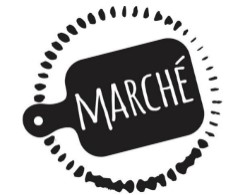 Mmmm...ripe cheese, fresh baked bread and gustatory love are all in the air at Marché as Valentines Day approaches. Choose from any of the options below and remember to place your orders at least 48 hrs in advance.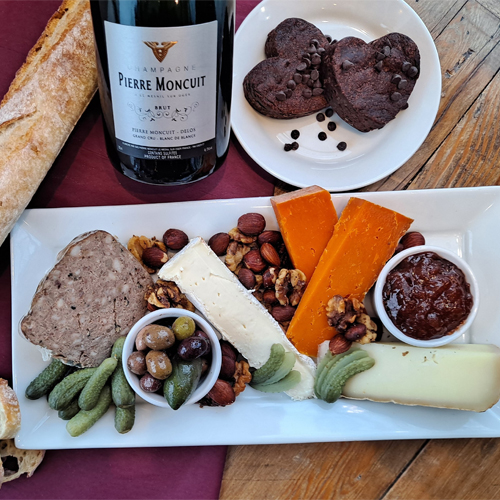 LOVE STINKS VALENTINE'S BUNDLE FOR TWO
Flirt with fromage with our romantic bundle of cheeses, charcuterie, wine and more. Includes: Delice de Bourgogne Triple Crème, English Red Leicester and Ossau-Iraty cheeses, Country Paté with Cornichons, Apricot-Tomato Chutney, Roasted Mixed Nuts, Marché Olive Mix, Fresh-baked Baguette, Deeply Fudgy Brownies plus your choice of Red Wine or Champagne, plenty for two. Choose from the options below:
Available for pickup 2/13 or 2/14.
This smart ceramic cheese baker comes with our Pear and Brie Fondue for two. A romantic way to start your evening to remember plus the cheese baker is yours to keep for your next tête-à-tête. Also includes: half-pound Brie Chatelain, Pear-Almond-Wine Compote, fresh baguette and easy to assemble instructions for baking. Serves two to four.
Available for pickup 2/13 or 2/14.
Looking to send something special to that beloved someone? This chocolate, cheese and bubbles gift box is the perfect way to express your fondness for them. Includes: Trillium Triple Crème Cheese, Fig + Honey Crackers, Sour Cherry Spread, Askinosie Collaboration Chocolate Bar with Raspberry plus a bottle of sparkling Portell Cava Rosé.
Available for shipping or pickup. Ordering deadline for shipping is Tuesday, 2/9 to ensure delivery by Valentine's Day. You can order online or call (630) 790-8890.
| | | |
| --- | --- | --- |
| On the menu: Smokey Tomato Soup and Muffuletta with Olive Spread and Pickled Red Onions | On the menu: Smoked Salmon Mousse in Cucumber Cups, Pan-seared Scallops with Lentils, Porcini and Asparagus, and Blueberry Buckle | On the menu: Hot Whiskey Toddies, Arugula with Fresh Orange Segments and Goat Cheese, Beef Stroganoff with Fresh, Class-Made Pasta, and Pear-Dried Cherry Crumble |
Private Events with Marcel's
Looking to book an intimate event for your family? Need something easy and fuss-free? Consider a private event with Marcel's. Whether in our kitchen or yours, Marcel's and Maison, our in-home chef experience, are here to help make your celebratory occasions memorable and stress free. With extensive protocols in place for food preparation and handling, we are confident that our kitchen and staff will put you at ease so you can enjoy your event with peace of mind.
Call (630) 790-8500 to book your event TODAY!

ALSO AT MARCEL'S:

Professional on-site knife sharpening
Exquisite complimentary gift wrapping
Beautiful"gifts to go" all pre-wrapped and perfect for every gift giving occasion!
Personalized wedding registry with expert service

Was this newsletter forwarded to you?

If you would like to be on our email list to get all of the information you need to know about Marcel's,