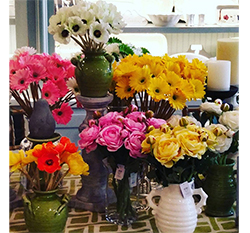 May 10th is a night to shop for mom! The store will be set up with kid's gift tables, a take-away activity and gifts-to-go. We can't think of a more fun way to shop for the special women in your life! The store is brimming with unique ideas and promotions on Juliska, Simon Pearce, Wellness Mats and Vitamix machines. Also, if you want to be sure to get a Tussie Mussie for Mother's Day, give us a call at 630-790-8500 to place your order.
Dana and Anne will once again be styling tables for Glen Ellyn Infant Welfare's annual Housewalk. Buy your tickets in advance at Marcel's.
Now that the days are warming up, it's time to sign up for Nichol's Farm CSA with convenient weekly pickup at Marcel's. It's also the time of year to pay tribute to your teachers with A+ gift selections! And please acquaint yourself with a lovely addition to our chef team, Julie Szimon!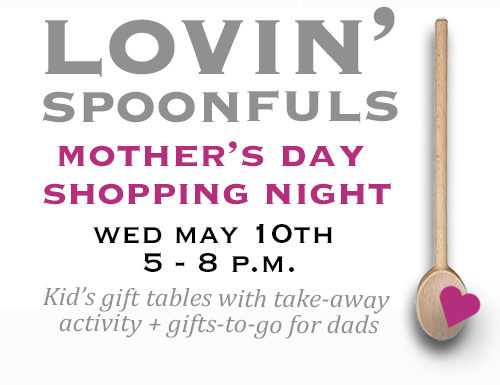 Moms... don't forget to pop in and fill out a wish list before May 10th!
Free event - no registration required!
| | |
| --- | --- |
| | Gather the family and celebrate all that Glen Ellyn has to offer during 4 days and nights of satisfying food, excellent music and bunches of fun! A full line-up of live acts, food and beverages from your favorite Glen Ellyn restaurants, and the Village Fair Carnival will fill your weekend with fun for all. Admission is free! |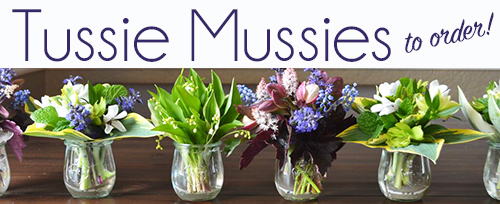 Tussies are such a sweet gesture! If you want to be sure to get one (or two or three) for Mother's Day, give us a call at 630-790-8500 by Wednesday, May 10th to place your order.
Tussies can be picked up on Saturday, May 13th or Sunday, May 14th.
Free Gift with Juliska

$95 purchase

Berry and Thread Loaf Pan (MSRP $52) or

Measuring Cup (MSRP $38)

Free Gift with Simon Pearce

$125 purchase

Highgate Heart Vase with Gift Box
All Mother's Day promotions run through May 14th!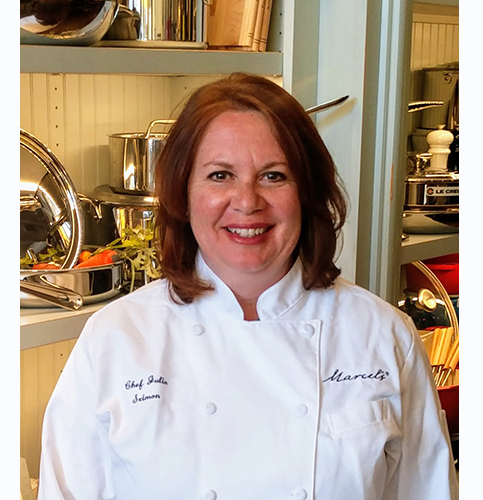 Please extend a warm welcome to Julie Szimon, the newest chef in the Marcel's kitchen!
Becoming a chef was a second career for Julie. After many years in the corporate world, she gave it up to be a stay-at-home mom. Julie always loved food and entertaining; during her time at home, she really dove in by exploring different cuisines and hosting many gatherings just so she could cook. When her children were in school, she decided to pursue her dream of becoming a chef and attended culinary school to expand her knowledge and technique. She spent her last 6 weeks of culinary school traveling, cooking, blogging and photographing the Italian and French Riviera. This experience changed her life; she fell in love with food, wine, people, history and travel. She knew that she had to share this love with others. When Julie is not teaching, she is the host and guide of her own food and wine trips abroad.
We are thrilled to welcome Julie to the Marcel's team so that she can share her passion and culinary adventures with you. Join Julie on a Trip to Nice, France on Thursday, May 11th in the Marcel's kitchen!
What's your guilty pleasure food? Mac n' Cheese! Is there anything better than hot, gooey cheese and pasta?
What's your best food memory? My best food memory is watching my grandmother peel the skin off tomatoes in the summer. She would slice an x on the bottom of the tomatoes and place them in boiling water for 30 seconds. Then she would drop them in ice water and the peels would magically start to come off. She was a great cook.
What's the most underrated cooking ingredient? I think fennel is underrated. Some people may be turned off by the anise flavor but I love it. I put it raw in salads and grill it as a side dish.
3 Items Always in Fridge: Wine, Mustard & Olives
What's your favorite spice? I love cumin. It is used in so many cuisines. I love the smoky, earthy flavor.
Hibiscus Sugar +

French Bull Bowls and Spoons

Ellembee Kitchen Towel + Flowers in Vase
Saturday, May 6th 11 am - 2 pm

Fermentation is the same practice that gives yogurt its tartness, bread its rise, and transforms cabbage into kimchi and sauerkraut. The process of lactic-acid fermentation actually increases vitamins, enzymes and beneficial bacteria naturally present in all foods - improving flavor, enhancing digestion and boosting immunity. It's a simple and easy solution that greatly improves the nutritive value of the foods we all consume. Explore the science of fermentation and learn how to incorporate ferments into a variety of dishes full of healthy probiotics.

MASTER SERIES: ART & SCIENCE OF BALANCING FLAVORS

Thursday, May 18th 6:30 - 9 pm

Building flavors one upon the other gives dishes variety and depth. Consider the quality of sauces and stocks - balancing flavors makes all the difference. Balancing flavors by adding complementary ingredients at different stages of a recipe brings out the unique qualities and contributions of each ingredient. Take the next step in your skills by learning the secrets behind building layers of flavor to achieve perfectly balanced dishes.

Friday, May 19th 11 am - 1:30 pm

With an emphasis on vegetables and foraged foods, on local foods and presentation, the cuisine of California is characterized by fresh produce and fusions. From the fertile Salinas Valley, known as the salad bowl of the United States, to the wine countries across the state, and the vast diversity of urban areas like Los Angeles and the San Francisco Bay Area, the health-conscious culture paired with the abundance of local produce lead to a style of cooking that's always in season.
Cook, Create and Celebrate at Marcel's!
Let us help you plan an exquisite event: company parties, family get-togethers and girl's night out are all fabulous ways to experience the magic of the Marcel's kitchen. Contact us today and we will start crafting the menu, libations and special touches to make the event uniquely yours.
Professional on-site knife sharpening

Exquisite complimentary gift wrapping

Beautiful"gifts to go" all pre-wrapped and perfect

for every gift giving occasion!

Plan your next event at Marcel's -- call us for details

Was this newsletter forwarded to you?

If you would like to be on our email list to get all of the information you need to know about Marcel's,