---
Daylight Savings Is Music To Our Ears!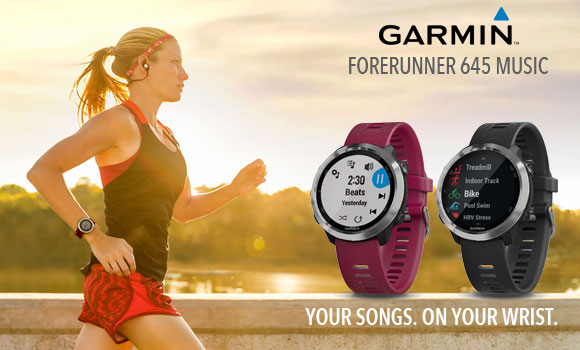 While it's not officially Spring, Daylight Savings means it's not so far away. While this week's cold temps will remind us Winter is not quite over, later in the week we can look forward to more Spring-like weather and we all love running in the Spring. With flowers starting to bloom our views will get prettier as we take our runs outdoors.
For music lovers, the new Garmin Forerunner 645 will make those runs more enjoyable! You no longer need to carry your phone to bring your favorite tunes. You can load up to 500 songs to take on your long training runs. This new watch is packed with so features, it'll probably be the last running watch you'll ever need! Stop by any of our 7 Big Peach Running Co. locations to learn more (we'll be happy to set the watch up before you leave the store) or purchase online and take advantage of FREE shipping and the convenience of delivering to your home.

---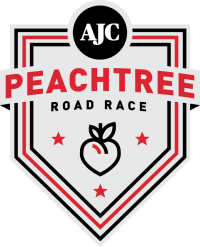 AJC Peachtree Road Race Registration
Non-Members: March 15 - 22 (Lottery)
Time is running out for Atlanta Track Club members to be guaranteed entry into the AJC Peachtree Road Race (must have been a member by February 1). Members MUST register during the member registration period March 1-14.
Any member that does not register during the member registration period (March 1-14) or those that joined/renewed after February 1 of this year are encouraged to register via the lottery or Kilometer Kids Charity Race Number. For more info, click here.
---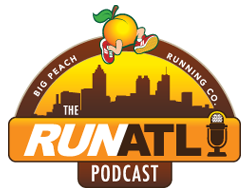 The RUNATL Podcast - Episode 23
Catch up on the latest RUNATL Podcast where we sat down with
Marc Hodulich who has created some interesting races and is offering a truly experiential weekend for those that need a challenge. Tune into the latest episode and listen to all of our great Guests from the Atlanta area that inspire us all!
More details and show notes are available here.

Active Isolated Stretching Clinic
Brookhaven - March 15th - 6

:30 pm



You're invited to join us and Patrick McWhirter (LMT, CNMT) of Purple Point Therapy who will provide an interactive teaching demonstration of the Active Isolated Stretching (AIS) technique for the lower leg and calf muscles. Everyone participates and receives
hands-on
instruction while learning proper and effective
self-stretching
. Discover why many runners call AIS their "secret weapon" for training! RSVP here.
---
Yoga For Athletes Community Class
Marietta - March 17th - 8

:00 am



Join us for a community yoga class at our Marietta location. Callie, an experienced yoga instructor at Dance Stop Studios, will demonstrate how yoga restores balance and symmetry to the body, making it the perfect complement to running. Reserve your spot today! Callie will also start having a weekly Yoga for Athletes class on Wednesdays at 7:30 am at our Marietta store.
---
Brooks Levitate & Bra Demo
Marietta - March 20th - 6

:30 pm
Come on out to our regular social run and try out the new Brooks Levitate. Ladies, try on a Brooks bra, get fitted for the right bra, and receive a bag of goodies. RSVP now to reserve a demo bra!
---
Good Measure Meals Weight Workshop
Brookhaven - March 20th - Starting at 5:30 pm

Go beyond knowing your weight in pounds on a basic scale! Stop by between 5:30-7:30 p.m. to meet with Good Measure Meals registered dietitian and nutritionist, Sarah Shanahan. Discover what actually makes up your weight by learning about muscle mass, body fat, hydration status, an estimate of your metabolic rate, and more. Attendees will need to take their shoes and socks off. RSVP here.
---
Brookhaven - March 22

nd

-

7:00 pm



Ask

the

Doc

returns to answer your questions about common running myths, injuries and injury prevention, running form, and how to get the most out of your strength training. Dr. Kate Edwards, of Precision Performance Atlanta, will be answering your questions after the group run to help you get the most out of your training to make 2018 your best year yet! RSVP here.
---
Brooks Shoe & Bra Demo Run
Brookhaven - March 22nd - 6:30 pm
Our friend Bridget from Brooks will be stopping by with lots of demos! She'll be bringing shoes, bras, giveaways, discounts, and food. Big Peach female Guest Advocates will be available to help ladies be fitted for bras. RSVP now!

Midtown - March 13th - 6

:30 pm



Our friends from Saucony will be stopping by the Midtown store for an Irish themed group run. They will also demo the Kinvara 9, a lightweight trainer with a 4-millimeter offset, EVERUN topsole, and FLEXFILM melded to the upper for an enhanced fit and a smooth ride. Reserve your spot today!
Marietta - Tuesday, March 13th: Join our weekly Tuesday night social run with our Hotlanta Half Marathon Ambassador. Expect fun and games!


Learning these principles will help transform your running to a more efficient & injury free experience! Perfect for runners of all paces and abilities.
Dirty Spokes - Iron Hill - Red Top Mountain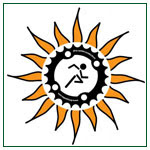 March 31st

-

8:30 am



This race has a 7.5-mile & 3.8-mile option offering a relatively flat and fast course on an old fire road. If you have never visited Red Top Mountain – do it!
The course is beautiful and offers something for every runner truly wishing to ´ditch the city´. Nestled in the woods of suburban Atlanta lies a true gem.
Big Peach Running Co. is proud to be a sponsor and we're offering a FREE entry into any of the Dirty Spokes Trail Run Series with the purchase of any trail shoe! We're also offering In-store registration or you can register online.
---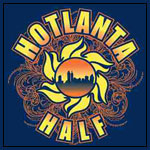 Hotlanta Half Marathon
June 10th

- 7

:00 am

-
Pemberton Place, World of Coca-Cola
The HOTLANTA Half Marathon continues its tradition of bringing the love of running to the best of Atlanta! The journey of Atlanta landmarks kicks off at Atlanta's Pemberton Place - World of Coca-Cola, winding runners through the streets and onto the vista views of the city along the Beltline. Competitor Magazine listed the Hotlanta Half Marathon as a must-do race in the Southeast. Beat the price increase on March 14th! Sign up now!
---
Big Peach Sizzler 10K &5K
September 3rd - 7:00 am - Chamblee & Brookhaven MARTA Station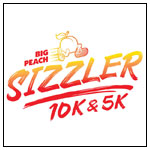 This fantastic 10K course winds through the Atlanta communities of Chamblee, Brookhaven, and Buckhead. Starting near the intersection of Chamblee Tucker Road and Peachtree Road beside the Chamblee MARTA station.
The new 5K course starts near the Brookhaven MARTA station on Apple Valley Road, turns left on Dresden Drive, then turns left on Peachtree Road, joining the 10K course and both finishing at Buckhead Station Shopping Center.
Register now
for the 10K or the 5K. Register by
March 15th
to save!

| | |
| --- | --- |
| Ronald McDonald 5K | St. Patrick's Parade 5K |
| Color A Cure 5K | |