---
Brrrr-ing The Holiday Season!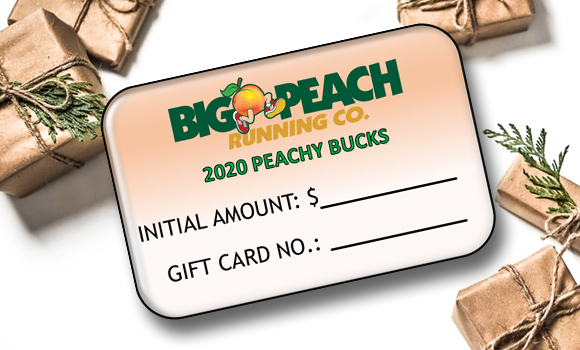 The cold is back and it's starting to feel more like the holiday season! To thank our Peachy friends and family, we have a special gift for you. Purchase $200 or more in merchandise and/or gift cards, and you'll receive BPRC Peachy Bucks that can be used for future purchases! This sweet deal is eligible for in-store and online purchases. Here's how it works - if you spend $200.00-$224.99, you'll receive $25 in Peachy Bucks. Purchase $225.00-$249.99 and you'll receive $28 in Peachy Pucks, and so on. You must mention this offer at the time of check out.
This offer is valid through December 31, 2020. For online purchases, mention Peachy Bucks in the Notes section of your online order to receive your electronic Peachy Bucks to use on a future purchase.
Fine print and details: This offer excludes sale rack and gift card redemptions. Peachy Bucks are earned based on your order Sub-total (pre-tax). Peachy Bucks are for future purchases and may not be applied to the transaction earning the bonus card. This offer runs from November 27 - December 31, 2020. Peachy Bucks will expire on June 30, 2021.

---
Big Peach Holiday Shopping Guide

We are thrilled to share our 2020 Holiday Shopping Guide! If you need help selecting an item for your favorite runner, this guide is sure to help. These are some of our favorite items. All items are available in-store and some items can be found online for a more convenient shopping option. If you're planning to shop online, make sure you do so early. Shipping delays are expected due to the increasing amount of online shopping this year. You can view the Holiday Shopping Guide here. Use the navigation buttons to navigate or select the option for a fullscreen experience.
---
Spring 2021 RUNATL Half Marathon/Marathon Training Program
If you're ready for a challenge, registration is now open for a Spring RUNATL Half Marathon/Marathon training program and once again, it's FREE! The half marathon training starts the week of December 7th. Both programs coincide with the Publix Atlanta Marathon Weekend. The race will take place in Hampton, GA, and is described as flat! If you're interested, sign up. Registration closes on December 12th.

---
Ep. 98 - The RUNATL Podcast with Guest Samia Akbar
The RUNATL Podcast is hosted by Big Peach Running Co. Founder, Mike Cosentino, and Director of Marketing, Dave "D2" Martinez. This week on the RUNATL Podcast we sit down with Samia Akbar, the fastest female American-born black marathoner and now Marketing Manager for New Balance.
Listen to the latest episode here.
| | | | | |
| --- | --- | --- | --- | --- |
| | | | | |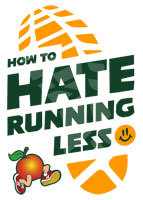 How To Hate Running Less
Marietta - Wednesdays, 6:30 pm

We get it. Some folks don't like running. At times, it can feel clunky, jarring, and uncomfortable. That's why we're offering "How to Hate Running Less," a 30-minute FREE class with basic instruction, simple drills, and light running designed to change the way running feels and, hopefully, make it feel lighter, smoother, and EASIER. It's open to everyone (Walkers, Runners, Kids). Come ready for light drills and running outside in our East Cobb location.
---

Big Peach On Wheels - Serenbe
December 4th, 9 am - 5 pm
Big Peach On Wheels is heading south to Serenbe! While we don't have a physical location south of the city, our mobile unit will be in Serenbe every two weeks. We'll be parked outside the One Mado building for your convenience! If you have a specific request, email us in advance at OnWheels@BigPeachRunningCo.com and we'll bring your shoes or any other items down to Serenbe.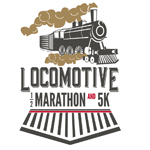 First Watch Locomotive Half Marathon & 5K
December 13 - Kennesaw, GA
Since the hybrid model for the Iron Horse 15K was successful, there is now a marathon hybrid for 2020! Thus, the Marathon Challenge is born! Sign up for the challenge, and complete a virtual half marathon anytime between Dec. 1-10, and the LIVE half marathon on Dec. 13th, to complete the challenge! A virtual option is also available for both distances.

There are protocols in place to create a safe environment including adequate spacing for participants. Protocol details available on the registration page.

Register

online.

Due to COVID-19, the race will require mandatory packet pick-up at Big Peach Running Co. locations on the following days to help spread out participants.
---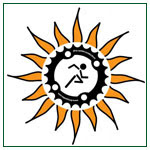 Dirty Spokes - Mayhem On The Mountain
The Dirty Spokes Trail Series is back and it kicks off at Sawnee Mountain! Register here.
Big Peach Running Co. is proud to be back as a sponsor to this race series and we're offering a FREE entry* into any of the Dirty Spokes Trail Run Series with the purchase of any trail shoe! We're also offering In-store registration or you can register
online
.
*Applies to the January - July Dirty Spokes Trail Run Series.
You must race 6 of the 8 races to qualify for the championship. The more races you run, the more points you accumulate.