To see a video version of this message from Mike, click here.
It was exactly one (1) month ago today I was compelled to join the onslaught of correspondence you were receiving that indicated the steps various organizations were taking to acknowledge the novel coronavirus (COVID-19). Like in many seasons, there are moments I feel like time has flown by… and others, of course, that make this the longest and most draining 30-day period I can remember. Regardless of whether it's the former or latter (or both, like me) that is the case for you, I sincerely hope this finds you and your loved ones feeling healthy and positive.
Most importantly (and as will be the case for quite some time yet), my thoughts and prayers are first with those who are suffering from this virus… and those who are treating those suffering.
With a sense that we're settling into a "current normal," our Leadership Team felt an update and expression of heartfelt gratitude for your support was now appropriate. And, for sure, we cannot thank you enough for the encouraging messages, the patience with the adjustments we've had to make to our operating procedures, the visits to our website, the online purchases, the engagement with our social media platforms, the empathetic smiles through the window - - AND, most wonderfully, the overwhelming indication that the lifestyle we embrace together is alive-and-well in and around Atlanta! Again, THANK YOU!!!
And, for sure, this public health challenge will continue to shape all of us… It will also impel changes to past behavior we formerly gave minimal consideration. Even so, the assurance that we (all of us!) will be better for this season is only growing! The kindness, curiosity and sense of gratitude - - along with the almost unquenchable desire to connect with others and love on those who have favorably impacted us - - are silver linings we will proudly take with us to the backside!
But there is also something on which I can comment both knowledgeably and confidently that will NOT change… It is the Mission of Big Peach Running Co. Even though it may get presented and look differently today, our efforts "to grow, support and enhance an active lifestyle" carry forward - - and carry us. In short, there is still plenty of satisfying, soul-filling and Mission-minded work to do! Along with our modified store hours for phone consultations, contactless curbside service, and free half-marathon delivery distance, the following are some items we're especially excited to share with you currently: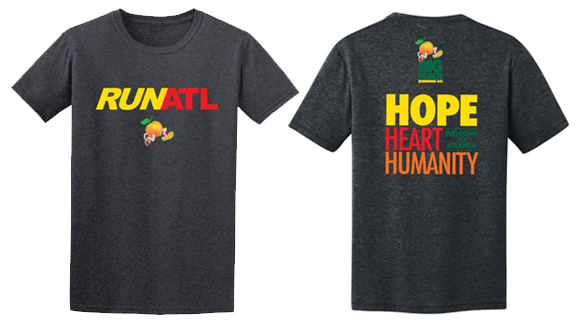 Helping Those Who Are Helping Us
For those who've taken note of the Promise we post in our stores (and make to our Guests), it includes, "To make our wonderful city a better place to live, work AND play." Although evidence of this element of our Promise has taken various forms over the years, I cannot think of a time when we've been more excited to join with others to make sure this is manifest. You've likely now seen the special-edition RUNATL tee we're doing, with all proceeds going to HOPE Atlanta. In short, we want the Running and Walking community in Atlanta to show-up and show off that this season is a reason itself to help others and maintain hope. We've taken our trademark and our accompanying catchphrase – "Heat, Hills, and Humidity - - Welcome to Atlanta!" – and made some minor AND important modifications. More specifically, the same vibrant trademark on the front will be paired with a revised and perennially relevant AND equally accurate message on the backside: "HOPE, Heart, and Humanity - - Welcome to Atlanta!" Every time you wear this shirt, you'll remember the support that you and the active community in Atlanta gave to those who just might need it most during this strange time. Learn more here.
We will share more details with you when the logistics are finalized.
VirtualFit Process
We announced last week that we are now performing our award-winning fit process virtually. And we are SO thankful for those who have already been part of this digital fun or have upcoming appointments scheduled! We're thrilled with the initial response, the reliability of the technology and the fun accompanying the interaction. Whether you've some discomfort that needs to be addressed, a reason to update your own understanding of the characteristics that matter most to get the best shoes for YOU or a friend who is just getting started, visit (or share) this link to see available appointment times.
Also, please keep in mind that we've someone in each store doing phone consultations, too! Feel free to call your favorite Big Peach location anytime between 10:00 a.m. thru 6:00 p.m., Monday thru Saturday. Operators are standing by! No automated answers or press-button menus here… only good, live persons serving good, live persons!


Virtual Pub Runs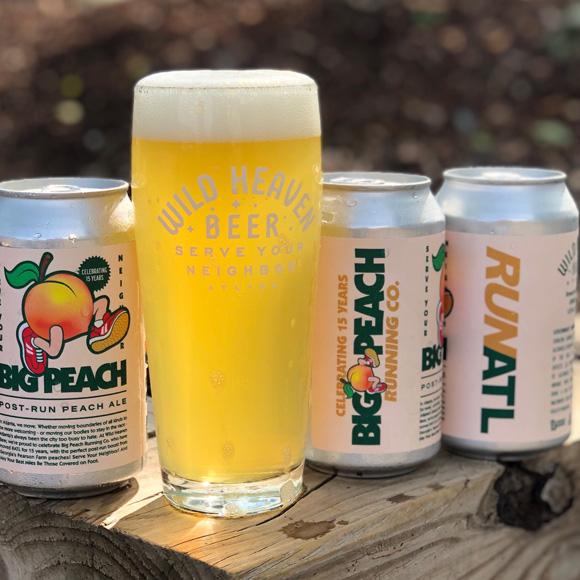 At Big Peach Running Co., our stores hosted Social Runs on Tuesday evening each week. Obviously, those gatherings have been shelved… for now, anyway. HOWEVER, that doesn't mean we cannot enjoy some of the elements that made these occasions so special! After all, I remember how appreciative every attendee was on those evenings when we brought a cool topic and some refreshments to pair with the mileage achieved… And since I have got a (now formerly) secret stash of Big Peach Post-Run Ale (@WildHeavenBeer) at my house for when friends come over - - which both saves me from having to go out for a beer… AND is somewhat wasteful since I cannot have anyone over currently - - I'm going to host a Virtual Pub Run (VPR) every remaining Tuesday this month and during May. We will have featured "pub runners," relevant topics to discuss, prizes to give away, fun to have and reasons to celebrate! Here's how it works!
I hope you'll join us… Cheers!
RUNATL 10k Training Program
At the beginning of March, we announced this FREE training program to help those interested get ready for their first or best 10k this Summer or this year… It was scheduled to commence on May 9th at five (5) different BPRC locations. I know many registrants have likely thought, "Surely, this will be canceled." BUT, man, that would be so contrary to our aforementioned Mission! As such, we've diligently worked to make this digital, too! For those who've already registered, do not change your plans (!!) - - and please stay tuned, as you'll get more information soon. And for those who now know this complimentary offering exists, please click on this link to learn more and join the 250+ who are already committed to making this Summer their finest and fittest Summer yet!

As I conclude this note, I'm reminded that in public speaking, there's counsel that suggests "Tell them what you're going to tell them, tell them and, then, tell them what you told them" for your audience to best remember the content. If this correspondence was following that course, the shortened version would, simply, be Thank you, THANK YOU, Thank YOU! The inspiration and motivation you've provided our organization - - and many others, I'm certain - - with your positive vibes, kindness, and commitment to good personal and societal health is priceless. We are privileged to serve in this community - - and it is an honor that will last a lifetime to be part of your journey in this season.
And there is, at least, one other thing we feel strongly about that hasn't changed… "May Your Best Miles Be Those Covered On Foot!"

In good health,

Mike
Mike Cosentino
Founder
Big Peach Running Co.
---
Ep. 77 - The RUNATL Podcast with Guest Dick Beardsley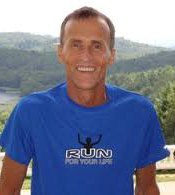 The RUNATL Podcast is hosted by Big Peach Running Co. Founder, Mike Cosentino, and Director of Marketing, Dave "D2" Martinez. This week on the RUNATL Podcast Dick Beardsley shares highlights of his running career including the running of the 1982 Boston Marathon. He also shares his very personal story about addiction and loss with a message about being resilient and overcoming those struggles.
More details and show notes are available
here
.