For many with a half-marathon or full marathon on the fall calendar, training should be starting soon if it hasn't already. For long runs, nutrition is vital for a great race or just to finish with a great experience. If you haven't started thinking about gels, chews, bars and other fueling options, now is the time to do so. We always recommend that you start experimenting early to help you figure out what you like and also what works for you. After all, we're all different and we can't expect one product to work for everyone. To find out more about fueling for a race, head on over and read this informational blog post to get you started.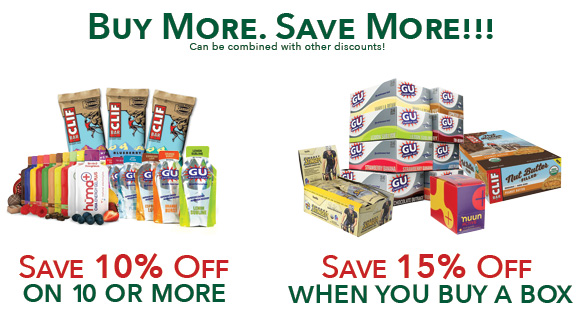 Once you know what works for you, take advantage of our bulk nutrition program. Save 10% when you purchase 10 or more individual gels, bars, or chews. Save 15% when you buy a whole box. Are you part of a club or training group and already receive a discount? You can combine that discount and receive up to 25% off when you stock up on your race day fuel.

---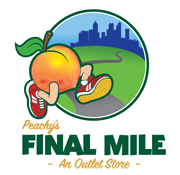 Peachy's Final Mile Reopens!
Our outlet will reopen Friday, July 21st with a fresh selection of footwear and apparel at the same great deals you've come to expect at Peachy's Final Mile, everything discounted 30% - 50%. Regular store hours are Friday, 10 am - 8 pm; Saturday, 9 am - 6 pm; Sunday, Noon - 5 pm. This location is closed Monday - Thursday.
Peachy Wants You!
If you love being active and are looking for a fast paced, service oriented and fun work environment, then Big Peach Running Co. is the place for you! Our Alpharetta, Decatur, Kennesaw, Marietta, Midtown & Suwanee locations are looking for outgoing & enthusiastic Peaches to represent everything that is great about living a "pedestrian-active lifestyle". Must be available to work weekends. Take a look at our online application and send us your resume.


Red Hare Pizza & Beer Run

Marietta - July 18th

- 6:30 pm

What's a group run without pizza and beer afterward? Join the Big Peach Marietta group runners for a short run around town, followed by some pizza and beer samples (available to those 21 and older). Our friends from the Red Hare Brewing Company will also be on hand to tell us about their upcoming Red Hare 5K on September 30th. Show up and also receive a sweet discount code! Bring your shoes and your appetite! RSVP here.


| | |
| --- | --- |
| FREE Intro Class | 3-Hour Workshops ($50) |
| | Alpharetta - SAT: June 29th, 8 am - 11 am |
Learning these principles will help transform your running to a more efficient & injury free experience! Perfect for runners of all paces and abilities.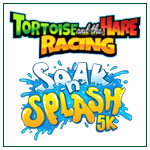 Soak N Splash 5K
July 22nd

-

8:00 am

- Kennesaw State University at The Perch
In this 5K, every runner receives a water gun in addition to a race entry and shirt! Run with a Soak-N-Splash water gun or bring your own big, bad super-soaker! There will be water gun refill stations along the course, and an EPIC water gun fight at the end. Bring the whole family for some summer fun! Register online.
---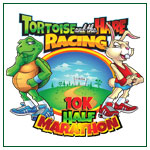 Tortoise & The Hare Half Marathon/10K
September 2nd

-

7:00 am

- Boling Park, Canton
This exciting race takes place on the Sutallee trails in Canton, GA just a short drive north of Atlanta. Slower runners (tortoises) start earlier and the faster runners (hares) start later allowing more runners to finish around the same time to enjoy the post-race festivities. The course and race format are perfect for those new to trail running.

Register
here
.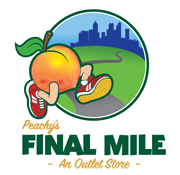 Peachy's Final Mile - An Outlet Store You'll find all merchandise discounted up to 50%. Follow us on Facebook for the latest deals.
Monday - Thursday: Closed

Saturday:

9 am - 6 pm

Friday:

10 am - 8 pm

Sunday:

Noon - 5 pm