Our

BIG

Apparel Sale Is Almost Over
Our Sale Apparel Is On Sale!
To make room for cool new fall apparel, we marked down a few items in our stores by 20%, 30%, and 50%, and decided to sweeten the deal. This week only, take an additional 20% off the already marked down price! Of course, sweet deals come with fine print: We cannot hold, transfer, or special order any items on sale. All sales final. May not be combined with other discounts, coupons, or offers. Sale ends 6:00pm on Saturday, August 29th.

Fun Ways To Have Fun With Us
Tricks Of The Trade


Brookhaven - August 26, 6:30pm

This is the last clinic in the super fun series presented by the Atlanta Track Club, Mizuno USA, and our team. We've had big crowds and big fun so far, and we're looking to end this series in style! If you're training for the Atlanta Half Marathon on Thanksgiving Day or any other fall season half or full marathon, hang out with us for a relaxing evening with useful tips and tricks to get you feeling great all the way to the finish line! The evening kicks off at 6:30pm to meet and mingle. At 7:00pm our panel of experts will share Tricks of the Trade and answer your questions. Then at 8:00pm we'll have exclusive after-hours shopping time with special deals. Whether you're training with the ATC, thinking about joining their training program, or just want to learn while you have some fun, join us!

---

We have more exciting Atlanta Track Club news coming up! Keep an eye on your inbox later in the week for the sccop. (Hint - 10 miles, 13.1 miles, and 3.1 miles are all part of the upcoming news.)

---

Free Workout With Barre 3

Marietta - August 29, 8:00am


Wake up Saturday morning with our friends from Barre 3 & BPRC Marietta! Keep your muscles flexible and loose at a free yoga for runners clinic at BPRC Marietta this coming Saturday morning. Yoga is a great way to cross train and prevent those pesky running injuries. The Barre 3 workout also incorporates exercises and moves from Pilates and dance, making it a ton of fun. Bring a towel, yoga mat, and water bottle, and get reeady for a great workout!

Register Now!

---

Speaking Of Free...




Humana Atlanta 5K, September 13


Want to run or walk a 5K for free? How about a free 5K that comes with a finisher's medal? How about a free 5K that comes with a cool medal and a post race party with live entertainment?! Starting and finishing at Centennial Olympic Park, the route will take you around some of downtown's best sights: Georgia Tech campus, Coca-Cola world headquarters, the Georgia Aquarium, the World of Coke, the Atlanta Street Car, the Ferris Wheel, and more. Registration is online only, and is filling up fast (limited to 2500 participants). BPRC Brookhaven will host mandatory pre-race packet pick-up on Septemeter 11th and 12th.

---

Product Spotlight
Stock Up On Socks!

Fitsok 3-packs make a great addition to your running sock wardrobe.

The Jewel Pop style transports moisture and heat from areas of highest to lowest concentration for a comfortable sock. Antimicrobial technology fights the growth of odor causing bacteria to keep your socks cleaner and fresher.

The ISW wool blend socks utilizes merino wool and polypropylene to deliver superior moisture movement. A light cushion prevents blistering and enables prolonged performance in the harshest conditions. Merino wool is also naturally antimicrobial.

We have other styles too, drop by and give 'em a try!

---

Group Run Fun

Here are a few highlights of this week's store group runs. Check out our full group run schedule. There's always fun on the run for everyone.


Kennesaw: Tues. 8/25 6:30pm - Kick off for the Red Hare & American Cancer Society Mile Fly Club. Timed prediction run, food, prizes, and a ton of fun!
Suwanee: Tues. 8/25 6:30pm - test drive the Saucony Ride, Omni, and Zealot
Alpharetta: Weds. 8/31, 6:30pm - Hoka test drive

4-Hour Workshops:

Delivered in two
2-hour sessions - $60

To register for the preview clinics or classes, just click on the location of your choice.




Learning these principles will help transform your running to a more efficient & injury free experience! You'll have fun while you learn in a friendly, relaxed, and non-intimidating atmosphere. Perfect for runners of all paces and abilities.

---

---

Join us each week for

a free

Skills & Drills Workout

designed

to help you run stronger, run better, and be the best

runner you can be. The workout addresses core strength, balance, flexibility, form drills, and

is perfect for

all abilities and ages. (Bring the kids!)


Mondays:
Brookhaven 6:30pm
Midtown 6:30pm
Suwanee 6:30pm

Decatur 6:30pm
Kennesaw 6:30pm
Marietta 6:30pm



Alpharetta 6:30pm


---

---

Peachy Express
Free Same Day Local Delivery

Need new running shoes and time is not on your side? We want fresh kicks on your feet so you can get a good stress buster run in when you need to.




Peachy Express

is available in 80+ zip codes around Metro Atlanta. Check to see if your zip code is on the list, choose your shoes, and you're good to go! Fresh kicks will reach you in a few hours*, and delivery is on us! If your favorite pair of shoes is not on the list, just call your neighborhood BPRC. If the shoe is in stock, it will be on it's way! (If it isn't, there's always a plan B.)




*Orders must placed by 6:00pm weekdays, and 4:00pm Saturdays. Sorry, this service is not available on Sundays.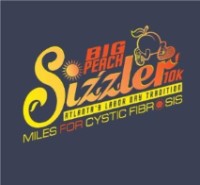 September 7, Chamblee to Buckhead

Here's the perfect Labor Day Tradition - a sizzling fast 10K race on Peachtree St. from Chamblee to Buckhead! If you're in town, and you're not working, you should be running or walking this super fun race presented by Miles For Cystic Fibrosis. Finishers will enjoy a great looking tech T and a huge post-race celebration with music, food, and vendors offering up lots of goodies! All proceeds and donations will benefit local Cystic Fibrosis families struggling with the high cost of medical care. Check out the second installment of our 3-part video series all about the race!
---

Save time on race day by picking up your race packet in advance at BPRC:
DI Dash - runs in Marietta Square on August 29th. Packet pick-up and late registration at BPRC Kennesaw August 26 & 27 from 4-8pm.
The ATL Relay/10K/20K taking place in the Castleberry-Hill neighborhood downtown. Packet pick-up and late registration at BPRC Midtown

August 27 & 28 from 4-8pm.

Enduring Hearts Iron Horse 15K/5K runs from Town Center Mall in Kennesaw on August 30th. Packet pick-up and late registration at BPRC Kennesaw August 28th from 4-8pm.
---
Ongoing Race Partnerships:
September 7: Big Peach Sizzler 10K

Various Dates: Dirty Spokes Productions Trail Races - Next up: Hard Labor Creek State Park 7/3.5Mile Trail Run

Various Dates:Kennesaw Grand Prix Series Race Series - Next up: Great Locomotive Chase 5K Oct. 3

Various Dates: Georgia Multisports Productions Triathlons

November 1: Anything Is Possible 5K
Anything Is Possible 5K

November 1, 1:50AM, Kennesaw
You guys know about this crazy fun race, right! Anything Is Possible takes off 10 minutes before we set the clocks back in the fall. In a way, you finish before you start! Register at any BPRC for this super fun race! If you can't make it in to see, us, sign up online by 11:59pm on September 7th, and save 20% off the registration fee.
This year's pre-race fun is on Halloween, so the theme is masqerade. Race Director Mark has an AIP BPRC BT (Anything Is Possible/Big Peach Running Co. Barnstorming Tour) coming up in September and October. Details in upcoming issues of Peachy News.