---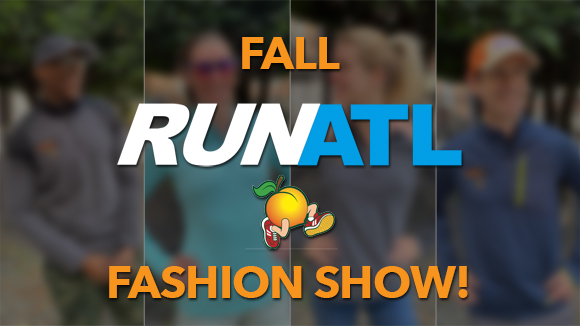 October 28th at 8:15 pm is the date and time, the place is Facebook! As we can't do a live in-person fashion show as we've done in previous years, we're doing it virtually and you're invited. For those that tune in, you'll be the first to see our new Fall RUNATL collection, which includes, long sleeves tops, tights, pants, and pull-overs. The items will be available for purchase online shortly after the event and the following day in stores. Sign up and you'll receive an email prior to the event as a reminder. After the event, you'll receive an email with a special discount code that will be valid for a limited time. Sign up here!
---
Ep. 95 - The RUNATL Podcast with Keith Kelly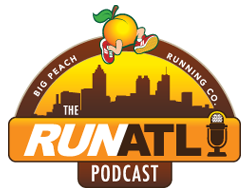 The RUNATL Podcast is hosted by Big Peach Running Co. Founder, Mike Cosentino, and Director of Marketing, Dave "D2" Martinez. This week on the RUNATL Podcast we have 2000 XC National Champion and New Balance Brand Manager, Keith Kelly. On this episode, we let XC student-athletes from Fannin County High School ask the questions, and special co-host, Monica Cosentino handles co-hosting duties with her dad.
Listen to the latest episode here.
| | | | |
| --- | --- | --- | --- |
| | | | |
---

Big Peach On Wheels - Serenbe
October 23rd, 9 am - 5 pm
Big Peach On Wheels is heading south to Serenbe! While we don't have a physical location south of the city, our mobile unit will be in Serenbe every two weeks. We'll be parked outside the One Mado building for your convenience! If you have a specific request, email us in advance at OnWheels@BigPeachRunningCo.com and we'll bring your shoes or any other items down to Serenbe.
---
If you're looking for a great place to work, love being active, enjoy working with others and having fun, then Big Peach Running Co. is the place for you!
Our Decatur, Kennesaw, & Midtown locations are looking for outgoing & enthusiastic Peaches to represent everything that is great about living a "pedestrian-active lifestyle". Must be available to work weekends. Take a look at our online application and send us your resume.

rnnr Free Family 5K Trail Running Training

Our friends at rnnr (pronounced "Runner") are launching a free family 5K trail running program. rnnr is an Atlanta company that produces performance apparel, including some of our RUNATL hats. They are committed to building a stronger running community and supporting kids in the sport. They have partnered with Vert.Run to offer a FREE 8-week training program so kids and family can run their first 5K. This is an introduction to running and trail running for people of all ages and experience levels. Sign up and get more details here.

We have started our social runs but we are taking measures to ensure everyone is safe. Please arrive early if you plan to use the bathroom or change clothes. Please wear a mask inside the store. We are limiting the number of people in the stores so please wait outside before the start of the run and keep a 6-foot distance from each other. Please bring your own water bottle. Do your best to provide space between each other during the run as you're not required to wear a mask while running. There's always fun on the run for everyone.
Women's Run/Jog/Walk @ 9:00 am - Suwanee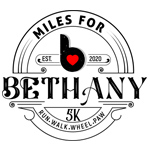 Miles For Bethany
On August 3, 2019, the world lost a beautiful soul. Bethany was a devoted mother & wife, a beloved daughter & sister, a trustworthy friend, a motivating coach, a gifted competitor, and an inspiring role model.
On Saturday, October 31, 2020, we'll participate virtually to celebrate her life, to support the causes she loved, to challenge ourselves to be our best and to cheer each other on. PR chasers, first-timers, walkers, strollers, pushers, wheelchairs, and paws are all invited to join us! Register online.
---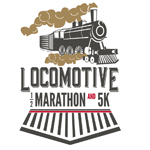 First Watch Locomotive Half Marathon & 5K
December 13 - Kennesaw, GA
Since the hybrid model for the Iron Horse 15K was successful, there is now a marathon hybrid for 2020! Thus, the Marathon Challenge is born! Sign up for the challenge, and complete a virtual half marathon anytime between Dec. 1-10, and the LIVE half marathon on Dec. 13th, to complete the challenge! A virtual option is also available for both distances.
There are protocols in place to create a safe environment including adequate spacing for participants. Protocol details available on the registration page.
Register
online
.