Running Should Not Be
A Pain In The Glute!
Brookhaven - December 3, 6:30pm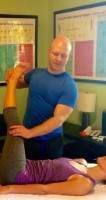 Neuromuscular Massage Therapist Patrick McWhirter is back at BPRC Brookhaven! Enjoy a casual group run at 6:30, and then at about 7:15, get ready to stretch! Patrick will demonstrate how to correctly and efficiently stretch your glutes, including that pesky piriformis, to obtain maximum flexibility and speed up recovery time.
As a practitioner of the Mattes Method of Active Isolated Stretching (AIS), Patrick will show us why so many are calling Active Isolated Stretching their secret weapon for training. Come dressed comfortably for a great run and interactive clinic about a self-stretch method you can apply to your gluteal muscles. Join us for either or both!
---
Map Your Running Resolutions
Three Dates/Locations
Why wait until January 2016 to set new goals? John and Abby Keenan from Intrepid Performance Consulting return to BPRC to help you get a jump start on your New Year's Running Resolutions. During the next sport psychology clinic in their series, they will explain how to properly set goals to ensure you reach the finish line! You will also learn how to motivate yourself over a long period of time, as well as useful tips to keep your goal in the forefront of your mind. Come ready for an interactive learning experience that will turn goal setting into goal achieving!
Register Now!
Dec. 9, 6:30pm Brookhaven
Dec. 11, 6:30pm Decatur
Dec. 16, 6:30pm Midtown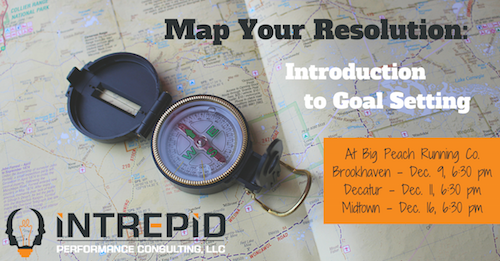 ---
Let's Run Some Trails:
A Round Table Discussion
Brookhaven - December 15, 6:30pm
Join us for a lively and interactive evening at our Brookhaven store that's all about taking it off road. The fun begins at 6:30 as we meet and mingle (and snack). Then at 7:00pm, the discussion begins. BPRC founder and major trail running enthusiast Mike Cosentino will moderate our panel of trail running experts, providing answers to your pre-submitted questions, and no doubt, sharing some great stories. Please email your questions to brookhaven@bigpeachrunningco.com. We will have giveaways and special discounts on trail shoes, as well as on Nathan hydration and reflective gear. It's sure to be a memorable evening!
---
Wednesday Wisdom Clinic Series
End Of Year Party
Suwanee - December 16, 6:30pm
We're celebrating a year of wisdom! BPRC Suwanee's world famous Wednesday Wisdom clinic series ends the year with a party! Whether you've attended all of our previous clinics or none at all, you're sure to have a good time!
•Trivia contest about previous clinics
•Share your wisdom and stories from 2015
•Light snacks
•Special offers
•All sorts of Peachy fun!

Register Now!
---
Group Run News
Here are a few highlights of upcoming store group runs. Check out our full group run schedule. There's always fun on the run for everyone.
Decatur: Tues. 12/1 Test drive the latest from Saucony
Brookhaven: Thurs. 12/3 Chair Massage from Hands On Wellness Chiropractic
Midtown:

Thurs. 12/3 Test drive the latest from Saucony

Decatur & Midtown: Sat. 12/5 The Annual "Midcatur Run! Run 6.75 miles from Decatur to Midtown, or in the other direction from Midtown to Decatur! Need to run longer, finish where you start for a 13.5 miler. Asics will be there, and we'll have some raffle prizes and post-run pancakes at both locations! Contact either store for more details.

Alpharetta: Mon. 12/7 Test drive the latest shoes from Pearl Izumi