---
New RUNATL Hats!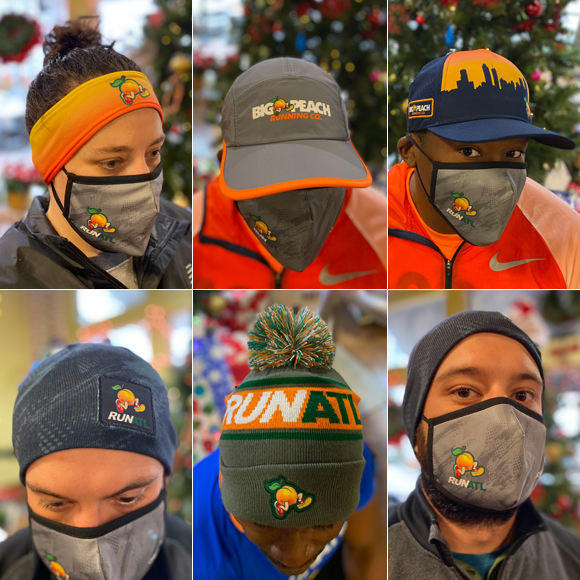 Winter is definitely here with the cold temps and we've got your head covered with brand new RUNATL, BPRC, & Peachy hats! We also have custom RUNATL facemasks. They are now available at all 7 Big Peach Running Co. locations and online. They're the perfect gift for you or the runner in your life!
To thank our Peachy friends and family, we have a special gift for you. Purchase $200 or more in merchandise and/or gift cards, and you'll receive BPRC Peachy Bucks that can be used for future purchases! This sweet deal is eligible for in-store and online purchases.
This offer is valid through December 31, 2020. For online purchases, mention Peachy Bucks in the Notes section of your online order to receive your electronic Peachy Bucks to use on a future purchase.
Fine print and details: This offer excludes sale rack and gift card redemptions. Peachy Bucks are earned based on your order Sub-total (pre-tax). Peachy Bucks are for future purchases and may not be applied to the transaction earning the bonus card. This offer runs from November 27 - December 31, 2020. Peachy Bucks will expire on June 30, 2021.

---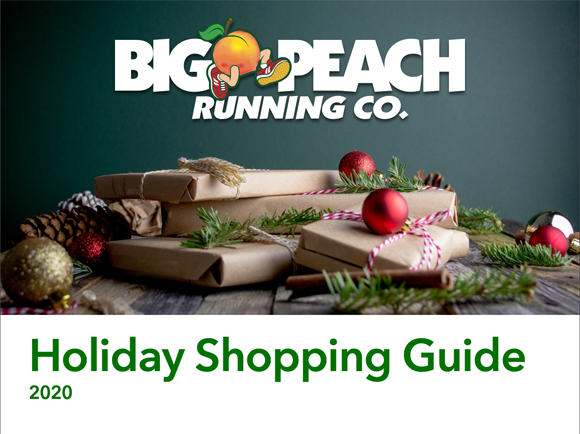 Big Peach Holiday Shopping Guide
We are thrilled to share our 2020 Holiday Shopping Guide! If you need help selecting an item for your favorite runner, this guide is sure to help. These are some of our favorite items. All items are available in-store and some items can be found online for a more convenient shopping option. If you're planning to shop online, make sure you do so early. Shipping delays are expected due to the increasing amount of online shopping this year. You can view the Holiday Shopping Guide here. Use the navigation buttons to navigate or select the option for a fullscreen experience.
---
Brooks Apparel Review
Still, looking for holiday gift ideas? May we suggest some items from Brooks Running. We had our team of reviewers test out the latest Brooks apparel in our stores and we've put together a review of their favorite items. Check out the review and then visit our stores to try them on yourself.
---
Spring 2021 RUNATL Half Marathon/Marathon Training Program
If you're ready for a challenge, registration is now open for a Spring RUNATL Half Marathon/Marathon training program and once again, it's FREE! The half marathon training starts the week of December 7th. Both programs coincide with the Publix Atlanta Marathon Weekend. The race will take place in Hampton, GA, and is described as flat! If you're interested, sign up. Registration closes on December 12th. Register here.
---
Ep. 98 - The RUNATL Podcast with Guest Samia Akbar
The RUNATL Podcast is hosted by Big Peach Running Co. Founder, Mike Cosentino, and Director of Marketing, Dave "D2" Martinez. This week on the RUNATL Podcast we sit down with Samia Akbar, the fastest female American-born black marathoner and now Marketing Manager for New Balance.
Listen to the latest episode here.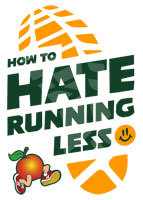 How To Hate Running Less
Marietta - Wednesdays, 6:30 pm

We get it. Some folks don't like running. At times, it can feel clunky, jarring, and uncomfortable. That's why we're offering "How to Hate Running Less," a 30-minute FREE class with basic instruction, simple drills, and light running designed to change the way running feels and, hopefully, make it feel lighter, smoother, and EASIER. It's open to everyone (Walkers, Runners, Kids). Come ready for light drills and running outside in our East Cobb location.
---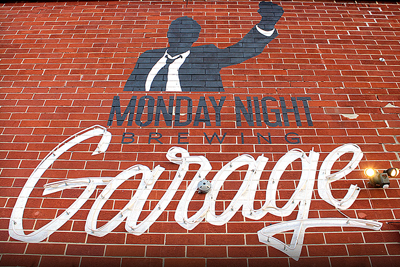 Big Peach Pop-Up Shop
Monday Night Garage
December 12th & 13, Noon - 7 pm
It's going to be "Poppin'" at Monday Night Garage next weekend! Big Peach On Wheels will be setting up a Pop-Up Shop at the Monday Night Garage event space where you can do your holiday shopping while enjoying an adult beverage! We'll have plenty of RUNATL items, shoes, & marked down items. Grab a beverage at the bar and enjoy a 10% discount on regular priced items. Take advantage of the convenience to enjoy a run on the Beltline followed by some shopping and refreshments in one of the hippest attractions around town!
We have also partnered with The Sole Project to collect new or gently used shoes for the local shelters. We'll be collecting them at this event or drop them off at any Big Peach Running Co. location through December 23rd.
If you have a specific request, email us in advance at OnWheels@BigPeachRunningCo.com and we'll have it waiting for you.
---
Trail Run - Southside Park
Come run some trails with our Brookhaven team at Southside Park! Beginner and experienced trail runners are welcome on these easy to moderate trails. This is Atlanta's largest park that is underutilized with trails right inside the perimeter! Parking is FREE with an option of 3 miles & 7 miles. Trail shoes are not required but there is a water crossing and your shoes will get wet. The trailhead is on the left side once you enter the park. We'll practice social distancing at the start and ask that you wear a mask before the start of the run.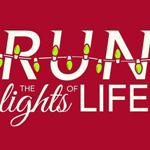 Lights Of Life 5K/1K

(New Date & Location)



December 20, - Kennesaw, GA
Start - or continue - a new holiday tradition and run the Lights of Life! The 5K run starts at 4:30 pm (Before Sunset) and takes on the beautiful campus of Life University during their annual holiday light show! As the run progresses, the sun will go down and the lights will come on! After the run, stay and enjoy the holiday festivities, with caroling, s' mores and hot cocoa, FREE photography, food and music, and much more, including FREE ENTRY into the Lights of Life! Register online.
---
Tour of the Breweries 2021
Starts January 1st - Virtual
This year, Tour of the Breweries will take place the entire year. There will be 12 parties to give out swag throughout the year. The price of registration goes up each quarter so register sooner than later. Kinda virtual race – You go to each brewery in the region you choose. You start and end a 5k at each brewery. At the brewery enjoy some tasty brews with friends. Non-running options are available. This event takes place from January 1, 2021, until December 19, 2021. Register online.

Lung Force Hybrid Run/Walk


Decatur - December 7th & 8th, 3 pm - 6 pm

Locomotive Half Marathon


Alpharetta - December 10th, 3 pm - 7 pm

Locomotive Half Marathon


Marietta - December 11th, 3 pm - 8 pm

Locomotive Half Marathon


Kennesaw - December 12th, 10 am - 3 pm