---
Greetings, Friends!
It is possible the quarterly allocation of digital ink I receive from my friend, Dolomite Dave (our newsletter editor, among many other things…), will sometime allow me to exclusively allocate energy to the active lifestyle we all embrace - - and that we love sharing with others. But as we dive headlong into Spring, with our beloved azaleas and dogwoods near bloom, it remains rightfully evident that our personal well-being and our pursuit of worthy targets (set at the onset of the new year, perhaps!) will continue alongside a scale of suffering that is distressing to all of us. Not unlike the countless lives upended by a global pandemic, and the families and communities where racial injustice resides and still prevails, the unprovoked and unjustifiable invasion of Ukraine bothers us deeply. With a count of citizens that is more than the entire Atlanta metropolitan area who have fled their homeland for safety, the refugee crisis has torn families apart and created hardship I'm not capable of comprehending. As a retailer, it disturbs me that honest, hardworking shopkeepers in Kyiv, Lviv, Mariupol - - and numerous other locations I cannot even pronounce properly - - have needfully traded the keys to their own front doors for loaded WAC-47s to, instead, stand and fight at the markers of their respective city limits… If even for a moment, think about someone in Ukraine whose regimen, routine and responsibilities might have somehow mirrored yours at beginning of this year - - and how much has now likely changed for them.
As such, this "quarterly message" contains only a single item about which we want you know and kindly consider. More specifically, it is for so many reasons we are now connecting with Atlanta-based, Ukrainian Congress Committee, to raise additional funds for the critical humanitarian work they are doing throughout Ukraine. And we hope you will join us… To do so, please purchase one (or more!) of the t-shirts depicted in the design below to show your local support for this global concern. This Stand With Ukraine link will take you to our website – and ALL (100%!) of the proceeds will go to UCCA . Let's send a message that the RUNATL community moves together and stands united!
As always, much thanks and many blessings to you! Our best miles are, indeed, just ahead!
Mike
---
Stand With Ukraine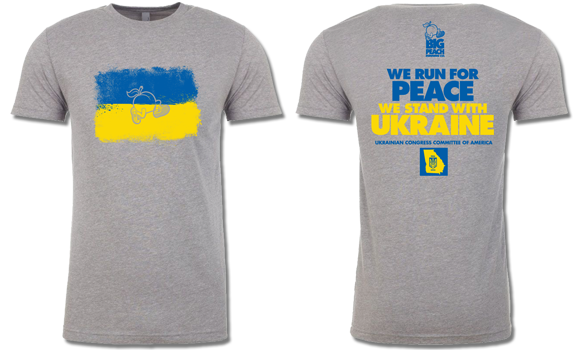 This limited-edition tee is a great way to make a statement AND make a difference! Our "Stand With Ukraine" Tee contributes 100% of the proceeds to the Ukrainian Congress Committee of America, as they serve the humanitarian needs of Ukrainian citizens displaced and disastrously impacted by the recent aggressions in their country. This unisex t-shirt is a splendidly soft polyblend by Next Level, with crisp graphics and an important message of unity.
Pre-Orders only (thru April 11th).
NOTES: As a unisex tee, those who traditionally wear Women's sizes should order one (1) size smaller; all orders will ship the week of April 18th.


---
Ep. 125 - The Big Peach Ride + Run Podcast with Guest Becky O'Mara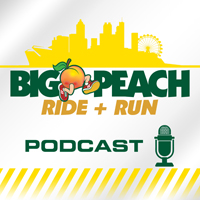 This week's Big Peach Ride + Run Podcast is hosted by Big Peach Running Co. Director of Marketing, Dave "D2" Martinez. This week on the Ride + Run Podcast we talk to Becky O'Mara, Co-Founder & Director of Development for Bearings Bike Works. Their work provides kids with skills and opportunities to build productive lives through bikes. This is a great story that started helping one kid, improving their community, and growing into an organization that transforms lives for the better.

The Cartersville Thursday night run is at Drowned Valley Brewing. Our Cartersville location also offers a Sunday morning run on the 2nd Sunday of every month at 6:30 am.
Kennesaw - April 5th, 6:30 pm
Come on out to our Tuesday night social run with Feetures! Our best selling sock brand has something for those that come out to our run. So don't miss out!
Midtown - April 12th, 6:30 pm
Join our regular social run an demo the new On Monster, the lastest release that provides monster cushioning. Post run adult beverages and giveaways for those in attendance!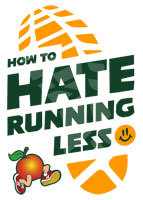 How To Hate Running Less
Marietta - Wednesdays, 6:30 pm

We get it. Some folks don't like running. At times, it can feel clunky, jarring, and uncomfortable. That's why we're offering "How to Hate Running Less," a 30-minute FREE class with basic instruction, simple drills, and light running designed to change the way running feels and, hopefully, make it feel lighter, smoother, and EASIER. It's open to everyone (Walkers, Runners, Kids). Come ready for light drills and running outside in our East Cobb location.
---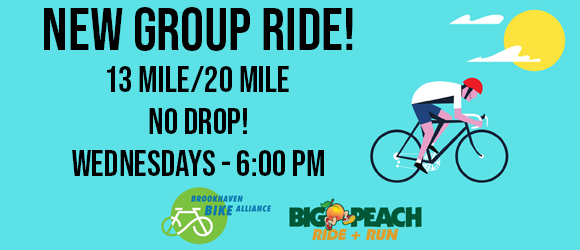 Join us every Wednesday night for a group ride around the Brookhaven area. The ride will be led by members of our team and the Brookhaven Bicycle Alliance. The rides are open to all abilities with 13 mile & 20 mile routes. Post ride, we'll gather at Hob Nob in Town Brookhaven for some post-ride food and drinks. Come on out and meet members of our team and the Brookhaven Bicycle Alliance. With warmer temps and longer days, it's a perfect time to enjoy a ride outside!
---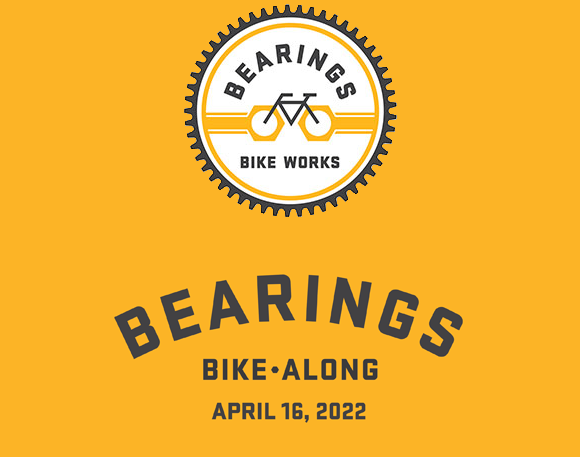 Bearings Bike Along


Atlanta - April 16th
Big Peach Running Co. is proud to support Bearings Bike Works
and their Bike-Along fundraiser! Join us on April 16th for a ride, walk, or run on the Atlanta Beltline Westside Trail. Register to ride, walk, or run
with proceeds supporting the work that Bearing Bike Works is doing in the community. The event takes place at the Lee + White Development (home of Monday Night Garage, Wild Heaven West End, Hop City, & others). For the more adventurous cyclist, the BeltGrind
is later in the day which also supports Bearings Bike Works.
---
Run Free Cross Country Camp
Young Harris, GA - July 11th-15th
Middle School and High School athletes, come join this fun-filled, epic week on some of the most iconic trails in North Georgia and North Carolina! Workshops on form, race strategy, goals, nutrition, and more. There will be adventure challenges, local outings, and some really cool time with an elite coaching staff! Register now!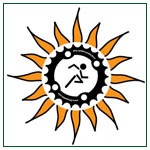 Dirty Spokes - Allatoona Creek Park
April 30th - Acworth, GA

This is race #6 of the Dirty Spokes Trail Run Series! The course is beautiful and offers something for every runner truly wishing to ´ditch the city´. Nestled in the woods of suburban Atlanta lies a true gem. Well groomed system of trails with gentle slopes and beautiful scenery will leave you breathless.
---

HappyFeat Happy Hour 5k

April 16th - Suwanee, GA
This race is focused less on speed and more on margaritas, beer, & fun with friends and family. Participants will be able to enjoy cold beer & tasty 4 oz margarita prior to the race, with a beer refill station at the halfway point on the course sponsored by Monkey Wrench Brewery. Avid runners can forego the pre-race drinks & hustle their way to the Finish Line just in time for HAPPY hour! Register here.
Race To Cure Sarcoma Atlanta
This 5K Run/1M Walk is a family friendly event organized by the Sarcoma Foundation of America (SFA). Our goal is to raise funds and awareness for sarcoma research, both nationally and
locally. Register here.
---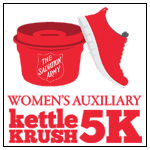 Kettle Krush 5k
While the Salvation Army Women's Auxiliary's 8th annual Kettle Krush 5K run/walk is in a "different season" than Christmas, the purpose is for the "same reason." Through this event, SAWA strives to raise awareness for The Salvation Army and to "krush" poverty, homelessness, and human sex trafficking, and support veterans and youth enrichment in metro Atlanta. Post race music with DJ and goodies! Register here.