Switch It Up And Run Trails
If you've ever considered running trails, now is the perfect time to give it a try. Running trails isn't about racing a clock, it's about being in nature and experiencing the journey. It's okay to be worried about stumbling on a root or walking up a steep incline, we all do it. We love running trails and while we can certainly help you get into a great pair of trail shoes, we can also help you find some great local trails that are a short drive from any of our locations. Check out this article on what you'll need to get started.
Besides experiencing a completely different running environment, trail running activates different muscles that are not used on pavement. The use of these muscles can actually help your road running and decrease the chances of injuries due to muscle imbalances. Not to mention you'll be running on a softer surface. Much like road running, trail running is always better with others (especially if you're worried about getting lost). So we encourage you to come out to any of our FREE trail runs where our staff will lead you through the woods so no one gets left behind, and where you'll be able to ask any questions you may have about running on trails. We're already planning several trail runs this fall including a trip north to Blue Ridge (details below). So come on out and fall in love with trail running!


Suwanee - August 16th

- 6

:30 pm
Wednesday Wisdom returns to our Suwanee store with a Back to School Edition! Join us for team trivia to exercise those mental muscles, light stretching to loosen any tight physical muscles, and some light snacks to fill up the abdominal muscles (tummy). See you there! RSVP here.
---
Ask The Doc
Brookhaven - August 17th

- 7

:00 pm
After the group run, Dr. Kate Edwards, of Precision Performance Atlanta, will be answering your questions about common running myths, injuries and injury prevention, running form, and how to get the most out of your strength training. RSVP here.

Club Run with Altra & Gordon Biersch
Midtown - August 15th

- 6:30 pm

Join us at Big Peach Midtown (free parking at the store!) for a run with our friends from Altra. Learn more about the new Escalante and hang out afterward for specially priced beer and apps at Gordon Biersch's Midtown location! RSVP here.
Struggle Run
Midtown - August 20th

- 8

:00 am
Join us for this FREE, beginner friendly, run-focused group event with bagels, on-site parking, and easy to follow routes for those aiming to maintain an 8:30-14 minute-per-mile pace. RSVP here.
---
Tortoise & The Hare 50K/30K Course Preview Run
Blue Ridge, GA - September 10th

- 8

:30 am
Time to get some longer miles in and hit the trails. Big Peach Running Co. will be leading a course preview run in Blue Ridge, GA. Whether you've signed up for the race or not, all are welcome! We'll have a 6-mile option and a 15-mile option. This is a no drop run and we'll be run-hiking at a comfortable pace. RSVP here.


| | |
| --- | --- |
| FREE Intro Class | 3-Hour Workshops ($50) |
| Suwanee - SAT, August 19th, 8:00 am | Alpharetta - SAT: August 26th, 8 am - 11 am |
Learning these principles will help transform your running to a more efficient & injury free experience! Perfect for runners of all paces and abilities.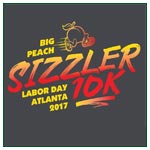 Big Peach Sizzler 10k

September 4th

, Chamblee MARTA Station -

7:30 am
Kick off your Labor Day celebrations by running a super-fast 10K and support a great cause while you are doing it! This fantastic 10K course winds through the Atlanta communities of Chamblee, Brookhaven, and Buckhead. Register at any of our 7 Big Peach Running Co. locations or online before August 31st to avoid the price increase.
---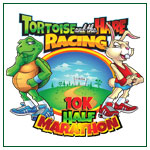 Tortoise & The Hare Half Marathon/10K
September 2nd

-

7:00 am

- Boling Park, Canton
This exciting race takes place on the Sutallee trails in Canton, GA just a short drive north of Atlanta. Slower runners (tortoises) start earlier and the faster runners (hares) start later allowing more runners to finish around the same time to enjoy the post-race festivities. The course and race format are perfect for those new to trail running.

Register
here
and use
code: PEACHY5 to save $5!

| | |
| --- | --- |
| Magnolia Run | Magnolia Run |
| GA-PCOM SOMA 5K | |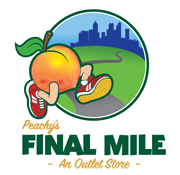 Peachy's Final Mile - An Outlet Store You'll find all merchandise discounted up to 50%. Follow us on Facebook for the latest deals.
Monday - Thursday: Closed

Saturday:

9 am - 6 pm

Friday:

10 am - 8 pm

Sunday:

Noon - 5 pm