---
Is It Time For An Updated Video Gait Analysis?
David
Achieving your running or fitness goals is a lot easier when you have the proper shoes to reach those goals.
At Big Peach Running Co. we understand that running isn't always easy and whether you're running regularly a new runner, or starting a new fitness routine, the correct footwear and gear can help make it easier and more enjoyable.
While most of you may have already been through our award-winning Fit Process, we always recommend that you come back periodically and revisit the
Video
Gait
Analysis. If you've been running consistently, you may have improved your running efficiency and therefore you may have a more efficient
gait
. If so, this could mean a different shoe may help you enjoy your running even more. Or maybe life got in the way and you've been unable to run as consistently as before. In this case, perhaps a shoe that provides more protection and helps make those miles just a little bit easier is the way to go. Regardless of your running background, come in for an updated
Video
Gait
Analysis and fitting. Remember, our complete Fit Process is always free!
---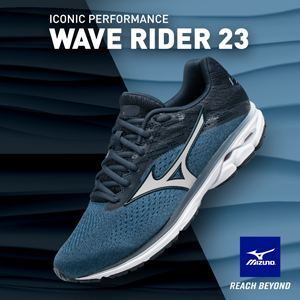 Product Spotlight!
The new and improved Mizuno Wave Rider 23 is now available at all 7 Big Peach Running Co. locations! If you've been a fan of the Wave Rider over the last few years, you won't be disappointed. The midsole and underfoot feel remain unchanged. The Mizuno Wave Rider 23 receives an all-new breathable mesh upper with an enhanced graphic in the heel and updated eyelets for a lightweight feel. Stop by any of our locations to try on a pair or check out our social runs with an opportunity to demo a pair on a run!
---
Ep. 60 - The RUNATL Podcast
The RUNATL Podcast is hosted by Big Peach Running Co. Founder, Mike Cosentino, and Director of Marketing, Dave "D2" Martinez. This week on the RUNATL Podcast Mike & D2 celebrate 60 episodes with candid thoughts on their favorite races, training programs, routes, shoes, and much more. We'd also love to hear your thoughts on these topics! Email us at podcast@bigpeachrunningco.com.
More details and show notes are available
here
.

Kennesaw - August 31st, 7:30 am
Are you running Fall 5k, 10k, half or full marathon? If so, then join us as we help you prepare for your next race! This is a free training group for beginners and seasoned veterans. We will have preplanned routes, distances, and hydration available. So whether you are walking or running we hope to see you! RSVP here.
---
Midtown Fall Half Marathon Training with New Balance
Midtown - August 31st, 7:30 am
New Balance will join in on the fun as part of the Midtown Fall Half Marathon Training Series! New Balance will have demo shoes for you to try out on the run. Big Peach Running Co. Midtown Ambassador Sandy Lam is leading a core exercise after the run. RSVP here.
---
Go Ahead, Stop & Pee: A Guide To Running During Pregnancy & Postpartum
Decatur - September 4th, 6:30 pm
Join us on September 4th, at 6:30 pm, for a Q&A and book signing with Dr. Blair Green PT, DPT and Dr. Kate Mihevc Edwards PT, DPT for their new book, Go Ahead, Stop and Pee: A Guide to Running During Pregnancy and Postpartum. This is a guide written by women, for women! Go Ahead, Stop and Pee is a fresh voice that empowers women to maintain their running lifestyle during pregnancy and postpartum. Combining first-hand experience as well as science. RSVP here.

Here is a list of upcoming store group runs. Check out our full
social run schedule
. There's always fun on the run for everyone.
Marietta - Tuesday, September 3rd: Come on out to our East Cobb location and try out the brand new Mizuno Wave Rider 23 during the run!
All group runs begin at 6:30 pm unless otherwise noted.


| | |
| --- | --- |
| FREE Fundamentals Class | TransFORMed Running Engaged ($50) |
| | |
Learning these principles will help transform your running into a more efficient & injury-free experience! Perfect for runners of all paces and abilities.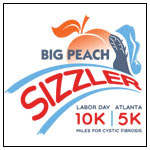 Big Peach Sizzler 10K & 5K
September 2nd - Chamblee, GA - 7:30 am

Kick-off your Labor Day celebrations with holiday fun with family and friends! The course features the flatter, faster, friendlier portion of Peachtree Road from Chamblee through Brookhaven to Buckhead. Finishers receive a shirt and custom finisher medal for the 10K or 5K. After the race, celebrate your finish with food, music, beer, and more all located steps from the finish line in the Buckhead Station Shopping Center. Sign up now!
---
Iron Horse 15K & the 5K Express

September 29th - Kennesaw, GA - 7:30 am
Take the challenge and step up to the 15K distance at the Iron Horse 15K! Enjoy a great course with lots of support including 8 aid stations and lots of fun! Not ready to tackle the distance? Run the 5K Express, a bite-sized version of the 15K All the great support and fun, with a shorter distance! Register online.

Big Peach Sizzler 10K & 5K




Big Peach Sizzler 10K & 5K




Midtown

- August 29th, 12 pm - 8 pm

Alpharetta - August 30th, 4 pm - 7 pm

Big Peach Sizzler 10K & 5K




Big Peach Sizzler 10K & 5K