---
It's The Most Runderful Time Of The Year!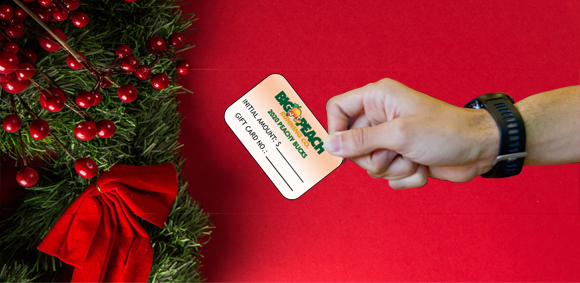 To thank our Peachy friends and family, we have a special gift for you. Purchase $200 or more in merchandise and/or gift cards, and you'll receive BPRC Peachy Bucks that can be used for future purchases! This sweet deal is eligible for in-store and online purchases. Here's how it works - if you spend $200.00-$249.99, you'll receive $25 in Peachy Bucks. Purchase $250.00-$299.99 and you'll receive $230 in Peachy Pucks, and so on. You must mention this offer at the time of check out.
You can start earning Peachy Bucks starting tomorrow, Tuesday, November 30, 2021, through December 31, 2021. For online purchases, mention Peachy Bucks in the Notes section of your online order to receive your electronic Peachy Bucks to use on a future purchase.
Fine print and details: This offer excludes sale rack and gift card redemptions. Peachy Bucks are earned based on your order Sub-total (pre-tax). Peachy Bucks are for future purchases and may not be applied to the transaction earning the bonus card. This offer runs from November 30 - December 31, 2021. Peachy Bucks will expire on June 30, 2022.
---
Big Peach Holiday Live Event!
December, 8th at 3:30 pm
Santa has some great giveaways and special offers for both online and in-store coming up during our first Big Peach HOLIDAY LIVE Event on December 8th at 3:30 p.m.! During the broadcast, you will get great gift ideas for that special person on your list and find out if the "global supply chain woes" are going to inflict some Scrooge-like behavior on your own shopping plans for the New Year. In short, we will cover it all! Our Founder, Mike Cosentino, will host this jolly affair - - so you can be sure we will also have plenty of fun giveaways and special offers you will not want to miss (and that will only be available during the broadcast)…
To make this easy for you to participate, we will be broadcasting on all of our Facebook pages. We'll also take your questions during the broadcast - - or you can get ahead in the queue by submitting them here right now or in advance: info@bigpeachrunningco.com.
Here is some of the content you can expect in this 30-minute holiday special!
How To Stick With It During The Holidays

The Best Gifts For Holiday 2021

How To Fit a Bike… For Someone Else

Crowd-Pleasing Stocking Stuffers

HOKA v. On: What's The Difference?

Truly Special Splurge Gifts

Question & Answer
---

For the next 4 weeks, we'll be featuring various gift ideas for the runner, walker, & cyclist. Leave your email open to drop hints for those shopping for you.
---
---
---
Gifts For Those Who Have Been Really, Really Nice!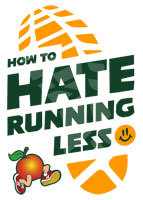 How To Hate Running Less
Marietta - Wednesdays, 6:30 pm

We get it. Some folks don't like running. At times, it can feel clunky, jarring, and uncomfortable. That's why we're offering "How to Hate Running Less," a 30-minute FREE class with basic instruction, simple drills, and light running designed to change the way running feels and, hopefully, make it feel lighter, smoother, and EASIER. It's open to everyone (Walkers, Runners, Kids). Come ready for light drills and running outside in our East Cobb location.
---

The Sole Project
Midtown & Decatur locations - through December 22nd
Social Fitness ATL is hosting their 2nd Annual Holiday Shoe Drive that will benefit the homeless and less fortunate in and around Atlanta. Drop off gently used shoes at our Decatur or Midtown locations. You can also donate through their GoFundMe page with all proceeds going towards the purchase of hats, gloves, socks, and personal hygiene items, which are major needs for the homeless community.
---
FREE RUNATL Spring Half Marathon Traning Program
We're offering a FREE 12-week marathon training program that targets the Publix Atlanta Marathon on February 26th. Registration is now open and is perfect for those doing their first half marathon or looking to improve from their previous race. Registration will close on December 17th. Both programs are open to everyone and are designed to get beginners and intermediate runners across the finish line through weekly scheduled runs you can do on your own or socially distance with your running group.



Lung Force Run/Walk
December, 4th - Atlanta, GA
Join us for our 5k LUNG FORCE Run/Walk, the American Lung Association's signature event to support and promote lung health.
It doesn't matter whether you stroll, saunter, power-walk, or run: all are welcome at LUNG FORCE Run/Walks. It's a celebratory atmosphere for all ages and abilities.
The LUNG FORCE Run/Walk provides critical funds for lifesaving research, early detection initiatives, and pandemic defense and prevention through our COVID-19 Action Initiative and vaccine outreach. Register online.
---

Pine Mountain Trail Run 19-Miler/40-Miler
December 5th - Pine Mountain, GA
This GUTS event will test your endurance and your ankles over rocky single-track trails. The trail follows the ridgeline, going up and over it for the duration. Depending on water levels, the few water crossings could be dry or ankle-deep. You'll experience both pine & hardwood forests, rock outcroppings, waterfalls, and beaver ponds. If the full monty isn't your sort of deal, try the PMTR "Lite", our 19-mile race. Same great trails, less time in the woods! Register online.
---

Sleighbells On The Square 5k/1k
December 11th - Marietta, GA
The 20th Annual Sleighbells on the Square 5K is Peachtree Qualifying Race and USATF certified, sponsored by the Cobb County Bar Association. This event for the whole family takes place on Marietta Square where the races will start and finish. Festive holiday attire is encouraged. Strollers and dogs are allowed.
The virtual race option runs from December 1- 11. Register online.

| | |
| --- | --- |
| Lung Force 5k Walk/Run | Lung Force 5k Walk/Run |
| Get Your Second Wind 5k | |