Mexico Chiapas El
Triunfo FTO
Shade grown in the Sierra Madre mountains of southern Chiapas by the El Triunfo Biosphere Reserve, this coffee is a mix of Typica, Bourbon, and Mundo Novo Arabica varietals. With an aroma of walnuts and buttered toast, the piquant taste is chocolatey at first, fading to a buttery walnut finish.
"I really like the nutty light taste, it's a great way to start the morning!" -Maggie
---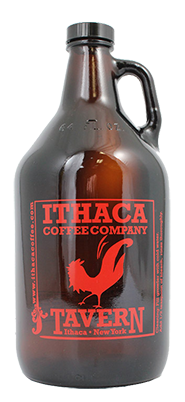 22 Delicious Craft Beers on Tap for You to enjoy.
---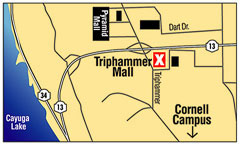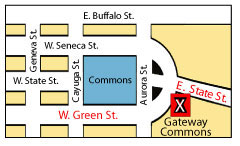 Father's Day is this Sunday and we have some great gift sets created with Dads in mind! We've gathered together classic items like barbecue supplies, craft beer selections, and gourmet drink mixing essentials. Stop in to our Triphammer store and grab a pre-made basket or click here to order online. You can create a custom gift basket as well. Choose from a fine array of barbecue and hot sauces, salsas and dips, chips, pickles, Piggery Hot Dogs, or seasonal craft beer, and we'll artfully arrange your collection in a basket ready to give to your deserving dad.
For even more Father's Day Gift ideas from baskets and beyond click here.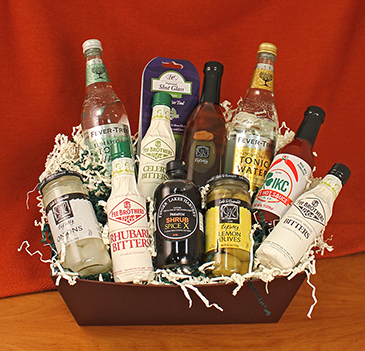 And don't forget to bring your dad in on Father's Day for a free cup of coffee!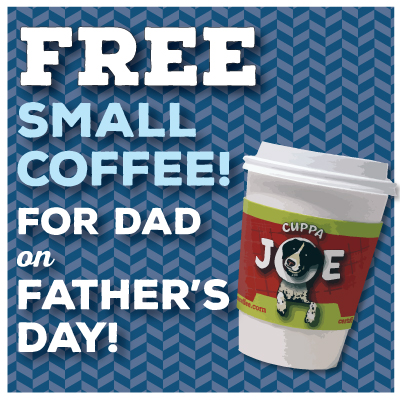 Check out the Ithaca Coffee Company Subscription Page! All products on this page are available for recurring delivery and payment. We offer a 5% discount on subscription products. Check back periodically as we add products including more coffees and some teas!
The Finger Lakes Culinary Festival Sunday June 18th
Over 20 FLX Artisan beverage and food producers will be on the Ithaca Commons where guests will experience "tasting trios" of their favorite Finger Lakes wines, ciders, beers, spirits, cheeses, and other amazing food items! We will be there too as a participating vendor, so see you Sunday the 18th!
For more details see the Experience The Finger Lakes website
The tea choices at both of our cafés will be changing next week to reflect the changing season. The Spring - Summer 2017 Tea Menu is pictured above .
Warm weather is here and session ales are back in style! Stop in and check out our extensive hop selection to achieve those refreshing floral, piney and citrus notes which have become a staple in American IPAs.
In stock now:
Willamette Hop Pellets: This variety of hops carries a fairly low alpha acid content, making it useful for the aroma aspect of your beer. The floral and fruity notes will sit perfectly on the nose.
Cascade Hop Pellets: Cascade hops have been wildly popular in the IPA world, and for good reason: Containing a moderate level of alpha acid, this variety of hops will allow a slight bitterness as well as undertones of pine and citrus, making a perfect blend of aroma and flavor for the warm weather upon us.
Each Friday our cafés feature new and unique coffees, which up until now were only available at special events, and in our packages. Our aim is to allow our customers access to a larger variety of the coffees we are roasting, and hopefully to introduce you to a new favorite, or re-unite with a long lost friend.
This Friday's Special Guest Coffees:
Triphammer Café:
T

anzania Peaberry
Gateway Café:
D. R. Congo Kivu Butembo
Our
house made
Lavender Syrup is returning to our Cafés! Add to any favorite drink for just an additional $1.00.
A traditional black tea, enjoyed the world over. Malty sweet with a bold, brisk body. Origin: Assam, India
Regular Price $10.99/4oz.
---
Rambler is an English-style cheese with a similar color and rind to Cow Hill but a decidedly different taste and texture. It's pressed to extract more whey and create a drier, smoother texture with a more definite bite. Tonjes describes it as "sort of Cheddar like," as it also could be likened to a Gloucester variety.
---
Ethiopia Yirgacheffe
Biloya Co-op FTO
Bulk
Coffee
This coffee is composed of indigenous heirloom arabica varieties grown by the farmers of the Biloya Co-op. The coffee is meticulously fully washed process before drying on African raised drying beds. The roasted beans emit fragrances of citrus zest, floral, nutts, and buckwheat honey. The brewed coffee displays aromas of lemon, floral, cocoa, almond, and basmati with flavors of lemon candy, maple, almonds, and jasmine tea. This is a coffee with medium acidity like lemon curd and a light tea-like body. The finish is brief and hints of tonic water and nutmeg.
Regular Price $15.99/lb.

---
The Blue Ice Dragon is a Nitro Draft Cold Brew Tea, brewed from Dragonwell Green tea enhanced with crystallized ginger, and naturally colored blue with Thai Butterfly Blue Pea flowers. The tea pours a brilliant shade of pale blue with a creamy white head, and with the addition of lemon the entire drink turns a gorgeous hue of purple right before your eyes. A fascinating, refreshing, and silky smooth bubbly beverage you won't find anywhere else.