This bloomy white gourmet cheese goes by the name of Saint Andre and is produced in the Normandy region of northwestern France. It is a heavenly rich triple cream cheese made with cow's milk, and heavy sweet cream is added during cheese production. The result is creamy, buttery, and delicious.
Underneath the velvety white edible rind you will find a rich silky center, almost as rich as butter with a little tangy flavor. This small French gourmet cheese has a little bit of an aroma, but will not invade your space.
The full, buttery taste of Saint Andre will match up great with a crusty French bread as well as a plain cracker.
---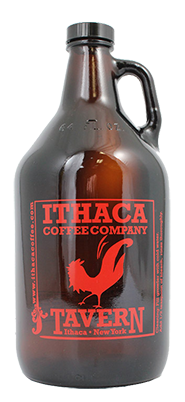 22 Delicious Craft Beers on Tap for You to enjoy.
---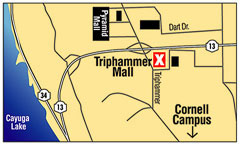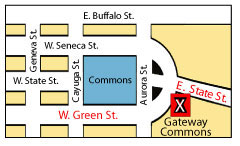 We've been having fun exploring new tasty options to share with you from our Bake Shop! This week we have two items in particular worth a special mention. Although we've had our newly released house-made hummus on the menu as a tavern and café snack, you can now add hummus on to any of our café sandwiches. Try it on a toasted bagel or choose it as an add on to any of our sandwiches.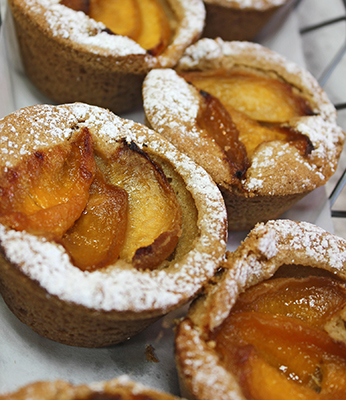 Newly arrived this week are the incredible rich and lovely Peach Brown Butter Blondies! Chewy & moist with a rich browned butter flavor & topped with tangy summer peaches in honor of August - National Peach Month!
Other recent additions to our café's repertoire are the gluten free banana muffins, half moon cookies, and the fabulous buttermilk biscuit! If you haven't had a buttermilk biscuit sandwich yet (made with real eggs and quality cheeses you can find in our cooler), now's the time to indulge.
Wine Down Wednesday at Gateway Tavern!
Now Every Wednesday!
5-7pm at the Gateway Tavern
$1 off all glasses of wine from our new pouring system!
This week there will be a special treat at our Wine Down Wednesday event! We'll be offereing

Free Hummus & Pita Chips

to enjoy with your wine!
Our Friday Happy Hours in the Tavern are great for unwinding after a long week, but when Monday rolls back around it can be hard to get back in the groove. That's why we're offering some help to get you going with our Happy Café Hours. Stop by Monday 4-6pm and save $1 on any café beverage!
Check out the Ithaca Coffee Company Subscription Page! All products on this page are available for recurring delivery and payment. We offer a 5% discount on subscription products. Check back periodically as we add

products including more coffees and some teas!
Coriander Seeds
Give your beer a spicy, lemony kick with coriander seeds. This ingredient is very popular in Belgian style beers and has more recently been adapted into many sour styles which have become very popular over the years. Just one ounce is needed for a 5 gallon batch. One ounce packages are available now in the Homebrewing section of our Gateway store.
SPECIAL GUEST COFFEE OF THE DAY
Each Friday our cafés feature new and unique coffees, which up until now were only available at special events, and in our packages. Our aim is to allow our customers access to a larger variety of the coffees we are roasting, and hopefully to introduce you to a new favorite, or re-unite with a long lost friend.
This Friday's Special Guest Coffees:
Triphammer Café:

NEW! Honduras, Fredy Perez, Finca La Fortaleza, Natural
Gateway Café:
El Salvador Finca Buenos Aires Kenya Process
We brew Kyoto-Style Coffee with ice water dripped slowly through our fresh ground coffee over an extended 12 hour process. The resulting cold brewed coffee is naturally sweet with a syrupy body and balanced acidity.
$3.25/12 oz. $3.75/16 oz. $4.25/20 oz.
Full Growler $12 Growler Refill $7
A blend of Hibiscus, Rosehips, Rooibos, Orange Peel, Mango, and Blueberry. The flavor is both sweet, tart, and floral.
---
Nancy's Hudson Valley Camembert is a lush blend of sheep's milk, cow's milk and cow's cream. This soft-ripened cheese is lusciously creamy, rich and buttery.
Regular Price $7.99/4oz pkg.
Sale Price $6.09/4oz pkg.
---
COFFEE SPECIAL
French Roast FTO
Bulk Coffee
Our Colombia La Esperanza roasted to a rich, dark French roast, brewing sweet and chocolatey, with a smoky sweet pipe tobacco aroma. It has a rich, full body and a smooth, balanced acidity, with the flavors of dark chocolate and a bit of smoke. It has a spicy (cinnamon and allspice) and lingering dry finish.
---