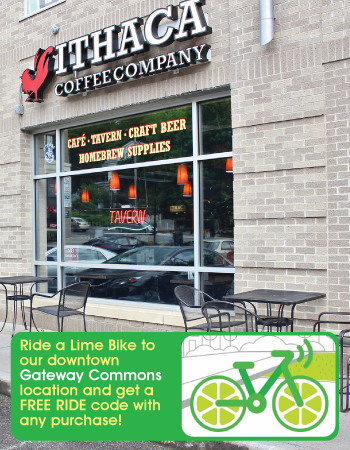 Our downtown Gateway Commons location has some fun things happening!
We've opened up the Tavern seating area by moving the off-premise craft beer selection. The craft beer to-go is now located in the room behind the Tavern bar, soon to be re-named the "Beer Cave". The new space gives you plenty of room to browse our bottled, canned, and cold beer selection.
At the espresso bar, we have a brand new espresso machine with a brand new steamer for all the frothy latte foam you could want.
Starting this week we are running a special in coordination with Ithaca's new Lime Bike bike share program. Ride a Lime Bike to our Ithaca Commons location and get a FREE RIDE code with any purchase!
We know it's been a bit tricky navigating the construction around our Gateway Location but we are here for you and all your cafe and tavern needs. From our great coffee & espresso drinks, delicious fresh bakery goods & sandwiches, to craft beer and all our packaged coffees and teas as well! Free beer tastings are on Thursdays from 5-7pm, Wine Down Wednesdays feature $1 off glasses of wine, and Happy Hours are still on Fridays from 4-6pm.
The bakery is releasing a new item this Thursday! The Prosciutto, Cheddar & Pesto Brioche Bun is a savory Fresh-baked house-made brioche bun with prosciutto, cheddar, and basil pesto!
BLUE ICED DRAGON will return to our cafés this friday afternoon, made with dragonwell green tea, butterfly blue peaflower, and crystallized ginger. It is cold brewed and served on our nitrogen tap. The tea pours a dazzling blue that transforms to a deep purple as you add lemon.
If you need a little extra incentive to attend, we'll be there serving up our nitro cold brew, hand brewed coffee, and a cascara and homemade tonic fizzy drink that will ONLY be available at this event! Plus of course some specially crafted items from the ICC Bake Shop!
TRIPHAMMER MARKETPLACE




2255 N. Triphammer Rd




Ithaca, NY 14850





Monday - Friday




7:00am-9:00pm




Saturday




8:00am - 9:00pm




Sunday




8:00am - 6:00pm





(607) 257-2626

GATEWAY COMMONS

311 E GREEN ST.

Ithaca, NY 14850

Monday - Wednesday

7:30am-8:00pm

Thursday - Friday

7:30am-9:00pm

Saturday

8:00am - 9:00pm

Sunday

8:00am - 6:00pm

(607) 273-7800