As the seasons change it's always an exciting time for us as we get to see what new coffees become available for us to taste. We have two new stellar bulk coffees now available for sale at our Triphammer store and soon to be at Gateway as well. They're perfect for the fall and we can't wait for you to try them!

The El Salvador Finca Hungria:
FARM: Finca Hungria
LOCATION: Apaneca-Llamatapec
FLAVOR: citrus, almond, carob, cocoa
ACIDITY: medium/ orange juice
BODY: med light/ light syrup as it cools

The Indonesia Pancoer Estate Java:
FARM: government estate
LOCATION: Bottolinggo dist, E.Java
FLAVOR: chocolate, red apple, peanuts
ACIDITY: medium low
BODY: medium +/ smooth syrup
Fall & Winter Seasonal Tea List

: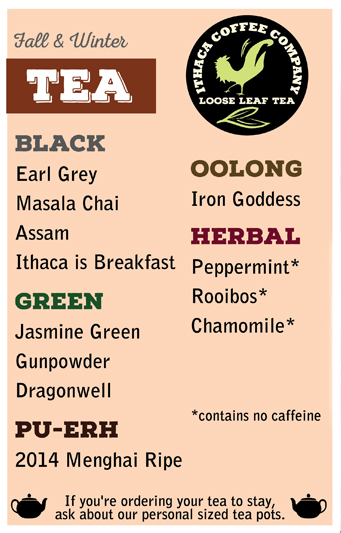 It's that time of year when we change our cafe tea list to reflect the season.
There is a new selection this year added to the list called "Ithaca Is Breakfast" which will be replacing our Irish and English Breakfast options in the near future.

Other teas that appear on our Fall list are the Iron Goddess Oolong, the Gunpowder Green Tea and 2014 Menghai Ripe Pu-erh.
"Iron Goddess of Mercy" is the translation of Tieguanyin, in reference to the Bodhisattva Guanyin, who gave the tea to a poor farmer in return for him tending her temple. The flavor of this tea is befitting such a legend; floral, honey, light mineral taste, and balanced body. A must try for any tea drinker. Origin: Sanming, Fujian Province, China
Gunpowder is a unique tea, the rolling techniques applied to this tea date back to the Tang Dynasty (~618ad). Green tea is withered, steamed, rolled, and then dried to produce the iconic pearls, which the English named gunpowder, because of its resemblance to grains of gunpowder. Our gunpowder tea is of the Pinhead Gunpowder variety, which is known for larger pearls and is more aromatic and smoky. Perfect for the black tea drinker looking for a green tea that is close in flavor and body to an Assam. Origin: Anhui Province, China
2014 Menghai Ripe Pu-erh is a ripe pu-erh crafted by the Menghai Chunyun Tea Factory. Originally cake shaped, it has been broken apart for easier consumption. Earthy with a very smooth body. Origin: Menghai Chunyun Tea Factory, Zhejiang, China.
Nitro Draft Apple Chai-der
:
It took us a bit to catch up with production after selling out last weekend at Apple Fest, but we've managed to get some fresh kegs of our very popular Nitro Draft Apple Chai-der to both café locations. We take sweet New York Apple Cider mulled with Masala Chai tea and serve it on nitro draft for a silky smooth and uniquely delicious taste of Fall. Grab it while you can!
TRIPHAMMER MARKETPLACE




2255 N. Triphammer Rd




Ithaca, NY 14850





Monday - Friday




7:00am-9:00pm




Saturday




8:00am - 9:00pm




Sunday




8:00am - 6:00pm





(607) 257-2626

GATEWAY COMMONS

311 E GREEN ST.

Ithaca, NY 14850

Monday

- Friday

7:30am-9:00pm

Saturday

8:00am - 9:00pm

Sunday

8:00am - 6:00pm

(607) 273-7800