Yemen Rayyan Mill 12 oz Box
This coffee comes from the Rayyan Mill. A new coffee mill by Andrew Nicholson is focused on milling and sourcing only high quality beans. They only purchase coffee which was picked at the peak ripeness, meaning it was at the peak sugar level before drying. The coffee is then sun dried in traditional Yemeni fashion, on the farmer's roof! The mill itself then is responsible for cleanly dry-milling the coffee out of the already dried fruit. The resulting coffee has a fragrance of strawberry, currants, and marmalade, hinting at the sweetness to be revealed when you brew it. The brewed coffee aroma is sweet, and lightly floral with a touch of toasted coconut. Its flavor is intensely sweet., bordering on sugary, with a note of light maple syrup, strawberries, and a malty pastry note which is close to fresh Belgian waffles. Overall the coffee is ripe with berry flavors, has a high-toned fruity acidity, and medium light syrupy body. Due to the difficulty of exporting this coffee this will be a pretty limited availability, so try some while it is around.
---
22 Delicious Craft Beers on Tap for You to enjoy.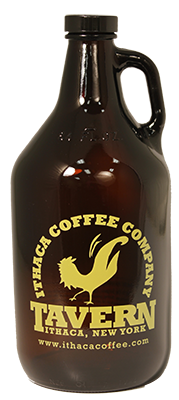 ---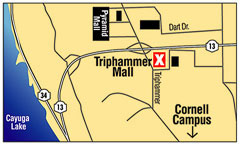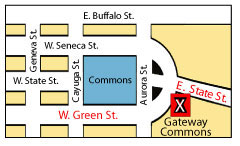 Ithaca Coffee Company is all about gift baskets! Choose from our following service options:
Themed Gift Baskets

- view our selection online or stop by the store

Custom Gift Baskets

- fill out our online form to get started
Corporate Gifts and Events - fill out our online form to get started

Stop by the store and select items for your own custom gift basket including imported specialty items, artisan cheese, and craft beer. We will expertly assemble your selection and have you on your way in no time!

Local Delivery and Domestic Shipping!
TWO MORE DAYS for great savings on Themed Gift Baskets!
Nov. 25th through Dec. 2nd
20% OFF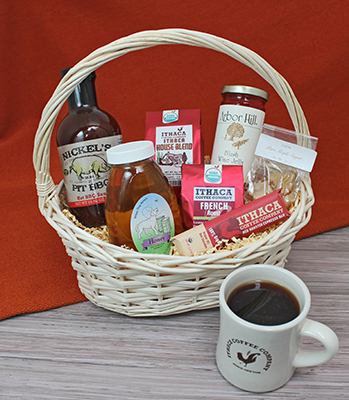 20 % off themed gift baskets

(no substitute items). Excludes custom

gift baskets. Discount does not apply to

shipping.




Pay now, ship later! Ship up to

December 15th




All pre-orders must be placed at

Triphammer Marketplace location only.

All orders for pick-up must be

picked up at the Triphammer

Marketplace location only.
A signature blend of cocoa powder and black cocoa powder, along with ground bittersweet chocolate. The result is a silky, sweet cocoa reminiscent of a certain classic black and white sandwich cookie. We recommend one heaping tablespoon for every cup of hot milk.
All Your Home Brewing Needs!
Stop over to our Gateway location and check out the full collection of home brewing supplies. Maybe you want to start brewing beer or wine at home, or maybe you know someone that would appreciate a home brewing supply gift!
SPECIAL GUEST COFFEE OF THE DAY
Each Friday our cafés feature new and unique coffees, which up until now were only available at special events, and in our packages. Our aim is to allow our customers access to a larger variety of the coffees we are roasting, and hopefully to introduce you to a new favorite, or re-unite with a long lost friend.
This Friday's Special Guest Coffees:
Triphammer Café:
Sulawesi Rantemario Angin Estate
Gateway Café:
El Salvador Finca Lemus
Fall favorite flavors come together in the new Spiced Pumpkin Chai. Slightly sweet pumpkin spice meets bold spicy chai in this new fall staple.
$3.25/8oz $3.75/12oz $4.25/16oz
Starting Friday October 13th
Brie Apricot Baguette Sandwich
Creamy brie and sliced apples layered in a fresh baguette, spread with a special house made spiced apricot jam, then grilled until the brie is gently melted.
---
Sencha is the first flush (or picking) of leaves and is not shaded before picking, setting it apart from the similar varieties Gyokuro and Bancha. The leaves are lightly steamed to halt the oxidation process and to bring out the true flavors of the leaves. Light syrup body with a taste of nori and buttered peas. Easy to improperly brew, so care should be exercised when brewing. Origin: Chiran, Kagoshima Prefecture, Japan
---
The perfect Stilton from Colston Bassett should be a rich cream colour with blue veining spread throughout.The texture of the cheese is smooth and creamy with a mellow flavour and no sharp acidic taste from the blue. Melt in the mouth perfection is what Colston Bassett delivers. Always a tasty additional to a summer salad or enjoyed
with sweet dishes -a partner to chocolate and ginger. A cheese to experiment with - view recipe ideas at www.stiltoncheese.com.
---
EL SALVADOR Finca Buenos Aires
From the Finca Buenos Aires farm in El Congo, Santa Ana, farmer Aida Batlle processes this 100% Bourbon variety with a 24 hour soak, a double wash, and then dries it on raised beds. The aromas are like graham, malt, hazelnut, and melon and the flavors are sweet chocolate, graham, and cherry. This coffee has a mildly sweet acidity and a medium creamy body with a graham cracker, malt, and light toast finish.