Greetings from your 59th State Square and Round Dance
Convention Chairs.
Wisconsin's Convention has special plans for new dancers!
We'd like to recognize the persistence and effort of new dancers. Sometimes new dancers don't feel as if they would fit in at the State Convention. We want to be sure that recent graduates know we welcome them to the 59th Wisconsin Square and Round Dance Convention. We are offering all dancers graduating since August 7, 2017 the early bird rate of $42 ($21 for youth) for a three day convention registration.
Clubs are asked to share their lists of graduating dancers with Registration Chair Barb Oelke at wisregistration2018@yahoo.com to be sure your new dancers are eligible for the special rate.
Help us spread the word about the convention, share this newsletter by forwarding it to a friend. Then they can use the "subscribe here" link at the end of the newsletter to receive future issues directly.
Enjoy!
Terry & Cindy Prust
General Chairmen
REFLECTION SQUARES HIGHLIGHT AT EXHIBITION DANCE
Dominic Gruetzmacher and four squares of dedicated dancers will be performing a special exhibition dance. Two of the squares will be dancing the calls as expected. The other two squares will perform the moves in a mirror image. The result is a lovely kaleidoscope of reflective color and elegant symmetrical movement. This is a demonstration that you will want to see in person.
To see a sample of this technique visit http://brickvibedesigns.com/reflections/
then choose "Kaliedoscope" from the drop down menu.
MORE PLANS ESPECIALLY FOR NEW DANCERS
New dancers are vital to both the continued growth of square dancing and our convention. The 59th Convention is doing something unique to assure that new dancers have a successful, fun and exciting experience. A few sessions in the Commons area will be dedicated to new dancers and those using the Club 50 calls. These sessions are in addition to those in the regular Mainstream hall and the workshop session. If you are a new or just graduated dancer this is a great opportunity to ease into the convention experience.
WE ARE AT 412 DANCERS!!!!!!!
Thanks to the registrations taken at the Westport Squares' Whistle Stop dance at Madison's Maple Bluff Community Center, convention registration is at 412 dancers. We thank the Westport Squares for a great turnout and outstanding registration effort, as well as a very good time. 41 callers, 13 cuers, two Contra callers and four line dance instructors are on board. Time is passing quickly. If you don't want to be left behind at the station, you'll want to get your ticket now.
Get On Board! REGISTER NOW!!!
HERE 'TIS OFFERS INCENTIVES
TO SHOWCASE OF IDEAS EXHIBITORS
Showcase of Ideas Chairs Bob Dahnert and Barb Gugle are pleased to announce continued incentive to encourage this year's display of ideas. To encourage the exchange of square dance promotion ideas, Here 'Tis is generously offering free advertising prizes in its well-known publication for dancers, clubs and organizations. Showcase of Ideas displays will be impartially judged with awards going to those depicting the best square dance promotion ideas. The first prize winner receives a full page ad, the second prize winner a half page ad and the third a quarter page ad. Winners will arrange placement of their free advertising in a future issue with Here 'Tis.
To reserve a display table, visit this link and submit your request by June 1, 2018
http://wisquaredanceconvention.org/showcase_of_ideas_form.pdf
Sadly, each year we lose square and round dancers and promoters as they pass away. To remember those we've lost, the Showcase of Ideas will have a memorial display table for clubs to honor anyone that they choose. Any items that you wish to exhibit to honor departed dancers may be placed on the memorial table.
All Showcase of Ideas displays should be brought to the convention site on Thursday or Friday to be ready for viewing before the convention begins on Friday afternoon. Please take your display home with you on Sunday afternoon.
A FEW WORDS ABOUT A FEATURED VENDOR: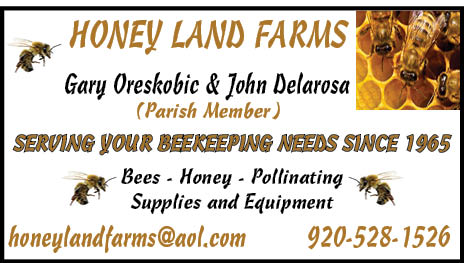 Honey Land Farms
Honey Land Farms, a Wisconsin based honey producer from Cascade, WI near Plymouth and Sheboygan, is pleased to be a returning vendor to the Square and Round Dance Convention. They are producers of honey and honey products. Honey Land Farms is a migratory operation, meaning they keep their bees in central Florida for the winter months (November thru April) and then they move them to the Cascade, WI area for the summer.
Honey Land Farms produces many types of honey - Basswood, Clover, Orange Blossom, Cranberry, Wildflower and Buckwheat, dependent on the blossoms the bees pollinate.
So while you are browsing the retail vendor area, stop by their booth. Doug Kindschuh, also a square dancer, will gladly let you sample the different types of honey, YES, free samples. He also retails real Wisconsin Maple syrup.
Doug appreciates the convention for allowing him to be a vendor this year, and welcomes the opportunity to help you now and in the future, as well as the convention in 2019.
SECOND HAND ROSE, SQUARE DANCE CLOTHES
Donate any of your unneeded, "vintage", too small or too big square dance duds to a great cause. The youth committee has been raising funds all year by reselling donated square dance clothing. This work supports the prizes, snacks and the special activities. If you'd like to keep this unique effort going forward to help support youth activities at the next convention, bring any of your used, but unneeded square dance outfits to the Youth Hall at the convention. If you donate it there, it becomes a gift that keeps on giving.
RECYCLE, REUSE AND REDUCE WASTE
The Convention planners have noticed how many people have embraced reusable water bottles. In the interest of environmental concerns, we ask that dancers bring their own water bottles to the convention. There are bubblers and water bottle fillers available onsite. Unusual bottles are a great conversation starter.
Of course, if you forget your bottle the bubblers still work for you. There will also be bottled water for purchase.
KEEP THOSE REGISTRATIONS COMING:
CONVENTION COMMITTEE CHALLENGES ALL CLUBS
The Convention Committee encourages all square dance clubs to continue holding their own special Whistle Stop registration dance for the 2018 convention.Let's see which clubs and areas can register the most dancers at their special registration dance! Here's a bit of incentive.Any club registering 10 or more dancers may award one free three day registration to a dancer registering at the Whistle Stop.That's a $46 value.To get a supply of registration forms and Marshfield information, please contact our Registration Chair, Barb Oelke at wisregistration2018@yahoo.com or 715-574-3246.
Your help allows us to concentrate on the local details. If you have any questions about registering, please let us know.
REMINDER FROM REGISTRATION CHAIR
The Diary Trifecta Tour is sold out. However, if you are still interested we are accepting names for a waiting list. If you wish to do that, add the tour to your registration and send a separate check for a waiting list spot on the tour with your registration. We will hold your tour waiting list check and return it to you, if we aren't able to get you on the bus.
For those registering by mail who would like to receive a printed receipt, please enclose a return self-addressed stamped envelope with your registration.
SPECIAL FUNDRAISING EFFORT
A number of raffles and silent auction items will be available at the convention. These special fundraising opportunities assure that the convention committee can cover the costs. These items will be available for viewing, bidding and/or raffle at the convention. If you'd like to contribute items for raffle or auction, see the flyer below.
Upcoming Whistle Stop Registration Dances
Saturday, July 21, 2018: Manawa: WI - Barn Dance, Butch Danielski Caller
M.G. Ranch E5820 Zabel Road, Manawa, WI 54949
3 PM - 8 PM Dancing $5 each. Potluck 5 PM - 6 PM
Bring: lawn chairs, beverages, and a simple potluck item.
COME
EARLY,
STA
Y
LATE !!!
Jurustic Park
Just 5 miles north of Marshfield North Central Ave and County Road E lies Jurustic Park. Combine an overactive imagination, artistic metal work, a wishful archeologist and sense of humor and you get Clyde Wynia, retired lawyer and the creator and curator of Jurustic Park. This outdoor gallery of creative creatures is a wonderful way to spend an afternoon or morning. If you find one you really like, you can take it home – for a fee, of course.
Clyde's wife, Nancy does beautiful glass work and jewelry. She has a shop on the park site. Clyde and Nancy are the real gems of this place. Visit the Jurustic Park website for more information
http://www.jurustic.com/index.php
Wildwood Zoo offers a unique way to view some of the resident animals called the Large Animal Drive! Travel at your own pace while viewing bison, wild turkeys, white-tailed deer, elk, and timber wolves all from your car! Of course you may also walk the path along these animal exhibits if you wish to. Where else can you spot wolves and elk on a walk? Bikes are also allowed on the path; please remember though that bikes are not allowed in the core zoo. The best part, the drive has extended hours (7am-10pm year-round) compared to our regular zoo hours. This way you can always get your daily dose of our wonderful zoo animals as well as see what our animals are up to throughout the day!
The large animal drive begins right off of West 17th Street in Marshfield, near South Adams Avenue. This is a one-way road with a speed limit of 15mph. This is to ensure safety to visitors on foot or bike. Read more at http://ci.marshfield.wi.us/visitors/wildwood_zoo/large_animal_drive.php#w4oHjs3ylOerF3UZ.99
HO-CHUNK GAMING CASINO, Nekoosa
If you are a gaming/gambling fanatic, you might enjoy a visit South of Marshfield to
949 County Road G, Nekoosa. 800-782-4560 • Website

MARSHFIELD SKATEPARK
At Braem Park - Corner of Cedar and Ives Street Website
X-treme sport opportunities have come to the Marshfield area as of August, 2002. The Marshfield Skatepark hosts skateboarding, aggressive in-line skating and BMX biking at a state-of-the-art outdoor 17,000 square foot facility. The Skatelite elements sit on a concrete slab for a perfect street course.
There are quarter pipes, a half pipe, fun boxes, rails, and many other ramps available to use and view. This is a public park so there is no admission fee. Donations are accepted at the park's donation pipe. Use of helmets and safety gear is strongly recommended. This skatepark is designated for use by ages 6 and over. Opens daily at 8:00 a.m.
If you have a question or concern, chances are that someone else does, too. If you'd like to see your question answered in an upcoming newsletter, please contact Publicity Chair, Lori Belongia at lbelongia@marshfieldlibrary.org
We'll be glad to get an answer for you and put it into an upcoming newsletter.