---
RUNATL Long Sleeves
& Beanies!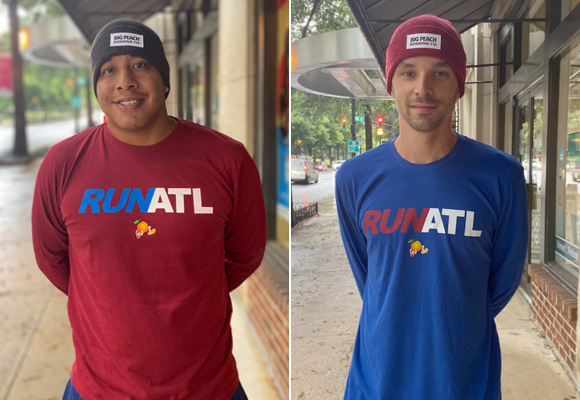 With the rain finally gone, we're back to Fall-like weather! We can expect cooler mornings in the low-60s and by next week, we may see those lows in the mid-50s. The timing is perfect for this year's batch of RUNATL long sleeve shirts. The shirts are soft and comfortable, have cuffed sleeves, and feature our ever-popular "Heat, Hills, Humidity... welcome to Atlanta!" tagline on the back of the shirt. They are available for both men & women. We also have new beanies to keep your head warm once the temp drops. Visit any of our 8 Big Peach Running Co. locations or shop online!

---
Ep. 115 - The RUNATL Podcast with Guest Steve DeMoss
The RUNATL Podcast is hosted by Big Peach Running Co. Founder, Mike Cosentino, and Director of Marketing, Dave "D2" Martinez. This week on the RUNATL Podcast we sit down with the other half of our owners, Steve DeMoss! He's a bit of a historian when it comes to running footwear and has lots of experience with running dynamics and even a few thoughts as to where footwear design is headed in a few years.
Tune in and peek into Steve's crystal ball in this week's episode!
Listen to the latest episode here.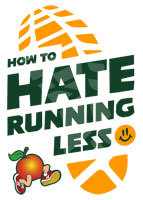 How To Hate Running Less
Marietta - Wednesdays, 6:30 pm

We get it. Some folks don't like running. At times, it can feel clunky, jarring, and uncomfortable. That's why we're offering "How to Hate Running Less," a 30-minute FREE class with basic instruction, simple drills, and light running designed to change the way running feels and, hopefully, make it feel lighter, smoother, and EASIER. It's open to everyone (Walkers, Runners, Kids). Come ready for light drills and running outside in our East Cobb location.
---
Group Run with Precision Performance
Midtown - Saturday, October 16th, 7:30 am
Our Midtown store hosts a weekly Saturday morning group run that is open to everyone. On Saturday, October 16th, join Dr. Kacy Seynders with Precision Performance & Physical Therapy for a group run. You'll be able to ask her questions and help diagnose any issues you might be having.
---
Brookhaven Bike Alliance Super Bingo Ride
with Big Peach Ride + Run
Brookhaven - Saturday, October 17th, 2 pm
Participate in the Brookhaven Bike Alliance Super Bingo and collect what you'll need on this group ride. Even if you're not playing, you're welcome to come out for a no-drop 12-mile ride around Brookhaven. The ride will be led by our very own Director of Marketing & RUNATL Coach "D2"! Here's a link to the course. Bike helmets are required to participate. Before or after the ride, check out the selection of bikes available if you're looking for an upgrade or replacement. For the ride sign up here.
Red Top State Park - Starting November 11th
Join us for our weekly hike at Red Top State Park!
Starting in November on Thursday Mornings at 9 am Wayne Depew (one of Big Peach Cartersville's finest Guest Advocates) will be leading a weekly hiking group with the first one taking place on November 11th. The hike will take place at the Iron Hill trailhead which has some nicely groomed trails, some hills but is easy enough for all to enjoy. There are only 141 ft. of elevation gain over the 3.4-mile route.


Veterans Memorial 5k

November 13th - Marietta, GA

Honoring Our Heroes—Past, Present, Fallen
All proceeds will support American Legion charities to benefit Veterans and their families in Georgia. Register online.
---

Miles For Bethany 5k
November 13th - Dunwoody, GA

On August 3, 2019, the world lost a beautiful soul. Bethany was a devoted mother & wife, a beloved daughter & sister, a trustworthy friend, a motivating coach, a gifted competitor, and an inspiring role model.
On Saturday, November 13th, 2021 we'll participate to celebrate her life, to support the causes she loved, to challenge ourselves to be our best, and to cheer each other on. PR chasers, first-timers, walkers, strollers, pushers, wheelchairs, and paws are all invited to join us! Register online.
---

Red Top 25k & 50k
December 12th - Cartersville, GA
While best known for the 12,000-acre lake, Red Top Mountain State Park is also a runner's haven. More than 15 miles of trails wind through the forested park, providing sections for both newer and advanced runners. Both races will begin on the Iron Hill Trail just past the gravel parking lot. The Iron Hill trail is a 3.9 mile mostly flat loop. It is a mix of compact dirt and crushed gravel with an elevation gain of about 140 feet. Register online.